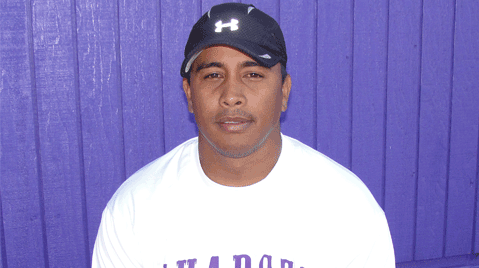 First year head coach Kai Kamaka has his Pearl City Chargers varsity football team working hard to earn a position on this year's squad. The current summer training session is under way and if you took a stroll around the athletic department you would see that football is definitely in the air.
Kamaka brings "a new beginning" philosophy to the Chargers football program. His first goal as head coach was to give the football program a facelift. It looks like he is well on his way in accomplishing that goal. Support for the football program has been renewed as boosters step forward to assist in their needs.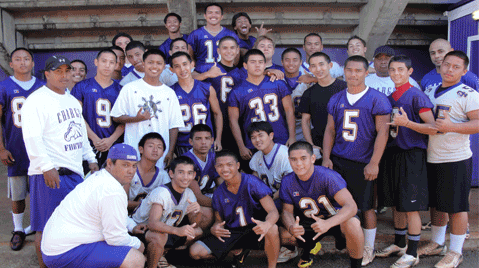 Coach Kamaka has also assembled an experienced coaching staff that includes two former UH Rainbow Warrior football stand outs, Niko Vitale and Al Hunter.
This past weekend, coach Kamaka and his staff got a good look at both the varsity and junior varsity
teams as they participated in a 7 on 7 Pass League Tournament held at the University of Hawaii. The
teams performed well against some of the top teams in both the OIA and ILH. Schools like Punahou, Kamehameha and Kahuku all took part in the tournament.
The Chargers also return a core of talented players on both sides of the ball that will play key roles
in the teams quest to be tops in the OIA White Division.
Q: How many years of coaching experience do you have before taking the helm at Pearl City?
A: "I coached at Waipahu for 6 years under coach Sam Delos Reyes. After being out of football for a
year or two I returned and coached Pop Warner in Pearl City for the Highlands Colts and won a state championship."
Q: Your opinion on the talent coming out of the Pearl City Community?
A: "Actually I'm pretty surprised. There's a lot of talent in Pearl City. The talent pool is huge.
The private schools scoop a lot of the kids up too. This year we'll start a freshman at Quarterback,
Brock Teixeira, really strong arm, good field sense."
Q: What type of Offense do you run?
A: "We run a true run and shoot offense, it's a read offense, nothing is designated. You start off with a certain route according to coverage and movement. Basically, if we do what's right the defense is always wrong."
Q: How about on Defense?
A: "On defense we run a base 4-3 with an inverted 3-5 which we move around a lot. With our personnel that we have this year speed is a factor. We're actually really quick and we have more than decent size for the White Division."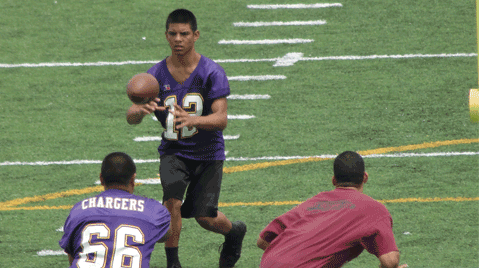 Q: When did your training schedule begin for the 2009 season?
A: "We have it broken down into 4 sessions. Our first session is considered as spring conditioning. In order to get into spring ball, which is session 2 you needed so many hours of conditioning. You get invited back for session 3 which is what we are in now, it's our summer session. Session 4 is our tryouts."
Q: "What was the turnout when you started session one?
A: "We had 140 listed that came out. We knocked it down to 90 due to equipment. On our purple and white game we had 45 on the purple and 45 on the white. We did pretty well; about 500 people came out to the game."
Q: I see you have a couple former UH Rainbow Warriors on your coaching staff?

A: "Yes, Niko Vitale is one or our defensive backs coaches as well as Al Hunter former DB for UH.
Also on the staff is Lefa Lauti, we played together and coached together at Waipahu and my Dad,
Kai Kamaka Sr. is a defensive coordinator."
Q: How did your team do in the recently held Pass League Tournament at the University of Hawaii?
that featured both OIA and ILH teams?
A: "We were the only White Division team there. We actually looked like we belonged there. We lost to Kamehameha by an extra point. Kamehameha ended up winning the tournament, so we were right there."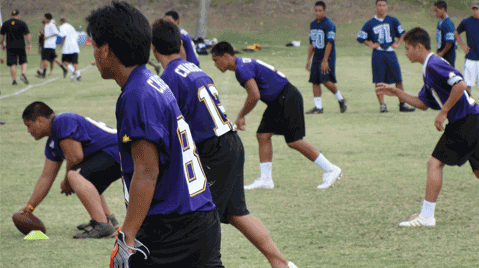 Q: Is the Charger football team supported by a booster club?
A: "We just had a supporter step up and create a booster club for the program. "Family & Friends of Pearl City Chargers Football" helps raise money for the football program needs".
Q: How did the coaches help out recently?
A: "We made a decision in our first year as coaches that we would donate all our pay back to the program to get better equipment for the kids to strengthen the program."
Q: All of your coaches participated?

A: "All thirteen positions, across the board."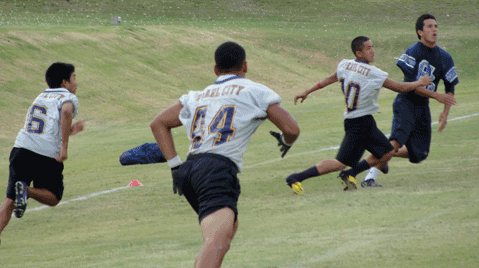 Q: What support have you received so far from the school as the football program makes the transition to your coaching style and philosophy?
A: "The Athletic Department and our Administration has been very supportive of us in change.
In order to make this thing work we want to have the kids come and say that the feeling is that everything is brand new. The motto of our program is "A New Beginning.
Also, my goal is to give this program a face lift and by doing that is to reach the community.
You're only as good as the people around you."