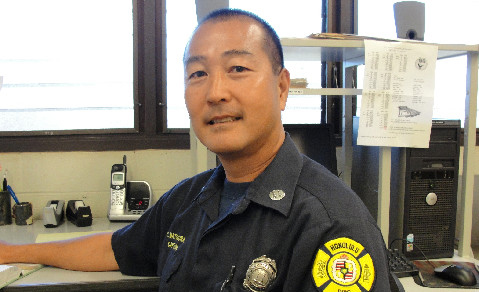 Waiau Fire Station Captain Carl Matsuura has the responsibility of making sure Pearl City residents are safe from fires and any other emergencies that may come up in the community. I recently visited the Waiau Fire Station looking for the Captain on duty to arrange a Cover Feature interview for the MyPearlCity.com web site. Standing in front of me was Captain Matsuura who just happens to be a childhood friend who I have known since the 5th grade as students at Pearl City Elementary School.
It was great to see him again.
After graduation from Pearl City High School in 1977, we went our separate ways. The last time I saw him was a few years ago as he was the first to arrive on the scene when my mother passed away at home. The Waiau Fire Station crew made sure my family was okay. I'll never forget how nice they were and the compassion they showed for my family.
During our first meeting I recognized that Matsuura was well liked and respected by the crew that was on duty at the time. While conducting the following My Q&A interview recently, that feeling was solidified as I watched him in action as he introduced me to the morning Firefighter crew. Just a bunch of nice guys led by a nice guy that hasn't changed a bit since we were kids.
Growing up as the son of Firefighter, he knows what it takes to do the job and do it well. I talked to him about his career and the responsibilities of being a Fire Captain as well the stations commitment to the community and schools.
Q: Was there anyone who inspired you to become a Firefighter?
A: "It was my Dad." He was a Firefighter. At the end of his career he was at the Pearl City Fire Station. Like any kid growing up you wanted to be like your Dad. I remember going to the Fire Station as a kid and taking donuts, everybody seemed so happy."
Q: How many years in the HFD?
A: "25 years."
Q: How many as Captain?
A: "Going on 15 years."
Q: First assignment?
A: "I was assigned to the Ewa Beach Station. As a new Fireman it was a great station. Actually there was a lot of medical calls. In those days Ewa beach wasn't built up, there were a lot of brush fires."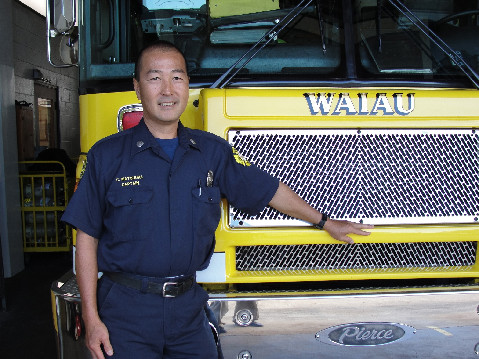 Captain Carl Matsuura
Photo by Barry Villamil
Q: How tough was it as a rookie?
A:" It's tough because you have to prove yourself. You just came out of training so you're book smart but you realize the other people have experience. In our job that counts a lot."
Q: Was it a goal to someday make the rank of Captain?
A: "I don't think it started out that way. It was an innocent thing. I wanted to do what my Dad did. You want to provide some service to the community and right now it's perfect. I come back to where I grew up and I get to help people in my neighborhood. It just comes over time, you start out as a firefighter and its time to move on you know, I rather be the guy driving the truck and after that supervise."

Waiau Fire Station Crew
Photo by Barry Villamil
Q: Your philosophy as the Waiau Fire Captain to train and manage your crew?
A: "You come here to do a job, but the training has to be fun, not monotonous. We have to do our drills and they're meaningful. We are always drilling. We're pulling hose; we put on our jackets and run around in the back. We play basketball with our gear on. We check it out to see how we perform. It's easy to do it in the shade on the apparatus. We're out in the sun and we're running around, it's a lot different so we try to simulate that in a fun way,"
Q: Any mentors that helped shape that philosophy?
A: " There are so many old time Captains. You know when I was a Firefighter, you see those Captains and their so cool, they know how to handle the most hard head Firefighters. I looked at that and said I want to be like that guy. They were basically really sensible, they were strict but they weren't unreasonable fly off the handle guys. They had really good knowledge of their jobs."
Q: Do you see yourself as that type of Captain?
A: "I would like to think I'm a Captain that is very reasonable. I understand that there is more than one way of doing things. My way might be not be the only way to do it. In situations we can talk story and be a little more democratic and that's cool. I think I also stress to my guys that there's times where we can't be that democratic. I'm responsible for my crew, I gotta make a call and that's how it has to be."
Q: What are the qualities that make a great Firefighter?
A: "Now days these guys are pretty smart. Not only book smarts, but they have common sense, good head on their shoulders. More importantly they have to treat this job as a professional. You have to really believe that they are providing a service to the community."
Q: Are there any other PCHS alumni besides yourself working as Firefighters at the Waiau Station?
A: "Yes we have few that graduated in the 80's."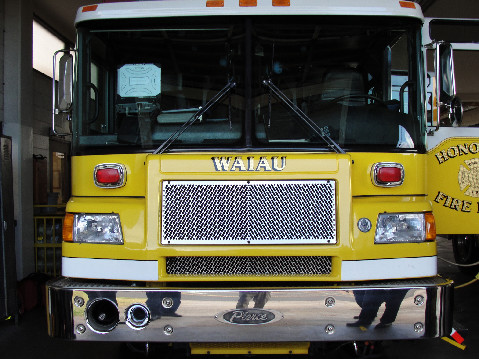 Photo by Barry Villamil
Q: How involved is the Waiau Fire Station with the community and schools?
A:" We try to accommodate the schools as much as possible like the Pearl City High School Career Day. Most recently we participated in the HPD mock car crash. Highlands Intermediate also has Career Day. We love those days. Also the Fire Department is involved in the Firefighters Safety Guide."
Q: Who benefits from the Safety Guide?
A: "The Fire Department puts out this coloring book and learning guide and sends it out to K-6 graders. They fill out the guide with their parents. They take it home and do a fire safety plan and it has all kinds of safety tips in there. They fill it out and later on they get a little coupon book to reward their efforts. There are really important messages in the Firefighters Safety Guide."
Q: Most rewarding part of your job?
A: "I think right now since I'm older, it's being able to provide a service to the community. That's the most rewarding part. When people don't have anywhere to turn, they usually call the Fire Department. They call us and we respond. We go to the scene and try to help the people."
Q: Toughest part of the job?
A: "Human tragedy. We see our share of that."
Q: Anything that you would like to say to aspiring future firefighters?
A: "When we go to a career day like a high school, we usually tell the kids it's important to get an education. Without an education, without graduating from high school, you cannot be a firefighter. It's one of the requirements. You take a test that deals with reading, math and some kind of mechanical figures which really relates to subjects that their studying in school. They also need to be physically fit. That's a really important part of the job."