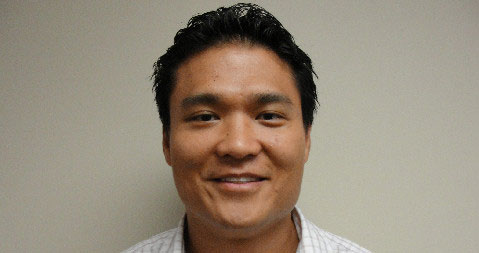 Pearl City High School 1995 graduate Seabrook Mow cares about the future. Literally. Mow is entering his second year of medical school at the University of Hawaii's John A. Burns School of
Medicine (JABSOM). His former career had him covering sporting events for a local paper but gave that up to pursue a career in medicine.
After meeting with him for this interview, I would have to say he made the right choice. His appetite for learning has his goals set on the buffet line of opportunity. His first opportunity came in the way of being accepted to the Imi Ho`ola Post-Baccalaureate Program which allowed him to enter JABSOM as a first- year medical student.
Mow is currently working on opportunity #2 as he enters into the last week of 4 week program called MD-5 Clinical Skills Preceptorship offered to JABSOM students. He will personally testify that it's pretty cool stuff being able to learn more about the field he hopes to specialize in by participating in the program.
I think two of the neatest things I learned about him are that he is still connected to his high school buddies. Some of his friends go as far back as Kindergarten. Can you imagine that? Also, being able to take care of his family plays a key role in fulfilling his dream of becoming a successful physician.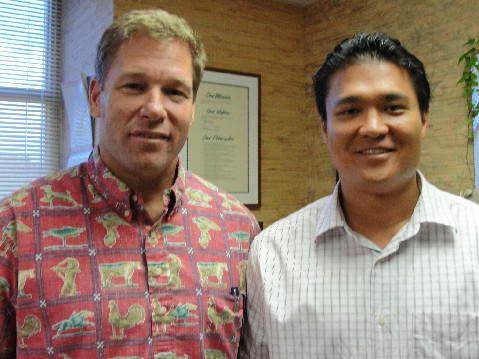 Dr. Ed Weldon & Seabrook Mow, photo: Barry Villamil
Also, congratulations to Mr. Mow as he prepares to be married later this month.
Q: What do you remember the most about Pearl City High School?
A: "I didn't want to leave high school. I think it's the friends that you make. I'm still friends with them today. In fact, I'm getting married next month and my best friend and I have been friends since Kindergarten."
Q: Any PCHS Teachers that made an impact on you?
A: "Yes, Mrs. Abe. I really liked Mrs. Abe. She was my Drama Teacher. She really knew how to connect with the students and bring us out of our shells."
Q: Where did the road lead you after graduation?
A: "I applied to a few mainland schools. My best friend and I attended the University of Hawaii. We were roommates."
Q: What was your Major?
A: "I graduated with a degree in Journalism. I think it was a mistake. I liked going out getting stories in the community, talking story with people but you know I just couldn't enjoy myself. I told myself I knew there's something else out there."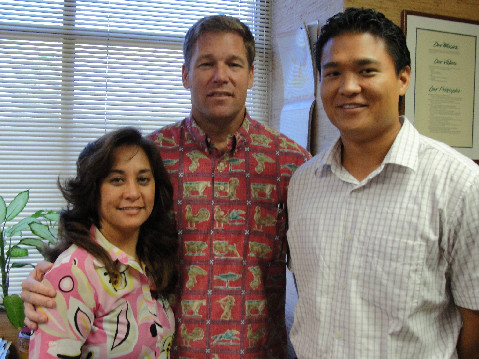 Mary E.Villamil, Manager, Straub Bone & Joint Center; Dr. Ed Weldon, Straub Orthopedic Surgeon; Seabrook Mow, PCHS Class of '95; photo: Barry Villamil
Q: When did you decide to pursue medical school?
A: "Actually I moved to the mainland and I lived in San Diego and San Francisco for a few years. During that time I took some classes, went back to school and took it seriously. I took classes that I didn't take when I was in Journalism. A lot of those courses that are non Journalism that I took are Biology, Chemistry and Physics."
Q: How did the transition go?
A: "I realized as long as I paid attention in class it actually is understandable. I kind of enjoyed that concept of learning everyday. I also volunteered at hospitals. I thought it was pretty cool. You know, when you go home you're tired. You feel like if I were to grab that beer from the fridge I deserved it."
Plus you know my folks are from the baby boomer generation where their getting older and both are retired. I want make sure if one day their health should fail, hopefully 50 years from now, I could at least make an impact on it especially my family and friends."
Q: So you are currently attending the John A. Burns School of Medicine at the University of Hawaii?
A: "Yes I am currently enrolled at the University of Hawaii. But I didn't get in directly. I got in through the Imi Ho`ola Program."
Q: What is the Imi Ho`ola Program?
A: "That's a Post Baccalaureate Program where they accept 10 students that come from diverse backgrounds. From there you go through one year of a rigorous course of medical school instruction where they combine two years of medical school into one. It's like boot camp training. After that boot camp training you automatically get a seat in the upcoming class. They give you the foundation for everything."
Q: You are entering your second year of medical school and are currently participating in the MD 5 – Clinical Skills Preceptorship . Can you elaborate on the structure of the program?
A: "Because I guess medical school for the first year is a shock to many people, they want to make sure our last summer is kind of relaxing, kind of fun integrative work. You don't have to do the preceptorship that I'm doing. You can do something else too. You can do research, you can do case work or learn biochemistry or biology, it's whatever you make of it. So, most people like myself, have a rabid interest in whatever field you want to go in to. My interest is Orthopedics right now. I tried to contact someone to shadow and see the lifestyle and see the operating procedures they do."
Q: How is it going so far with regard to a Doctor you are currently following?
A: " I'm following Dr. Ed Weldon at Straub Hospital and right now I am very happy. That man is awesome."
Q: What does Dr. Weldon do to make it a great learning experience?
A: "Besides having the skill sets and being very educated in his field, he treats everyone equally. He's actually a great teacher. He explains everything where you can understand it, even where non medical students can understand it."
Q: Where do find yourself after graduation from medical school? Dream job?
A: "If everything worked out right now, if I could say right now because you never know what's going to change later, it would be a field in Orthopedics here in Hawaii."
Q: What advice would you give to current PCHS students reading this interview from your experience and career path choice?
A: " I think that it really is never too late to switch out of a career or anything you are doing in life to do a complete 180. It could be scary but that's how life works. Somehow you take little baby steps and you do start developing or becoming what you want to become. Definitely stick with it."
For more information about the JABSOM Imi Ho`ola Post-Baccalaurate Program call: (808) 692-1030 or e-mail: http://jabsom.hawaii.edu.