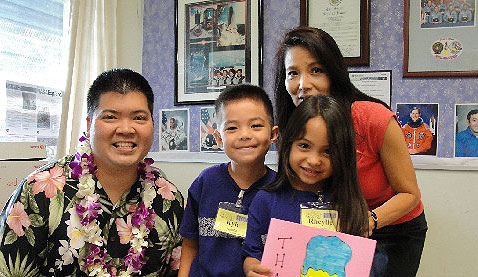 Did you ever dream of becoming a NASA Astronaut and flying to the moon? I'm happy to report that for the current generation of Pearl City Elementary School students, the dream is alive and thriving. Principal, Dr. Susan Hirokane leads the way with having the only elementary school in the state that is a working NASA Explorer School. It may be the only school but Principal Hirokane makes sure that every NASA resource that comes her schools way is shared with others.
The NASA web site states that NASA Explorer Schools will bring together educators, students and families in sustained involvement with NASA's education programs. If you were to visit the Pearl City Elementary Administrative office that's exactly what you would see. All around the office from the walls to counter tops is evidence of the commitment the school has made to being a NASA Explorer School.
As a kid, I entered the 5th grade at Pearl City Elementary not long after the first Apollo Moon landing. Going back to the school earlier in the week made we realize just how far we have come in space exploration as well as what is being taught in the school. Did you know that the school is participating in programs like NASA's LCROSS (Lunar Crater Observation and Sensing Satellite). Pearl City Elementary students will learn how to talk to space from earth. They will also learn with a team of scientists how to operate a radio telescope to monitor the health of spacecraft approaching the Moon for impact. This is big time stuff, at the elementary school level, in Pearl City!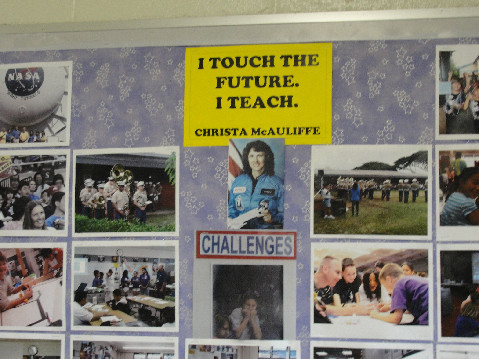 Astronaut Christa McAuliffe message to students | Photo: Barry Villamil
I can't express enough how impressed I am with Principal Hirokane's dedication and the team of support staff, teachers, students, parents and volunteers who make Pearl City Elementary a very special place.
While were at the school on Wednesday, August12 we presented the school with gift certificates from the Pearl City Shopping Center Association of Merchants valued at $1000.00 dollars to help with school needs. Finance Factors Operating Supervisor, Shawn Taniguchi representing the Merchants delivered the gift certificates to Principal Hirokane.
We were welcomed by students Rheylie and Kyle with lei and an awesome hand made thank you card from the students. Student Body President, Tiara Cui also greeted us and thanked us for the generous donation to the school. We were also given gift baskets that I have to admit didn't make it past the traffic light at Waimano Home Rd and Kamehameha Hwy. (Mochi crunch, good stuff).
Thanks again to Principal Hirokane and everyone who makes Pearl City Elementary a great place to be. I hope you enjoy the following MyPC Q&A!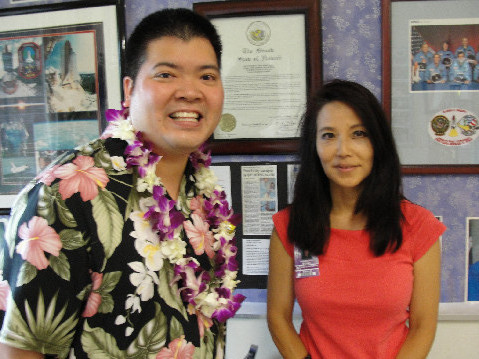 Finance Factors Operations Supervisor, Shawn Taniguchi, Principal, Dr. Susan Hirokane | Photo: Barry Villamil
Q: Can you explain the NASA Explorer Program at Pearl City Elementary School?
A: "Our NASA program is used to support engineering concepts which is science, technology, engineering, math and geography. We are using new multi media techniques of learning that are enabling our kids to be better prepared for college courses."
Q: What are the types of multi media techniques being offered to the students?
A: "They communicate either through virtual symposium or they may do competitive levels of Robotics or Botball."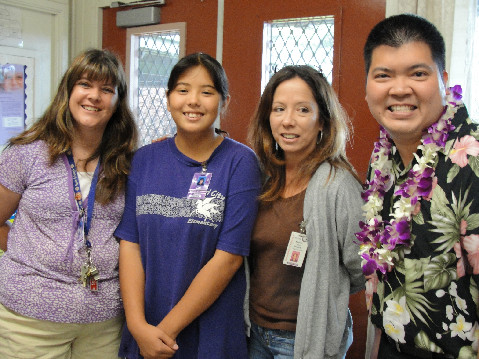 Tammy Calbero, PCNC Coordinator, Tiara Cui, Student Body President, Robin Andrade. Curriculum Coordinator, Shawn Taniguchi | Photo: Barry Villamil
Q: So you are involved in Robotics and were actually instrumental in pioneering the program in the schools?
A: "We started for the Pearl City Community which we met with many leaders and to get them involved as well. Hopefully we'll get Pearl City High, they are part of it. They started about 2 years ago so more and more we'll have a continuum.
What we're also trying to do now is the kids are using engineering for architecture or many fields like medical science."
Q: This is pretty advanced learning at the elementary school level?
A: "The last thing we did was the human body. We have robots about my height and they teach them about physiology and structure so that kids will be able to program the computer so either the robot or whatever mechanism they come up with will manipulate its way through a city. Or it might be the study of Newton's Law. It's the whole science thing."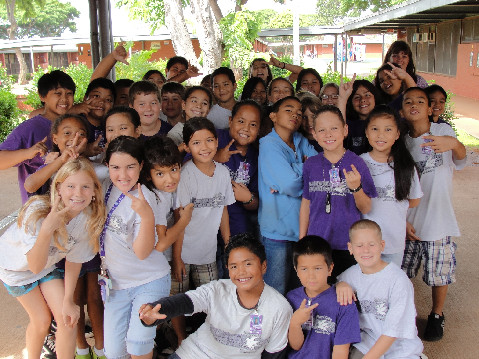 Pearl City Elementary School Junior Police Officers | Photo: Barry Villamil
Q: Do you see the difference in the learning process and the rewards from this level of teaching?
A: "It's much more meaningful for the kids because they have been fortunate in winning different competitions.
Also, the kids who show either improvement in behavior or academics get free classes after school and can keep the science kits and take them home. The goal is so that the parents will learn the Newton's Law and different scientific concepts and processes."
Q: How important is it having the students be able to take the kits home to work on projects and do you see any improvement in them?
A: "To me, the difficulty makes it endure knowledge. If they ace it and if that works well then their not going to remember why I had to make the adjustment and if they had errors or problems with the assembly they have to figure out why.
The good part is that your grasshopper may be a little better than his, then you guys converse to compare what type of adjustments. I did this adjustment to make it go faster, etc. You both are successful but your intent may be different from his."
Q. What about the connection between the school and NASA Astronauts?
A: "The most exciting one was that we got to talk directly to the Astronauts while they are orbiting. One question the kids wanted to know is why is there a delay in the Astronauts response? The answer was that when we talk to the Astronauts while they are orbiting it has to hit several satellites by the time it reaches them and bounces back again.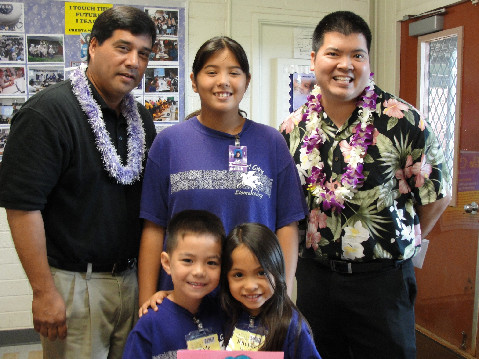 Barry Villamil, MYPC Web Editor; Tiara Cui, Student Body President; Students, Kyle & Rheylie; Shawn Taniguchi, Finance Factors Operations Supervisor | Photo: Barry Villamil
That was also exciting for a lot of senior citizens because they never thought that in their lifetime they would be able to talk to an Astronaut "live" while they were orbiting."
Q: I understand your teachers and students travel to NASA Space Learning Centers on the mainland to learn?
A: "They went to San Jose to be trained. We have 2 teams with a combination of about 20 that I selected. We are also asked to come and help them every so often because they are trying to spread the word to get more schools actively involved. In return they bring the Astronauts and we invite the other schools to come and see them."
Q: I see on the wall in the school's office that many Astronauts have visited?
A: "Yes, some have passed away but the other ones have come here. We have been branching out to space flight so once we make the connection we send them out to different schools so that we can spread it out. to them. They can also receive equipment like a satellite dish, all the type of technology that we cannot afford, they will give us.
Again, we're trying to spread it out to more than just our school. We want to get the other schools to benefit from it. So that's our goal."
Q: Any upcoming events that the school will be participating in?
A: "We're having Ocean Fest in October. It is joint activity with University of Hawaii where their scientist will come to participate. Also, On December 2nd we will have Brush Bot. The activity will feature little pre-packaged robots."
Q: Pearl City Elementary School belongs to the Pearl City Complex District. Am I correct in saying that the Complex strives in working together and sharing resources?
A: "It's a network. You start a hub and keep it expanding."