What does the community receive for the proposed 5.5 million dollars of improvements to the Center you ask? How about an adult day health center and early childhood education center? Also in the planning is a Chef School and Restaurant to serve the community. Groups and organizations will also have access to additional party and meeting room facilities.
It's a pretty big task getting the project to the actual construction phase. I have to say that if anyone could do it, that person would be Breene Harimoto. His vision is set two steps down the road. Harimoto possess a few qualities that I was able to identify within the first 5 minutes of this MyPC Q&A interview; Creativity, Ambition and Leadership.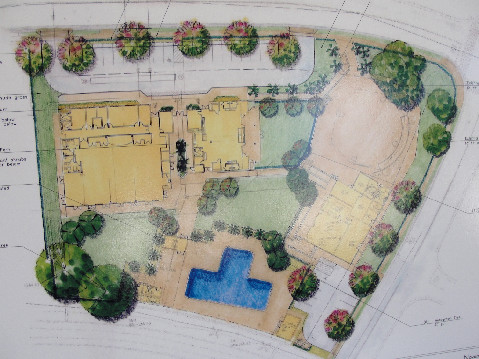 Momilani Community Center Construction Layout | Photo: Barry Villamil
His experience as a current Board of Education member representing the Leeward District is a direct benefit to Pearl residents as well other communities throughout the island. Actually, Momilani Community Center programs not only serve Pearl City and neighboring communities, it also serves the leeward, central, west and north shore areas.
The Pearl City Foundation states its purpose is to strengthen and enrich the Pearl City community by providing wholesome, family oriented programs and events. The success of the PCF would not be possible without the support of the community. The PCF staff, volunteers and board members are committed to serving the community.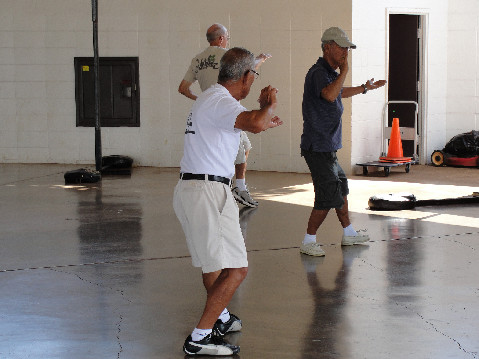 Tai Chi Volunteer Instructor, Yukio Kinoshita | Photo: Barry Villamil
I would also like to recognize Pearl City Foundation Program Director, Naomi Tully-Ungacta for her dedication to the community and the many programs that she oversees from intersession enrichment
to Hula classes. Day in and day out she is there for community residents who come and utilize the programs and services at Momilani Community Center.
Hope you enjoy the following MyPC Q&A!
Q: How important is the role of the Pearl City Foundation in the community?
A: "Our whole purpose at the Pearl City Foundation is to strengthen the community. We envision this to be the hub of the community, getting everybody together, that's why we do our events and programs."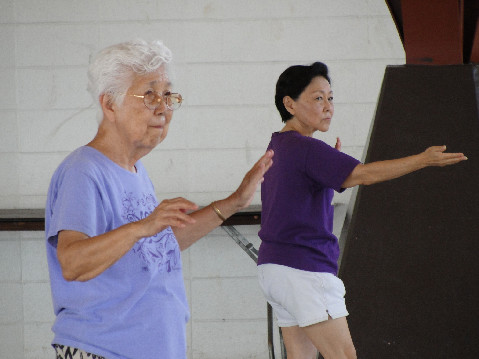 Tai Chi Class Participants | Photo: Barry Villamil
Q: Does the Pearl City Foundation work with businesses in the Pearl City community?
A: "We've been reaching out to businesses in the community to partner with us. Our whole philosophy
always is partnering with others."
Q: How long has the PCF owned an operated the Momilani Community Center?
A: "We started in about 2000. This two acre facility used to be a private homeowners association recreation center. Over the years the community got older, they didn't want to pay their dues and this place was a mess. It was shut down. The community said "give it away, we don't want it." So I got community leaders together. For five years I told them that we need to save this place."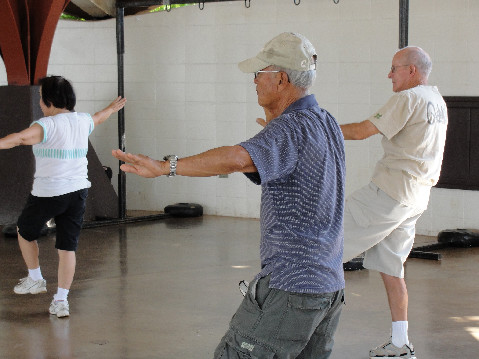 Tai Chi Class Participants | Photo: Barry Villamil
Q: How close did you get to actually losing the property?
A: "We were on the verge of signing on the dotted line to give this to the YMCA or the City. I kept telling them this is absurd, we can't give it away. So finally, at the eleventh hour with the YMCA drooling over taking this place over, finally enough of us said ok, we'll do it. We formed the Pearl City Foundation with the sole purpose at that time was just to save the Center."
Q: Did you have a vision beyond the action taken to save the Center?
A: "The vision was to make this the center of the community where people would come and gather and have programs. We did that in 2000. Several years later, as you can see we're bustling with activities.
We succeeded, but we had a bigger vision beyond just this Center which was to help other organizations in the community. There are other small organizations that need help. We wanted to be like the support line to help them to do whatever they need to do."
"
Q: How many staff members do you employ?
A: "We used to run it all on volunteers for many, many years. We still largely do run on volunteers. Our only full time paid staff is Naomi Tully-Ungacta who is our Program Director. She runs all our programs. I'm kind of part time Executive Director, janitor, yard man. We hired a caretaker recently, so we're getting there."
Q: What type of programs do you offer to the community?
A: "We have so many programs. It's like Tai Chi, Hula, Line Dancing, Ikebana for seniors. The pride of our program is intersession enrichment. Whenever the schools are on break, Naomi runs like a summer fun program but its enrichment and we have about a hundred kids. We also have a Junior Leader Program.
We have swimming, boxing, Karate and all kind of activities."
Q: I noticed a lot of seniors in the center today. Are there plans to increase programs for senior citizen residents?
A: "We're getting ready to start a senior morning program. What we thought was that this place is not used in the mornings. We see tons of seniors walking around early in the morning. The vision is to open up the Center. They can come here gather and socialize. To me, that's the key. The socialization is so important. They can make new friends, they can talk, and they can go out walking together.
We can have programs and seminars for them. Health programs, exercise programs, finance programs.
We're trying to put that together. The goal is to find a community member, one of the seniors to take ownership of this program and kind of take charge."
Q: Do have any businesses or organizations offering to help with the programs?
A: "Hawaii USA Credit Union took hold of the idea. They love that idea. They are helping us put this together. We are actually looking for a sponsor. All we really need is funding for refreshments. I think that's important for seniors. Coffee, tea, juice, fruit, a little refreshment."
Q: How about any events planned for Momilani Community Center?
A: "We have two huge events every year. The big one is coming up, which is our Family Fun Day.
This is the fifth year we are doing this and again the whole purpose is not to make money, it' not a fundraiser. The goal is to bring the community together. Strengthen the community. We try to keep everything free. We have free games, free prizes but we charge for the expensive stuff, the inflatable's,
the pony ride, petting zoo, because we have to pay these vendors."
Q: The second planned event?
A: "The next big one is Halloween. Every year Halloween night is a safe alternative to Trick or Treat in the neighborhood. We have over a thousand people coming here. It's a fun and safe event. The whole key is safety. We don't accept donated candies. We buy everything just to be sure."
Q: What about plans to build an adult day health center and early childhood education center on the Momilani Community Center property?
A: "This is a real exciting vision. Two acres we have here. Largely open field. Under utilized property.
We spent probably a couple years brainstorming working with experts on how we were going to do this? What we came up with was what's needed is an adult day health care center. It's not a "day care" center
it's a day "health care" center. It provides medical care on top of that. Seniors go to a day care center and they all need medication. The adult health care center can provide medical examinations, we can have staff
give medications from the center.
We also need to take care of the little kids. We are going to do an early education center, pre-school.
The pre-school will have a total of 40 kids. The adult day health center will accommodate 80."
Q: Will the adult day health center and the early childhood education center share the same facilities and space?
A: "Our whole idea was its two separate things the senior center and the pre-school. It's also a generational center that they can enjoy together. The two generations feed off each other and they help each other.
We wanted it together but the architects said well it's separate, they have their own separate entrances but
are connected by a courtyard."
Q: Where will the funding come from for the project?
A: "We got a $500,000 Grant from the City. It's HUD money to do the planning and design. We have all the planning and design done. We're getting into the phase of fundraising for construction. We do have $2,000,000 in state money, the GIA from the Legislature that will laps next July. If we don't get it going by July it's gone. We also have a consultant working with us. He's pounded the pavement
Q: You have raised 2.5 million so far for the project. How much more do you need?
A: "For the first phase the estimate was we needed 5.5million.. We need another 3 million or so to get the job done. We got some private foundations that are willing but we just didn't have the where with all to do this ourselves so we finally hired this expert to help us."
Q: Besides the adult day health center and the early childhood education center, what other programs will serve as revenue resources for the Center?
A: "When the Pre-School and Senior Citizen facilities are not being used at night and on weekends, we can have other organizations come in and use them. My idea was to partner with a Church. My other idea is to
add a second story and put in a restaurant. Not just a restaurant, but it's a job training restaurant .Chef school. So we can train the underprivileged unskilled workers. It's a skill they can take to Waikiki or wherever to get a job.
The High School is interested in partnering with us with their food service. Leeward Community College we think would be very interested. We have at least two restaurants that are very interested. We know this is a winner. I think that not only is it a great idea, it gives us the revenue resources."
Q: What about the Momilani Community Center being used for parties?
A: " We have Saturday and Sunday party rentals. This is really a wonderful resource for the community
We have a lot of people coming through here each month."
Q: What do you estimate your budget will be annually to sustain the facilities?
A: "It's big. That's why we need all these partners to help sustain the place. To me that's the key to sustainability. When we got the $500,000 planning grant and the GIA from the state, we guaranteed that this will be self sustaining. Once it's constructed, we would never go back knocking on their doors for operating bucks"
Q: How confident are you in accomplishing your mission to raise the additional 3 million dollars
needed to get the project under construction before the July deadline that puts the GIA funds in jeopardy?
A: "If we can really make this great idea where people buy in, I think people will jump on board. We can get more money."