Young men and women across America once again stepped up to defend our nation's freedom. Former Pearl City resident, Sergeant Jeris Rita who currently serves in the United States Marine Corps is one those individuals who put country first and his life on the line to defend it.
You see, Sergeant Rita was one of the neighborhood kids in Pearl City who did all the things little guys do. He lived across the street from me and was always a very polite and respectful kid growing up. That's why when word came my way that he decided to join the Marine Corps; I knew in my heart that he would serve his country with honor. My Father is retired from the Marine Corps and survived two wars. I understood as a military dependent, the discipline and committment that it takes to serve in the Marine Corps. Actually I lived on the same base, Camp Pendleton in California that Sergeant Rita is currently stationed at today.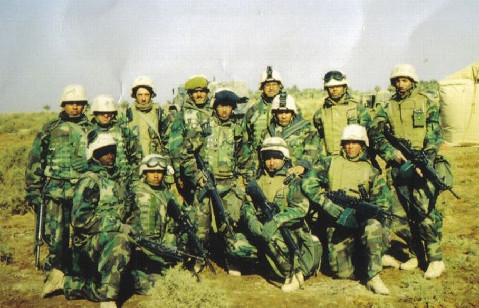 Sergeant Rita with his unit in Iraq
Sergeant Rita has been on the battlefield in Kuwait and Iraq and has experienced first hand the fall of Saddam Hussein.
Through it all, he remains true to his country, family and the place he will always call home, Hawaii.
I had the honor of catching up with Sergeant Rita recently. The following MyPC Q&A is a quick glance at the life of an island son who has chosen to keep us safe.
Q: What are your current job responsibilities in the United States Marine Corps?
A: "My current rank is Sergeant of Marines. I am a Supply Clerk at a Reserve Battalion stationed in Camp Pendleton, CA. I train Reserve Marines of Southern California from San Diego to Los Angeles in order to prepare these marines in the case the Battalion is activated for deployment. I was a Marine Corps Recruiter in Sacramento, CA from 2005-2008."
Q: You entered the Marine Corps at a time when the United States came under the 9/11 attack?
A: "I joined the Marine Corps in May of 2001 and went to Boot Camp a week after the horrendous 9/11 incident."
Q: I understand that your brother was serving in the armed services at that time as well?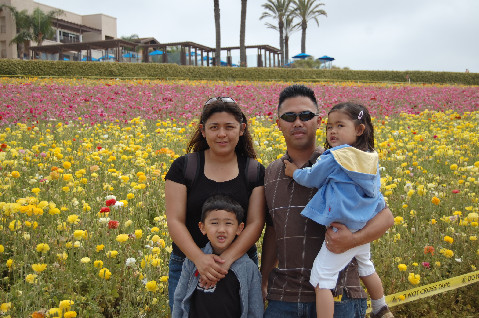 Jessica, Jaymehn, Jeris, Jesslynn-Sachiko
A: "My younger brother Jerryl had just gotten back from his second deployment with the Navy and was traveling between Hawaii and his ship's homeport, San Diego when we all heard about the Twin Towers being hit. My mother was also aboard the ship enjoying the "Tiger Cruise" with other service members and their families."
Q: How did the 9/11 attacks affect your emotions knowing you will soon be entering Boot Camp with a potential war on the horizon?
A: "Seeing my brother in uniform and knowing that our country had been attacked, solidified my decision to serve my country as my father and grandfather did. My family had now had a part in all four major
branches of the military."
Q: When did you first deploy to the Middle East?
A: "I deployed with 1st Marine Division in February of 2003 and crossed the border from Kuwait to Iraq in March by order of the President."
Q: What was your mission's objective?
A: "My Battalion played a key role in helping secure Baghdad and also traveled to Saddam Hussein's hometown of Tikrit. We were tasked with securing Tikrit so the Army could sweep in from the West and take over as the occupying force. The whole time that I was in Kuwait and Iraq, my brother was in the Persian Gulf securing the coast from the sea."
Q: Tell us about growing up in Pearl City?
A: "I went to school at Pearl City Highlands Elementary School, Highlands Intermediate, and Pearl City High School. I finished at James Campbell High School my Junior and Senior year.
I bowled in the Bantam League with the Leeward Bowl, Junior Bowling Club and was also a member of the PCHS JV Football team as a freshman and sophomore."
Q: Where did life take you after graduating from James Campbell High School?
A: "After graduating from Campbell in 1995, I was still a familiar face around Pearl City as I would visit my grandmother everyday and frequent the Pearl City Shopping Center. I worked at Chuck E. Cheese from 1995-2001 and left as an Assistant Manager before leaving for the Marine Corps."
Q: How about the responsibility of raising a family?
A: "I am very happily married to Jessica from Ewa for 8 years and have two beautiful children, Jaymehn and Jesslynn-Sachiko with another boy on the way in November."
Q: What do you miss most about Hawaii?
A: "I definitely miss a lot of things about home. I miss the "Aloha spirit" of the islands, everything is so "hustle-n-bustle in the mainland. I miss Yummy's and Laverne's but we get L&L up here, so we get our plate lunch fix. The thing I miss most is Foodland Poke! Ahi Limu, shoyu poke, spicy ahi, mussel poke, just all the seafood. Zippy's needs to build a couple of restaurants here in Southern California and Las Vegas, I'm getting hungry just thinking about it."
Q: Miss the surf?
A: "I definitely miss my long board and White Plains, even just chilling at Alas or Ko Olina. Beaches just can't compare to Hawaii's."
Q: How about family back in Hawaii?
A: "Family is always a phone call away, or an e-mail or IM with a webcam or better yet, an excuse for a vacation."