She has also successfully crafted a coaching style and philosophy from her experience as a player in both college and high school into a program at Pearl City High School that continues its winning tradition. Shigemasa guided her 1997 squad to capture the OIA Championship.
The winning tradition runs in the family. Shigemasa is married to Pearl City High School Athletics Director Reid Shigemasa who has captured multiple OIA Championships as the head coach for the Pearl City Chargers Boy's Varsity Volleyball program.

Coach Shigemasa, Pearl City vs. Radford | Photo: Barry Villamil
Side by side, the two Shigemasa's represents the Chargers success from the past as former student athletes and alumni and are currently guiding the future in their leadership roles in PCHS Athletics.
Faced with recent budget cuts to Hawaii high school athletic programs statewide those roles are being tested as adjustments have been made to compensate for cuts in funding the PCHS athletic program.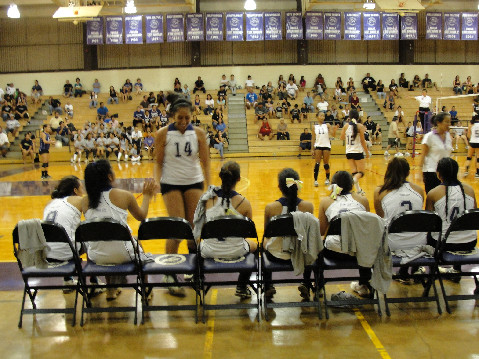 Pearl City vs. Radford | Photo: Barry Villamil
Through it all, Pearl City High School Athletics continues to provide their student athletes the opportunity to compete and learn the valuable lesson of sportsmanship.
Stephanie Shigemasa leads the way as an impact coach, on and off the court. Most importantly her goal has always been to develop and prepare her student athletes for the future. Her efforts along with an experienced coaching staff have dedicated themselves into making sure they reach their goals.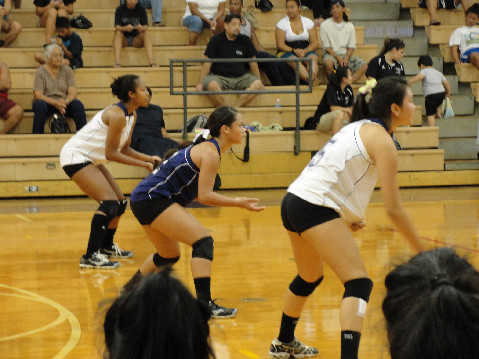 Pearl City vs. Radford | Photo: Barry Villamil
Q: You are currently 5-1 entering your next match up with Aiea on Thursday (9/10). How has the 2009 season gone so far?
A: "Okay so far, we still have a lot of tough games left. This week we have Aiea and we still have Mililani twice and Leilehua twice."
Q: Does your team match up well with Aiea?
A: "Aiea is pretty good size wise. We played them once already and it was a heartbreaking loss. Size wise we are about the same."
Q: How have your returning starters stepped up to lead the team?
A: "So far they are doing what I want them to do. I guess they bring a lot of experience because they are returning starters. Right now as a whole team we are working on the mental part of the game. Physically, you know we're there, it's the mental we're working on with everybody."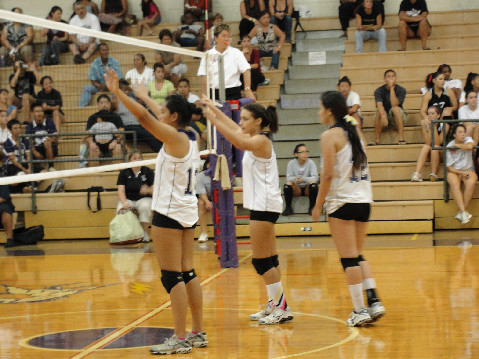 Chargers at the net | Photo: Barry Villamil
Q: You are entering your 14th season at Pearl City. How was the transition from playing at the D1 level as a UH Rainbow Wahine to your role as the Junior Varsity coach at Pearl City?
A: "At first for me it was an honor to get to come back to my high school. The first year I actually coached JV it was a hard transition because I guess you think they know how to play so you would have to break everything down for them. My first year it was a hard transition but I'm still learning every year, how to change things, how to improve my coaching."
Q: Have your years playing for Rainbow Wahine coach Dave Shoji had an influence on your coaching style and philosophy at Pearl City?
A: "I guess for me the skills came from college but how we run our program here came from when I played here in high school. We believe in trying to teach the kids about life through volleyball verses volleyball for later on in life. So we try to teach them about responsibility, dedication, hard work. We stress a lot about grades and things. That was our philosophy we were taught through Mr. Hisanaga so we try to instill that in our girls."
Q: How are your kids doing academically?
A: "A lot of them are on the right track to go to college. They are in the harder classes. We do have study hall and things to help the kids out. So far we've been okay with grades. They are hard workers in the class and we try to make sure that they are doing what their supposed to do. Behavior wise they are good citizens, we tell them being athletes they are out there and people know who they are so they are more watched upon."
Q: What affect has the recent budget cuts to OIA athletics had upon your program?
A: "We definitely have to be more self sufficient as a program. This year we had to impose a participation fee where they have to pay to ride buses. Before we didn't have to and so it's something totally different for us in that aspect. It's not a playing fee. The Parents understand it and the kids understand now and I guess now they realize how fortunate we've been even as coaches to have everything taken care of for us."
Q: The Chargers compete in the Junior Varsity, Varsity and for the past couple of years the Blue Division. What grades are allowed to compete in the Blue Division?
A: "Actually on the Blue team you can be from freshman to senior and they can be at any level. For us it helps a lot for kids who wouldn't necessarily make the Varsity team, they would get cut, even the JV team. This allows them one extra chance."
Q: Tell us about life as the wife of the Pearl City AD?
A: "It works out well. I enjoy going to sports and supporting him and the athletic program and he helps me out here by keeping me on track. I guess I know what's happening ahead of time."
Q: How meaningful is it for you to be coaching the girls at Pearl City High School?
A: "For me I take a lot a pride in being here as a coach. Graduating from here, knowing what our reputation was like playing here. For me I guess I want the girls to be able to experience the same things or to feel proud of at least coming through this school and enjoying high school. I tell them that high school is one of the best years of your life and to make the most of it."