Tanabe is a former 2nd team All State selection as a Catcher while playing for the very successful
and talented Pearl City High School Chargers Varsity Baseball team that captured OIA Titles
in 2007, 2008 & 2009.
Playing Professional Baseball runs in the family. Carlton's Dad, Collin Tanabe played three years in the minor leagues after being drafted out of the University of Hawaii as a Catcher in 1981 by the Milwaukee Brewers in the 5th round. Collin Tanabe's experience and knowledge at the Catcher position has guided, molded and prepared his son to make the leap from high school to the Pro's. Sharon Tanabe, Carlton's Mom has been there every step of the way for her son as well.
Carlton's success goes as far back as a player participating in Pearl City youth baseball leagues. Dedicated volunteers, coaches and supporters have guided Pearl City youth baseball to State, National and World Championships in past years.
I have watched Carlton grow up from dragging the infield at Hans L 'Orange field in Waipahu as a member of the grounds crew for the Hawaii Winter Baseball League to slugging a game winning home run as a Pearl City Charger. I am truly looking forward, along with the rest of his supporters, to following his progression through the MLB Farm system and to one day being witness to his first Major League game behind the plate as a Seattle Mariner.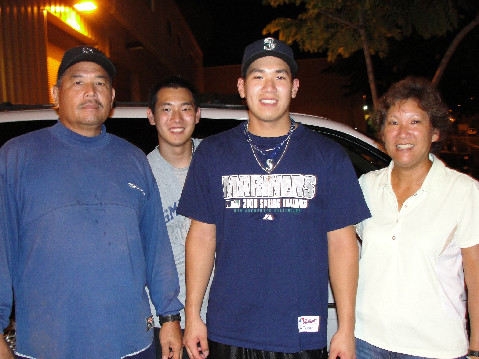 The Tanabe Ohana | Photo: Barry Villamil
Q: How does it feel to be home after your first season as a professional ball player?
A: "Awesome."
Q: Take us back to being drafted in the 24th round and signing with the Seattle Mariners?
A: "It was an awesome feeling. I just wanted to sign. My parents said I wanted to get at least schooling and the money would help."
Q: Did your contract provide for college?
A: "Yes, they gave me schooling. I will probably take classes after my season."
Q: How long after being drafted by the Mariners did you take off for your first assignment?
A: "There was the draft and we had lunch with the scout and a couple days after I was gone."
Q: Where did you go?
A: "Peoria, Arizona. I went to the Arizona League. It was nice and hot."
Q: How was the transition from high school to professional ball at the rookie league level?
A: "It was a big difference."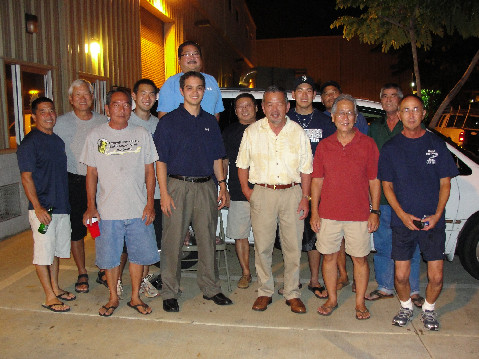 Hawaii Winter Baseball Gang with Carlton | Photo: Barry Villamil
Q: You've had the experience of being around the Hawaii Winter Baseball League for the past few years. Was the rookie league set up similar to HWB?
A: "It's like Hawaii Winter Baseball but not as intense because HWB was like Double A and Triple A guys."
Q: Did the league have international players on their rosters?
A: "A lot of people from the Dominican Republic. A lot of Latino players, 16 and 17 year olds."
Q: What about playing time?
A: "We played four games and then the 5th day we'd rest. I'd play maybe one out of the four because we had four or five catchers."
Q: Any road games?
A: "We traveled. The farthest bus ride was about 45 minutes away."
Q: How was the competition at the Catcher position?
A: "Solid. Everybody is good."
Q: Has the quality of coaching improved you as a Catcher?
A: "It made me more balanced. Like spreading out more and being able to move left and right quicker because they throw harder. Also getting down to block a ball faster. The things they tell you is amazing."
Q: How about adjusting to speed of pitching to improve your hitting?
A: "They changed my swing to get your foot down early so you have time to see the ball and then hit it.
The instruction was great."
Q: Are there other MLB teams training in the same facilities as your organization?
A: "We share our complex with the Padres. The Rangers and the Royals are about twenty minutes away from us. It's all in the same area."
Q: Will you spend time before Spring Training working out here in Hawaii?
A: "No, Sunday I'm leaving for instructional ball.
Q: Where is instructional ball?
A: "Same place, Peoria."
Q: How long?
A: "Three weeks. I come back home on October 11."
Q: How would you grade your performance after completing your first season in the rookie league?
A: "I think I did alright for my first time. I just got used to the lifestyle and playing. I think I did alright."
Q: How was the food in Arizona?
A: "It was good. I pretty much eat anything. There was a lot of chicken and potatoes."
Q: Did the season fly bye?
A: "Yah, I had so much fun up there."
Q: What did you do in your free time for entertainment?
A: "Just hang with the team, go to the movies, and go to the mall."
Q: What kind of communication did you have with family back in Hawaii?
A: "I called my parents every night."
Q: Did your Dad give you any advice?
A: "Well, like if I do something bad I'd tell him and he would tell me what I can do to fix it."
Q: Were they able to see you play in Arizona?
A: "They came up about a month in. They stayed for about a couple weeks. They got to see what it was all about."
Q: So how's the experience been so far?
A: "It's pretty awesome. It's like a dream."
Q: Who would you like to thank and recognize anyone for helping you get to the professional level?
A: "HWB for letting me catch in the bullpen really helped a lot. My parents for always supporting me.
Lenny Sakata, Eric Tokunaga, I used to work out with them all the time. There are a lot of guys out there
that helped me out. They helped me Catch My Dream."