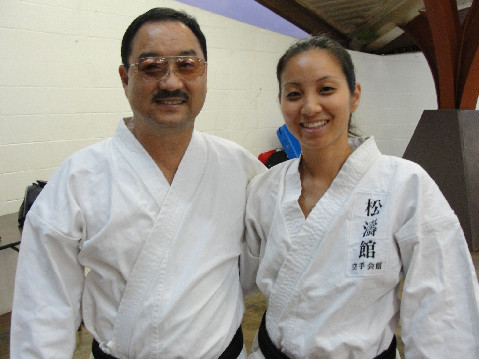 Photo: Barry Villamil
Sensei Nakamoto grew up in Pearl City and moved to Mililani after returning home from the mainland. He has been involved in Karate for close to 40 years and was originally with the Karate Association of Hawaii.
I have recently had the opportunity to meet and actually spend some time with Sensei Nakamoto and his daughter, Trisha Fujimoto who was helping her father teach a class this past Monday night at the Momilani Community Center. The pride and respect that Fujimoto has for her Father comes from their very special relationship. Fujimoto commented, "He's been training for so many years and he has a lot of insights about Karate and how they all intertwine. He shares that every week with the students.
I've been training since I was 6. It's been about 22 years and he never forced me to do Karate. My father is so uplifting. He can tell you about your mistakes, tell it like it is, but you would take it and be encouraged somehow."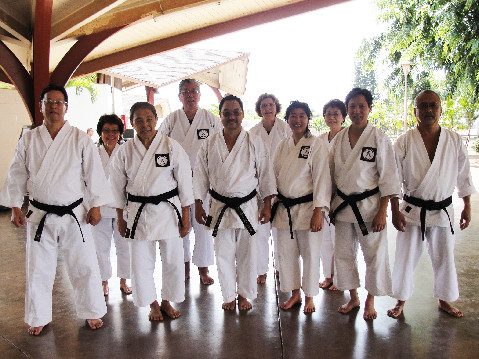 Photo: Barry Villamil
The HI Shotokan Karate Foundation led by Sensei Nakamoto is non combative, Nakamoto explains, "It's mostly what I feel Karate is. It's not about punching. One of my Sensei's always said that it's not about the punching and kicking. Like when you write, it's the content. The content is universal for us. It's actually supposed to be about teaching life.
We trained in a real competitive and kind of brutal condition. I didn't want that and so we don't emphasize tournaments and we don't have sparring. The students are so mature that I might be able to teach them. We teach them the breakdowns for sparring but actual exchanges I haven't done."
Sensei Nakamoto keeps the training costs down as well. I asked him, how much do the students pay to participate? Nakamoto explained, "I charge them $10.00 dollars a month, and then what I do is I cap it because we like families to train. If you have two or more we cap it at $20.00. What really used to bother me was you want to train as a family and you get four or five and it's hundreds of dollars."
I thoroughly enjoyed spending a couple hours with both the All (color belts) and Advanced Karate classes
earlier in the week. The HI Shotokan Karate Foundation sensei's and students were nice and very respectful. It was fun being around them. Sensei Wes Nakamoto and daughter Trisha Fujimoto truly make our community a great place to live in through their efforts.
My last question for Sensei Nakamoto was if he thought it was too late for someone my age (50) and condition (out of shape) to join? Sensei Nakamoto responded, "It's never too late".
Check out our photo galleries for images of both advanced and all (colored belt) classes.
HI Shotokan Karate Foundation classes are held on:
Saturdays
All: 9-10am
Advanced: 10-11am
Mondays
All: 6-7pm
Momilani Community Center
Address: 715 Hoomoana St. Pearl City, Hawaii 96782
Tel: (808) 456-2073