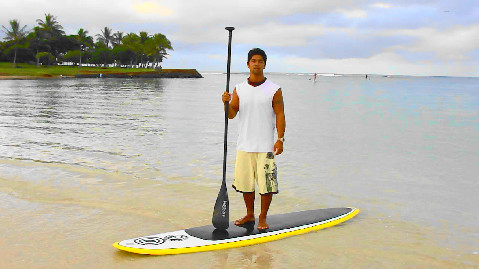 photo by Barry Villamil
Inouye's success while at the University of Hawaii caught the interest of Major League Baseball and it's paid off. He was drafted in the 21st round of the 2006 MLB June draft by the Chicago White Sox and went on to play four seasons in the minor leagues. Last winter, Inouye was assigned to play at home in the Hawaii Winter Baseball League.
Today you can find Inouye working as a stand up paddle/fitness instructor for Paddle Core Fitness operating from Magic Island at Ala Moana Beach Park in Honolulu.
Matt's father, Reid Inouye started Paddle Core Fitness a few years ago and has recently passed a good portion of the day to day stand up paddle instruction duties to his son.
Reid Inouye is the Editor in Chief for StandUp Paddle Magazine (SUP) which is in my opinion, one the best water sports magazines around.
Matt Inouye is a testament to the fitness and positive health results that stand up paddle training can provide to all who participate and commit to the sport. He's in shape and also looks like he could play Defensive Back for the UH Warriors.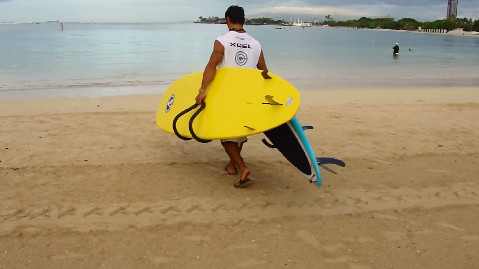 Matt setting up next stand-up paddle board class | photo by Barry Villamil
Jenny de Jesus trains with Paddle Core Fitness at Magic Island. de Jesus commented, "I work in an office, a good 9-5 desk job so it's nice to get in the water a few times a week. I actually do this more than surfing now and I've gotten into stand up surfing so I'm learning how to do that. It's just a really good all around form of exercise."

It was a lot of fun catching up with both father and son for this interview. I've known Reid for a number of years via the surfing industry and have watched Matt mature as a baseball player from the youth leagues to his days at Hawaii Winter Baseball.
I have to say that it must be pretty cool having a father and son relationship that combines their love for ocean with the desire, passion and skills to teach others to enjoy the same experience through stand up paddling.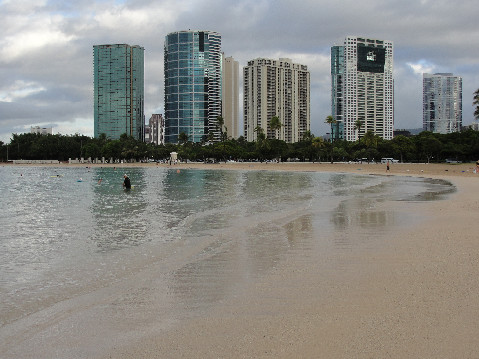 Ala Moana Beach Park | photo by Barry Villamil
Check out www.Paddlecorefitness.com for training schedules and information and also www.standuppaddlemagazine.com for the latest in standup paddling.
Q: What makes someone fall in love with Stand Up Paddling?
A: "For a lot of people they have never surfed before so they are on top of a board for the first time and its just different seeing the water at that angle. I mean you're on top of the water, you can see down into the water and there is usually a lot of marine life in here swimming around and a lot of people like that. It was just oama season out here. You know people like to see the fish. They like to see turtles popping out of the water out here. It's just a different way of viewing the water and it's not so dangerous for a lot of people who are scared of the waves."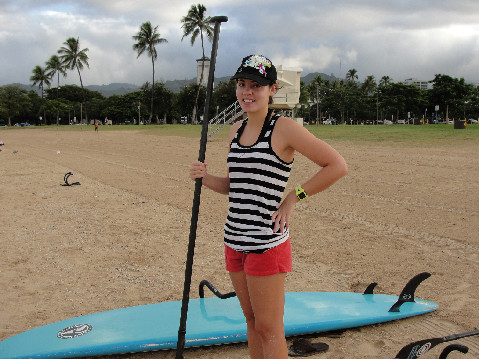 Stand up paddle boarder Jenny deJesus | photo by Barry Villamil
Q: Have you seen your students improve their fitness and conditioning?
A: "Yes, a lot of people tell me they feel like they're getting stronger. I've only been doing this for about 6 months so I haven't seen too much dramatic impact on people but I can tell a lot of them come out here and fall in love with the sport. It's just a matter of time before people start getting in shape."
Q: Does the Paddle Core Fitness program also offer off the board training?
A: "Sometimes if there are not too many people we'll go down the beach park and make our way down there and come back. We'll get out and do little beach runs. We'll do squats on the board, push ups on the board abs on the board. Basically, just get a good workout and exercise. For a lot people its low impact so it's not like running where their hurting their knees or anything. Some people like to use it just for another day of exercise
other than getting in the gym."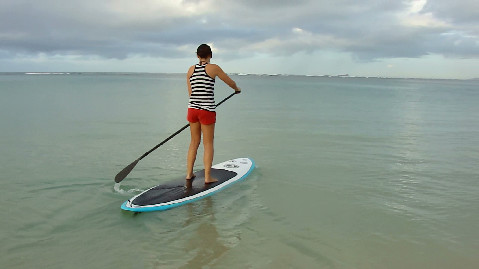 Jenny taking off | photo by Barry Villamil
Q: Paddle Core Fitness is also connected to StandUp Paddle Magazine (SUP) owned by your dad. Tell us a little about SUP?
A: "StandUp Paddle Magazine is a new venture for Reid and its quickly becoming quite the magazine. If you take a look at it, just the cover alone speaks for itself. The magazine is put together well, there's great editorials in there and it's something new that is going to hit the market and kind of blow up."
Q: Does your role also include working with the SUP Magazine?
A: "I'm basically helping out with time management because Reid can't be down here paddling people and being at the beach because he's working on his magazine. Basically I'm helping him with time, giving him time to work on the magazine."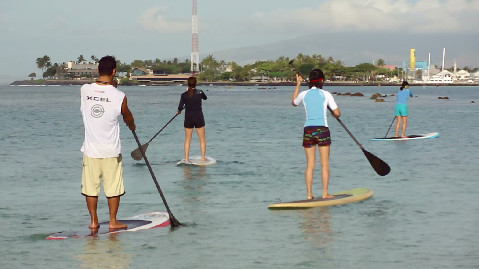 Matt with AM morning class | photo by Barry Villamil
Q: Your dad just returned from the 2nd Annual Rainbow Sandals Battle of the Paddle recently held in California. Were you able to make it to the Battle and do you also participate in competitions?
A: "No, I did not go to the Battle of the Paddle. I would actually like to do that next year and I would like to start getting into a lot more races. I just need to work on a little more technique and start getting better and getting real serious about training for this sport. Hopefully next year I can paddle Molokai with him."
Q: Are there any mental or physical differences preparing to compete in paddle board races compared to your career as a professional baseball player?
A: "I think with baseball, it wore down on my emotional or kind of mental state of mind
and you know it was a grind every day just to think about how bad of a game you had or whatever. Out here, it kind of helps when you're in the water and you see somebody in the front of you that you know you have to catch to move up in a spot. In the one race that I did it keeps you strong in your head. It keeps you motivated."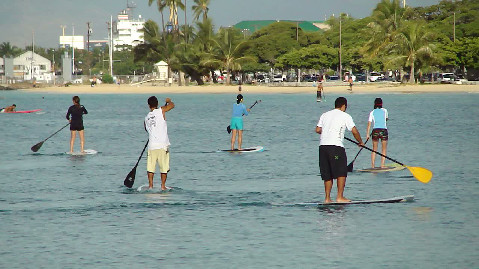 Matt checking it out | photo by Barry Villamil
Q: You mentioned that your goal is to train and race Molokai. Are there any other competition goals that you have set your sights on?
A: "I definitely want to get more serious in doing this, its just finding the money and the time to get the real race boards. This is a pretty expensive sport. I like to compare it to Golf almost because your paying a lot of money for something you don't know is the right board for you. I mean its all about getting the money first."
Q: What would be the average cost of a paddle board?
A: "A board can range from anywhere from a $1000 to $2000. Race boards probably run $2500 to $3000. For a good paddle is probably about $200 for a top of the line paddle."

Q: Do you see athletes that you recognize getting in to the sport?
A: "I haven't seen anyone that I recognize getting in to the sport. You know, I like being out in the water. I've always loved being in the water. I think it's a different group of people coming out here to do this sport and not so much the baseball, football, basketball players. But I think it would be good cross training for them to maybe start something like this a couple times a week and just work different parts of their body."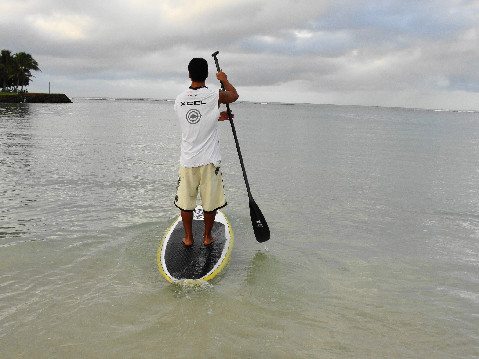 photo by Barry Villamil
Q: Where in the world would be your dream spot to paddle board?
A: "I have no idea. I would love to travel the world and see a lot of different places and paddle a lot of different places. The cover of the last StandUp Paddle Magazine in Lake Tahoe looked pretty nice so I wouldn't mind doing that."