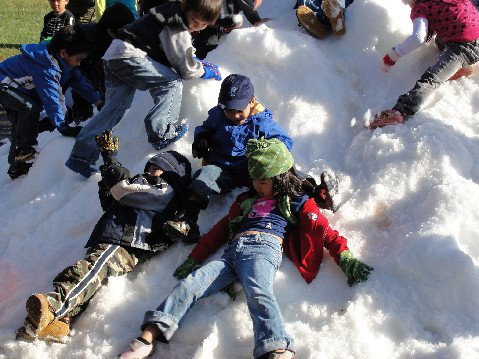 Momilani Elementary School Kindergarten class enjoying the snow / Photo By: Barry Villamil
Momilani Elementary School students got a really "cool" treat today after school meteorologists yesterday predicted snow in the forecast for Thursday. They were right! It came down heavy at 8:00am. 12 TONS of snow landed right on campus.
Well, actually the load of snow was hauled and dumped at the school by B&C Trucking Company. Verne Santos, owner of B&C Trucking Company generously donated 6 tons of the snow as well as the hauling of the total 12 ton load. Momilani Elementary School PTSA paid for the other 6 tons.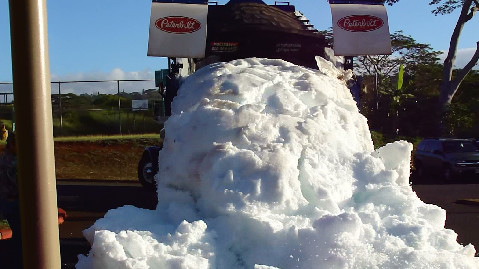 Snow being dropped by B&C Trucking Company driver Kimo Ganer / Photo By: Barry Villamil
Momilani Elementary students, grades K-6 got the opportunity to play, jump and slide down the heaping mound of snow.
Verne Santos and his B&C Trucking Company have been donating and participating in the Momilani "Snow Day" for the past 9 years. He gave us the following comment; "It's a joy just to see these kids come out and just to watch them play in the snow. It's so rewarding and to see their spirits. It's also really nice to read the thank you letters that they send me each year."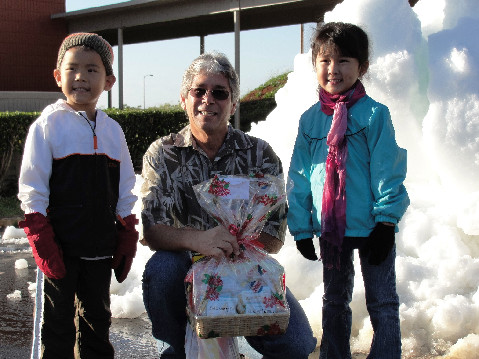 B&C Trucking Company owner, Verne Santos receiving thank you gifts from Kindergarten students / Photo By: Barry Villamil

Momilani Elementary School Counselor, Lance Nishihara has been involved in "Snow Day" for the last 9 years. I asked him about the school PTSA pitching in to provide a portion on the snow for the day; "It initially started off with one load which was 6 tons and then we noticed by the end of the day the 6th graders were getting short changed because it would melt and get all slushy. I approached our PTSA if they could provide another load. It's been about three or four years I believe that they have been pitching in also."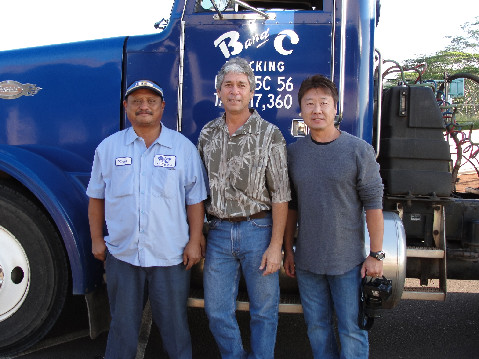 Kimo Ganer, Verne Santos and Lance Nishihara / Photo By: Barry Villamil
From my observation, the kids were having a great time. Imagine that, playing in snow, at school, in Pearl City? Doesn't get any better than that!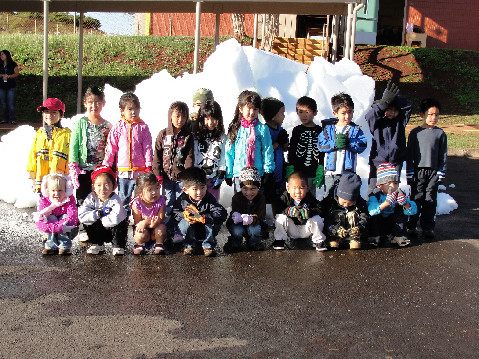 Mrs. Yoshimura's Kindergarten class ready to play in the snow / Photo By: Barry Villamil
B&C trucking company delivery 12 TONS of snow at Momilani Elementary School for "Snow Day" on 12/10/09
Momilani Elementary School Kindergarten classes are first to play in the snow on "Snow Day" 12/10/09
Check out our photo gallery for more photos of Momilani Elementary School's "Snow Day."