The Chargers are led by Co-Head Coaches: Dr. Frank C. Baumholtz III and Tracee Kono and Assistant Coaches: Daphne Kajikawa, Tricia Ejima and Dayna Lynn Ong.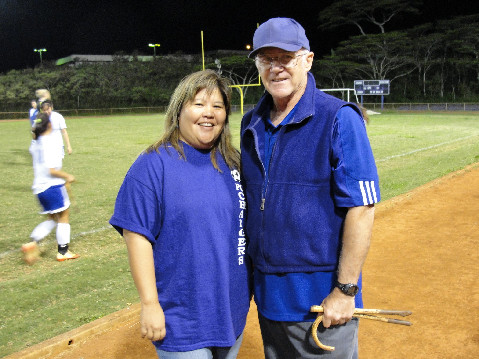 Chargers Co-Head Coaches: Tracee Kono and Dr. Frank C. Baumholtz III / Photo By: Barry Villamil
I sat down with Coach Baumholtz after the Chargers victory over Waialua on Friday night to discuss the 2009 Pearl City Chargers Varsity Girls Soccer squad and to look ahead at their schedule and competition in the OIA Red West Division.
Q: How has your team performed so far after the 3rd game of the season?
A: "We still got a lot of developmental problems, trying to get the people in the right places to connect the passes and to play together and their still not playing together the way we'd like them to… We've got three or four really bright spots and we have to just get the other people to fill in the gaps and do what they need to do for the team."
Q: Who have been your key players?
A: "Jillian Seminara is one at center and fullback and also Kristy Iwahashi. Surprisingly, one of our incoming freshmen, Kristen Maeno has played really well. The other people are just trying to fit in and we don't have a goalie so one of our seniors volunteered, Makenzie Maurer to be the goalie and she has never played goalie before. She's doing pretty good.
We just got to work together better as a team and try and do the things fundamentally instead of trying to do too much. We don't want any stars, we want everybody playing together."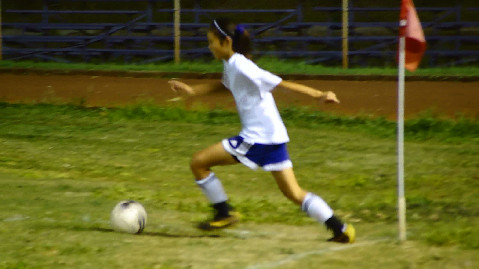 Chargers Freshmen HB Kristen Maeno / Photo By: Barry Villamil
Q: Top scorers from tonight's 5-0 victory over Waialua?

A: "Actually everybody was really pretty even tonight.  I think there was one a piece. Tina Saturnio got one. Kristen Maeno, I think that's her 3rd of the year or 4th. Lauren Takai got one, Taylor Tom got the penalty kick and then Lyndsey Watanabe got the last goal.
We should have had probably six other goals that were within six inches. Its fundamentals, just fundamental shooting and we've been trying to work on fundamental shooting in practice but sometimes you don't focus as much in practice and try too hard in the game. The ball doesn't go where you want it to go. Our passing was better tonight. The pressure will be twice as big next week."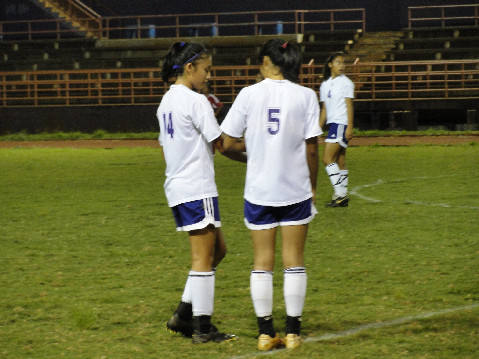 Junior Chargers, Christina Saturnio (left) Regina Pacis (center) and Ashley Colis (right) take a break in the action during a recent victory over Waialua / Photo By: Barry Villamil 
Q: How about upcoming match ups in your division?
A:
"We got the week from hell coming up. Kapolei on Tuesday and then
Mililani. Those are the two kind of determining factors as to where we
are and then we've got the rest of the season. We have the Christmas
break to try to reorganize and we finish the first round with Campbell
and start all over again."
Chargers score against Waialua on December 11, 2009 / Video By: Barry Villamil

Check out our photo gallery for more photos!
UPCOMING DECEMBER SCHEDULE:
12/15     Kapolei          5:30pm
12/18    @Mililani         5:30pm
12/22    @Campbell     5:30pm
12/29     Aiea              5:30pm
2009 CHARGERS VARSITY GIRLS SOCCER ROSTER:
PLAYER                                  
#2   ALIX SUWA                                   
#4   ASHLEY COLIS                                     
#5   REGINA PACIS                              
#6   LAUREN TAKAI                                    
#8   CORTNEY AJIMINE                         
#9   KRISTEN MAENO                                   
#10 LYNDSEY WATANABE                            
#11 SHANNON TAKAI                                   
#12 ALYSSA NAGAI                                        
#14 CHRISTINA SATURNIO                               
#16 KRISTY IWAHASHI                 
#18 TAYLER TOM                         
#19 MAKENZIE MAURER                
#20 JULLIAN SEMINARA                
#22 TIFFANY KLEIN                      
#24 KELSIE NG