WEST 27 – EAST 6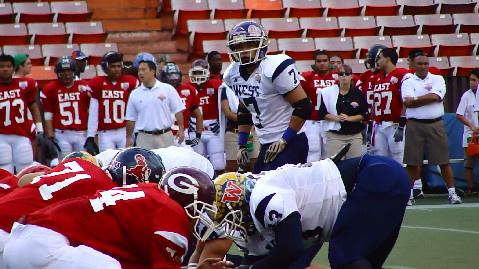 Charger Hayden Concepcion at OLB for the West / Photo By: Barry Villamil
The Hawaii Goodwill Senior Bowl was the first game of the Aloha Prep Bowl doubleheader that also featured the Hawaii/Polynesian-Mainland Bowl.
Pearl City Chargers senior trio of Concepcion, Castro and Yamanouchi were part of the top 100 high school football players selected that matched West Oahu schools against East Oahu schools in the Hawaii Goodwill Senior Bowl. The West was led by Leilehua Mules Head Coach, Nolan Tokuda and the East by St. Louis Crusaders Head Coach John Hao.
All three Chargers logged in substantial playing time that contributed to the West Team victory.
Charger Kicker Tyler Yamanouchi for the extra point / Photo By: Barry Villamil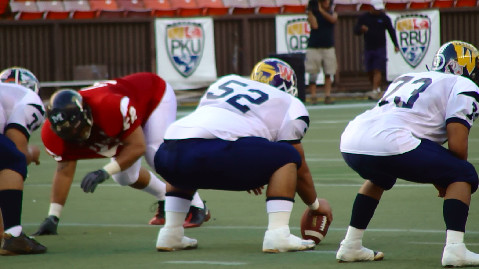 Charger Center Logan Castro leading the O-line for the West / Photo By: Barry Villamil
Tyler Yamanouchi kicks off and Hayden Concepcion makes the tackle during the Hawaii Goodwill Senior Bowl / Video By: Barry Villamil
In the second game of the doubleheader, Hawaii senior football standouts from across the State of Hawaii and Polynesia as well as Mainland players with Hawaii ties matched up against players representing Mainland states in the Hawaii/Polynesia – Mainland Bowl.
MAINLAND 26 – HAWAII/POLYNESIA 6
Kahuku Red Raiders Head Coach directed the Hawaii Team and Lance Schieb of Noblesville High School in Indiana coached the Mainland squad.
The Aloha Prep Bowl double-header is designed to showcase talent from Hawaii, Samoa,
and the Mainland. The Aloha Prep Bowl double-header benefits the Hawaii Union Builders (HUB) Foundation.
Check out our photo gallery for more Hawaii Goodwill Senior Bowl action!