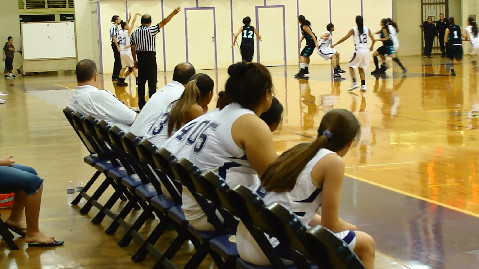 Photo By: Barry Villamil
The Chargers entered halftime leading 16-13 but fell behind 23-19 to end the 3rd Period.
In the 4th period, both teams battled with the Chargers outscoring the Hurricanes 16-10 to earn a 2 point victory, 35-33.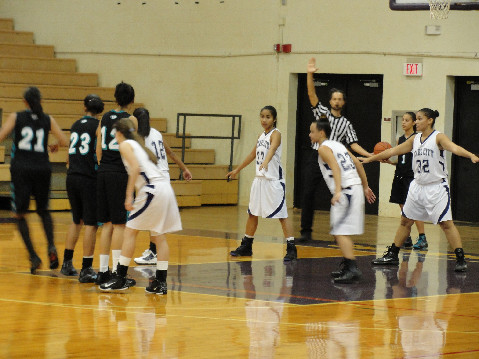 Chargers on Defense / Photo By: Barry Villamil
Chargers Head Coach, Michael Morton had this to say about his team's victory, "We shouldn't have won that game, but we fought hard and we didn't give up. That's the main thing. The girls did not give up. That's all we preach, just don't give up no matter what the score is."
Center Alana Kaili battling under the basket for 2 points / Video By: Barry Villamil 
In the first half, the Chargers struggled to get the team running on all cylinders. "I think we were just too nervous. We know this is a big game for first place. The girls came out a little tight and we just lost some match ups and the scorers got open and hit the shots. We just didn't play well in the first half," Morton commented.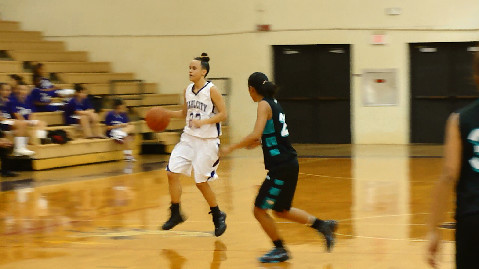 Chargers Senior Guard, Jordan Ahakuelo / Photo By: Barry Villamil
The Chargers received steady play and leadership from senior guard, Jordan Ahakuelo, "Jordan Ahakuelo definitely came out big and Glacen (Florita) hit some big free throws in the end, but we always look for Jordan to score," Morton said.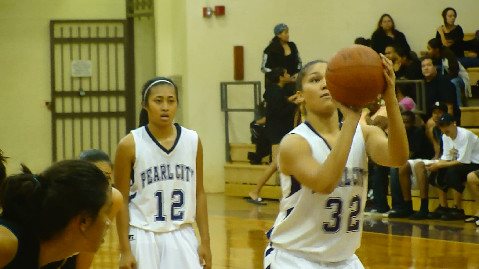 Glacen Florita (left) watching on as Keshia Manning (right) attempts a a free throw / Photo By: Barry Villamil
Coach Morton also expressed the need for improvement and a look ahead to upcoming match ups, "We need to improve on our big girls blocking out and movement on offense we're just kind of standing around too much. We got Aiea next Saturday so we're going to take a little break and get ready for them and then Radford and Mililani and then we start all over again."
Chargers move the ball underneath to center Raina Meyer for the basket / Video By: Barry Villamil
Leading Scorers for Pearl City:
Jordan Ahakuelo   14
Glacen Flortia         8
Keshia Manning      8
Check out Photo Gallery I and Photo Gallery II for more game highlights!