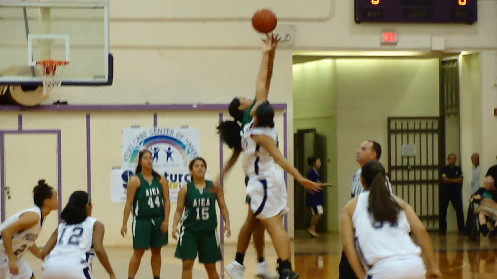 Photo By: Barry Villamil
The Chargers pumped in 17 points in the 4th period to increase their lead and pull away from the Na Alii. Charger Guard, Jordan Ahakuelo had a game high 15 points with teammates, Sabrina Angle(11), Keshia Manning(7), Alana Kaili(6) and Leina Basques(6) contributing to the Chargers victory.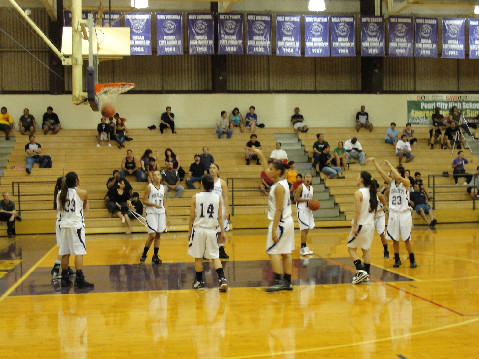 Charger Jordan Ahakuelo warming up during pre-game for her game high 15 point performance / Photo By: Barry Villamil 
Pearl City Chargers Head Coach Michael Morton is still looking for his team to improve as they make their way through the OIA Western Division schedule and down the road towards the play-offs.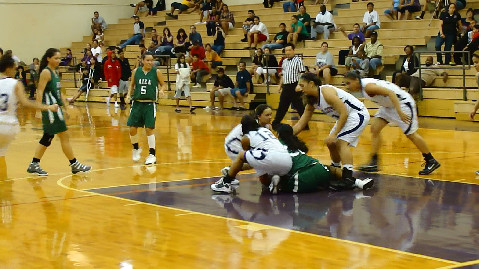 Chargers fighting hard for the ball / Photo By: Barry Villamil
"We just really need to work on our mental game. I mean, physically we're there, but mentally we have silly fouls, putting them on the line and stopping the clock, stuff like that. Just the mental game. Offensively take a little more patience instead of just pass and shoot. We need to work the ball around," said Morton.
Coach Morton had this comment when asked about the Chargers next opponent, "Our game coming up with Radford, we're going to pressure, play a lot of full court man. Hopefully get everybody in the game and just a lot of pressing, up tempo, that's how we play."
Next Game: @Home

Monday, December 29
Radford

6:30PM (JV game starts at 5:00pm)
Charger Guard, Jordan Ahakuelo putting in a 3 pointer during the Chargers 54-40 win over the Aiea Na Alii on December 26, 2009. Video by Barry Villamil
Charger Guard, Leina Basques scores 2 of her 6 points during the Chargers 54-40 win over the Aiea Na Alii on December 26, 2009.Video by Barry Villamil
Charger Center Alana Kaili at the free throw line for two during the Chargers 54-40 win over the Aiea Na Alii on December 26, 2009. Video by Barry Villamil