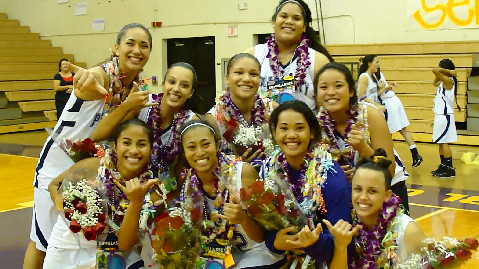 Pearl City Lady Chargers "2010 Senior Class" / Photo by Barry Villamil
With the win the Chargers remain tied with Mililani atop the OIA Red West with 7-1 records.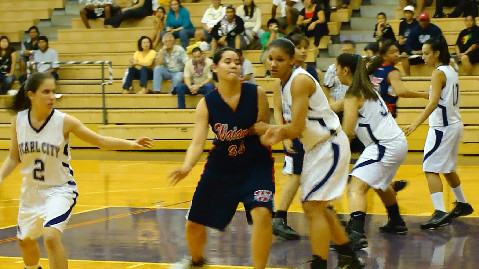 Chargers on D / Photo by Barry Villamil
The Chargers took a commanding 40-10 lead into the locker room at halftime. Pearl City's tough defense shut down Waianae to just two, second half points in the 71-16 win.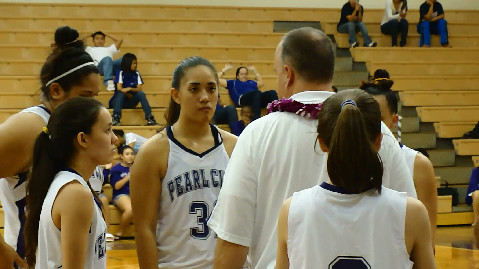 Chargers Head Coach, Michael Morton guiding the Lady Chargers / Photo by Barry Villamil
Chargers Assistant Coach, Jay Sylva giving instruction to #3 Sophomore Guard, Sabrina Angle / Photo by Barry Villamil
 "It was an all around good win for us. Everybody came out confident, we played together, took it from the beginning," said assistant coach, Jay Sylva.
When asked about the Chargers defense holding the Seariders to two second half points, coach Sylva commented, "We kind of stress on defense, it's just an example to the girls on how hard they work. We always concentrate on defense first, defense first."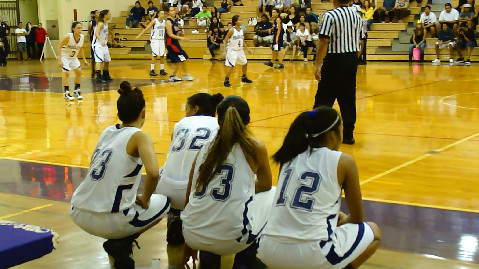 Lady Chargers,(left to right) Jordan Ahakuelo, Keshia Manning, Leina Basques and Glacen Florita ready to make the sub / Photo by Barry Villamil
Senior Guard, Jordan Ahakuelo once again led all scorers with 19 points followed by Senior Forward teammate, Keshia Manning pumping in 14 points.
Congratulations to all the 2010 Senior Lady Chargers!

#10 Shanise Gabriel-Yomes   Forward
#11 Victoria Victor    Guard
#12 Glacen Florita   Guard
#23 Jordan Ahakuelo  Guard
#31 Alana Kaili    Center
#32 Keshia Manning  Forward
#33 Leina Basques  Guard
#55 Raina Meyer   Center
Video by Barry Villamil
The Chargers (7-1) travel to Kapolei to take on the Hurricanes (6-2) on Friday, January 8.
Varsity game starts 15 minutes after the conclusion of the 5:00pm Junior Varsity contest.
In the Junior Varsity game Pearl City defeated Waianae 37-15.

Check out more videos below from the Chargers victory over Waianae and post game Senior Night ceremonies!
Charger Guard, Leina Basques putting in her Senior Shot! / Video by Barry Villamil
http://www.youtube.com/watch?v=C8sL_ye-5d8
Charger Guard, Jordan Ahakuelo taking her Senior Shot! Video by Barry Villamil
Charger Center, Raina Meyer being challenged by Junior Varsity Head Coach, Christie Ayers during her Senior Shot attempt / Video by Barry Villamil
Senior Chargers doing their King James imitation / Video by Barry Villamil
Charger Victory Cheer! / Video by Barry Villamil
http://www.youtube.com/watch?v=qYjOm9inHjw
Keshia Manning scoring in 71-16 victory over Waianae / Video by Barry Villamil
Shanise Gabriel-Yomes drains a 3 pointer / Video by Barry Villamil