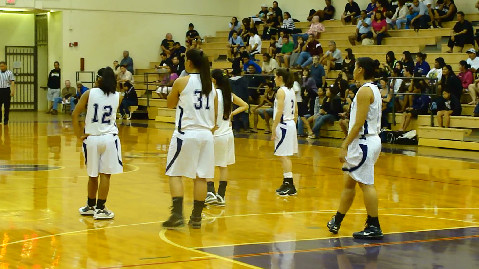 OIA Red West Division Champion, Pearl City proved that they are the real deal last night with a 52-21 runaway victory over OIA East opponent Castle in quarterfinal action of the OIA Girls Varsity Basketball Championships at PCHS Gym.
Chargers head coach, Michael Morton new that his girls would have to come out fired up and take control from the opening tip off against the Knights.
"Big win for us. We were really nervous, but you know, we came out with some good nervous energy and played great defense," Coach Morton said. "They played really good. We're playing so much as a team now. This is what we wanted to do."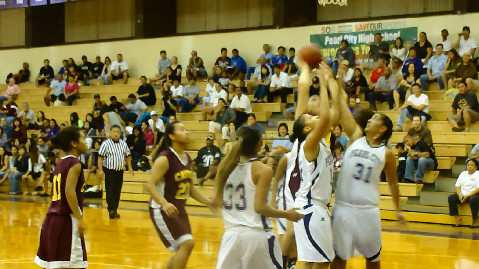 Lady Chargers battle under the basket. Photo By Barry Villamil / [email protected]
Matching up against top OIA East competition is always a challenge. Defeating Castle
by 31 points on Wednesday gave notice that the Chargers (12-1) are on a mission and focused as they move on to the OIA semifinals hosting OIA East co-champ Roosevelt (12-1) on Saturday.
"We finally got the monkey off our backs and we played really tough. I mean we're so happy tonight. We're going to keep the momentum for Saturday night," said Coach Morton.
Pearl City's "super guard" Jordan Ahakuelo led all scorers with 14 points. Teammates, Alana Kaili and Keshia Manning each pumped in 8 points.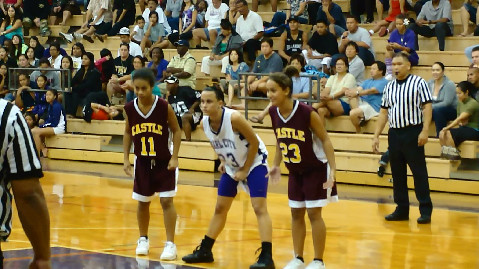 Jordan Ahakuelo (center) waiting for the rebound. Photo By Barry Villamil / [email protected]
Keshia Manning making a move pass Castle defenders to score. Photo By Barry Villamil / [email protected]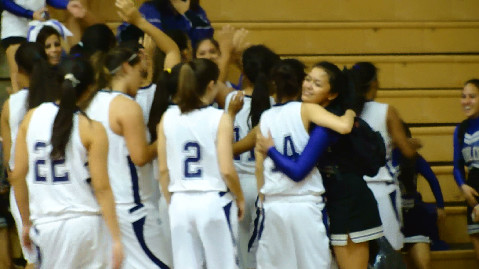 Lady Chargers and Cheerleader Squad come together for congratulations after win over Castle. Photo By Barry Villamil / [email protected]