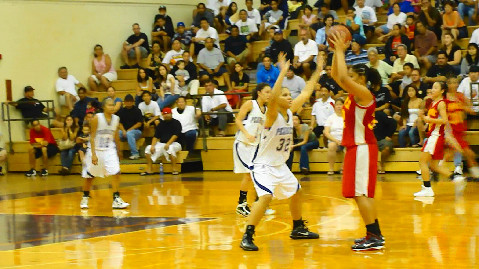 Pearl City's Keshia Manning guards Roosevelt's Mikela Thoemmes during the OIA Red Conference Girls Varsity Basketball Tournament on Saturday at the PCHS Gym. Photo By Barry Villamil / [email protected]
The #7 ranked Roosevelt Rough Riders came to the Pearl City High School Gym on Saturday with one thing on their minds, WIN! Mission accomplished as the Rough Riders rode off with a 51-43 victory over the #9 Pearl City Chargers to advance in the OIA Red Conference Girls Varsity Basketball Double Elimination Tournament.
Pearl City made their move late in the fourth period cutting the Roosevelt lead to two points at 39-37 but the Rough Riders didn't flinch and played tough down the stretch to seal the victory. When it counted, the Rough Rider team turned to their experience in big games and especially tournament competition.
"We looked a little nervous out there. We're not used to these big games like this. We played tough, I'm proud of them, said Chargers Head Coach, Michael Morton. "They played in the play offs last year and the state's the last two, three years, we haven't been there. Our girls are still learning. We just gotta learn from this and keep moving on, we'll be okay."
Roosevelt's Mikela Thoemmes took it to Pearl City scoring a game high 22 points and grabbing 16 rebounds. Pearl City's, Jordan Ahakuelo had a team high 13 points to lead all Chargers.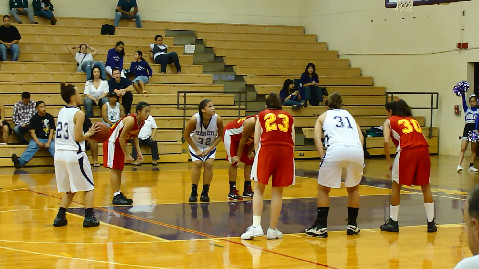 Pearl City Charger Senior Guard, Jordan Ahakuelo attempting a free throw against Roosevelt. Photo By Barry Villamil / [email protected]
The Lady Chargers (OIA, 12-2) are still alive in the tournament but drop down to the loser's bracket and will face the Mililani Trojans (OIA 11-3) on Wednesday, February 3, at PCHS. Tip off is set for 6:00pm.
The Trojans handed the Chargers their only defeat of the regular season 38-36, on December 30. Pearl City avenged the loss, beating Mililani by 15 points, 48-33 at Kalani High School on January 21.
Roosevelt (OIA, 13-1), will take on division rival Farrington (OIA, 13-1) on Friday.
Site to be determined.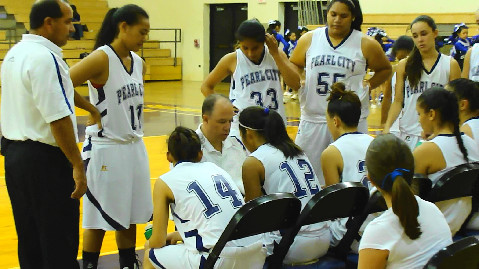 Chargers Head Coach, Michael Morton coaching his girls in the final minutes against Roosevelt. Photo By Barry Villamil / [email protected]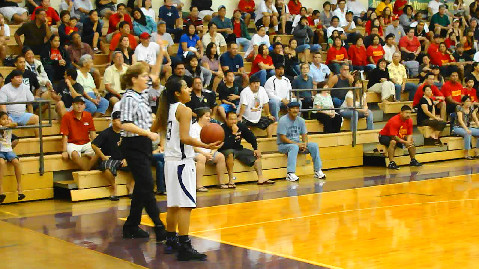 Pearl City Chargers Senior Guard, Leina Basques bringing in the ball in the 4th period. Photo By Barry Villamil / [email protected]