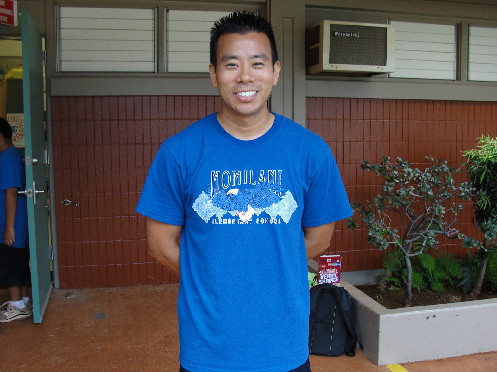 Mr. Masaru Uchino is a 3rd grade teacher at Momilani Elementary School in Pearl City. Mr. Uchino also coaches and trains an after school group of students called the Momilani Fit Factory.
Momilani Fit Factory students under the direction of Mr. Uchino, learn the importance of health and wellness and meet twice a week in a structured training environment that includes fitness routines, drills and exercises.
"I think the Fit Factory is fun yet it gets us healthy and fit," said Michaela, Fit Factory 3rd grader.
The Momilani Fit Factory group train hard together and are very close. After each training session the kids huddle around coach Uchino and after a countdown, cheer their club motto, "Good in…Great out."
"I think it's great. We work as a team and our teammates are really nice," Paige, Fit Factory 3rd grader.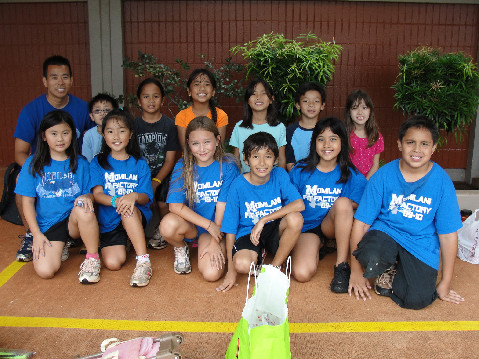 Momilani Fit Factory students with Mr. Uchino. Photo By Barry Villamil / barry@mypearlcity.com
One goal that the Fit Factory is about to accomplish is their participation in the upcoming Great Aloha Run scheduled for Presidents Day, Monday, February 16. The Fit Factory team actually raised $600 dollars selling handmade ribbon leis as a fundraiser to support Great Aloha Run charities. A portion of the fundraiser funds went towards registration costs for Fit Factory students participating in the run. 14 students will represent the Fit Factory and will be led by pacesetter Joshua.
When asked how the group will start the run and pace their way to the finish, Joshua commented, "We do like a slow jog to start and we all stay together."
MyPearlCity.com would like to wish the Momilani Fit Factory Team a fun and safe Great Aloha Run experience. Thank you to very special teachers like Mr. Masaru Uchino who generously give of their time to improve the lives of our school children here in Hawaii.
Congratulations to Principal Higa for once again setting the level of excellence through the efforts and accomplishments of the Momilani Elementary School staff and administration.
Also thanks to Momilani Fit Factory parent, Shari Evans (Remington's mom) who spent a few minutes after training on Thursday to talk about the positive benefits and the great job Mr. Uchino is doing with the students.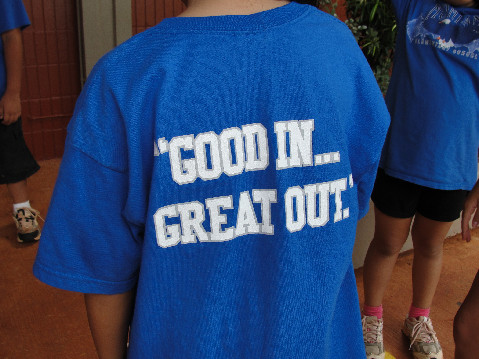 Momilani Fit Factory motto. Photo By Barry Villamil / barry@mypearlcity.com

Q: How do you describe the purpose and philosophy of the Momilani Fit Factory?
A: "We formed a voluntary after school fitness group and we call it the Fit Factory. Our motto is "Good in… Great Out." When you think about a factory, you put in a good ingredient and you get a great product out."
Q: When did the Fit Factory start at Momilani Elementary School?

A: "The Fit Factory is a fitness club that we formed back at the beginning of the school year. The school district is mandating health and wellness programs so I thought it would be a good way to integrate my own personal fitness way with their fitness and well being."
Q: How many grade levels are represented in the Fit Factory Club?
A: "Right now it's only open to the 3rd grade students. I teach 3rd grade and these are my students. Originally I had nineteen total that signed up but five of them had other commitments so I'm down to about fourteen students that are still active members."
Q: How often do the kids work out?
A: "Two times a week. We work out Tuesday's and Thursday's after school. We only work out together for an hour from 2:30pm – 3:30pm. They come out after school, we do our warm ups and stretching. I take attendance and then we do our exercises, our running and at the end they actually keep a fitness log where they log down all the activities they did for the day. They can actually go back and see how many miles they've done. How many push ups and sit ups and all sorts of activities they've done. They're definitely keeping track of their progress through the year."
Q: Participating in the Fit Factory must be a big benefit for those students who also participate in sports and other activities outside of Momilani Elementary School?

A: "A lot of these kids do other sports like basketball, gymnastics, soccer and baseball but they use this as an additional means of training. I talk to them about good choices, responsibility, stretching out, drinking a lot of water, eating vegetables. One of my rules for the club is they are not allowed to drink soda and they are supposed to cut down on chips and junk food."
Q: I understand the club has been in training for the Great Aloha Run coming up on President's Day?
A: "Yes, we've been training since October for the Great Aloha Run. This will be a really big challenge for them. It will be the full 8.1 miles for them. We're up to training weekly to about 3.5 to 4 miles per training session. Its kind of a stretch to go the extra 8 but we intersperse the walking with the jogging and the sprinting so they're really good at pacing themselves and their energy level."
Q: How excited are the kids with the Great Aloha Run just a few days away?
A: "A lot of them are really excited. A couple of them like Joshua is my pacesetter. He will be running point man for us in our group and we'll run in formation. He will set the pace for us for the eight miles so we really look forward to his performance too."
Q: You must be proud to see the progress through the hard work and commitment that the students have put in to improving their health and wellness as a Fit Factory Club Member?
A: "Some of the kids who could barely run a mile at the beginning can run consistently, two or three miles without stopping. Definitely it's been a good experience for both myself and for the kids as well."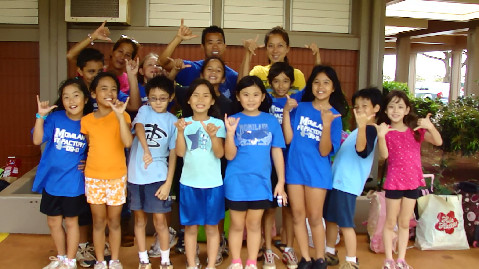 Momilani Fit Factory students and supporters say Mahalo! for your support. Photo By Barry Villamil /barry@mypearlcity.com
MyPearlCity.com will post photos next week of the Momilani Fit Factory Team finishing the Great Aloha Run.