Mr. Waffle Dog spent Sunday hanging out with Pearl City High School's Project Grad student volunteers on Kamehameha Highway fronting Cutter Ford in Aiea.
PCHS Projection Graduation volunteers sold Waffle Dogs, Jamba Juice and had a car wash on Saturday, Feb. 13th and on Sunday, Feb.14 (Valentine's Day) they added Valentine Day Roses and gifts along with the Waffle Dogs and Jamba Juice.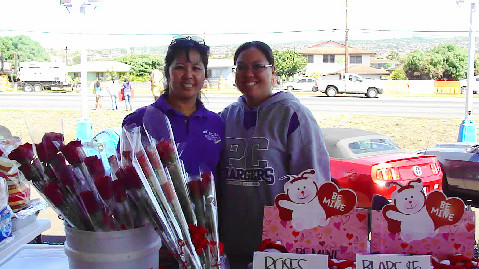 PCHS Project Grad Valentine's Day fundraiser gifts for sale. Photo By Barry Villamil / [email protected]
Funds raised through PCHS Project Graduation fundraising activities goes towards the cost of the all night event for graduating seniors. The objective is to provide a safe place for the graduates to party.
"PCHS Project Graduation is celebrating its 20th year and we have been successful year after year because we have tremendous support from the community" says Karen Yim, PCHS PG, Past Chair.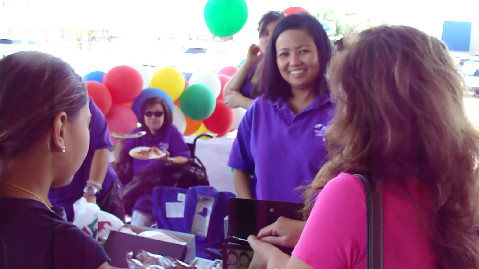 PCHS supporters, Makana (left) and Malia (right) purchasing Waffle Dogs from PCHS Project Graduation Treasurer, Cyndy Knudson (center). Photo By Barry Villamil / [email protected]
For more information about PCHS Project Graduation call Karen Yim at 543-4349