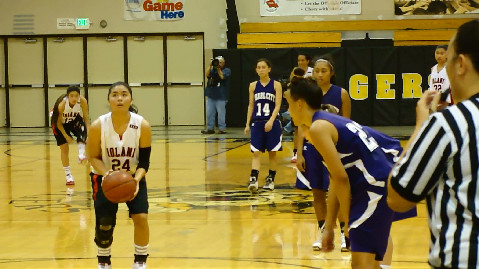 OIA West Red Division Champ, Pearl City (13-4) suffered a tough 51-46 defeat to the Iolani Raiders (12-3) on Tuesday during the First Round of the HHSAA Girls State Basketball Championship Tournament at McKinley High School Gym.
The Chargers quickly went up 4-0 over the Raiders to open the first period but Iolani, representing the Interscholastic League of Honolulu (ILH) moved ahead 6-4 due to a couple Pearl City turnovers. Iolani ended the first period leading Pearl City 14-8.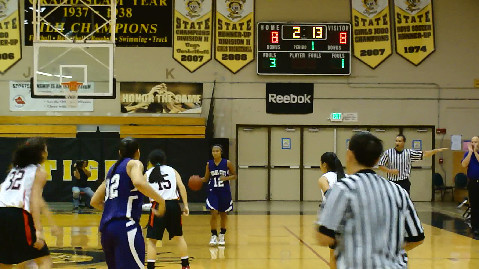 Pearl City Senior Guard, Glacen Florita bringing the ball up in the 1st period against Iolani. Photo By Barry Villamil / barry@mypearlcity.com
By the end of the 2nd period Iolani had increased their lead to 28-19 going into the half.
The 3rd period had Iolani holding a 10 point lead 37-27 entering the 4th period.
In the 4th period the Raiders went up by as much as 13 points, 47-34 with a little more than 2 minutes left in the game but the Chargers rallied behind the hot hand of senior guard, Glacen Florita who drained two 3 pointers to cut the lead to 47-40.
With time running out for the Chargers, the Raiders were able to run out the clock for the 51-46 victory.
Lori Yamashita led Iolani scoring with 13 points followed by teammate, Lahela Usui with 12 points.
Pearl City's Jordan Ahakuelo had a game high 18 points to lead all scorers.
Pearl City Chargers Head Coach, Mike Morton summed up his team's performance, "Tough game, we played really hard, came up a little short but the girls didn't quit so we're really proud of them. We're just going to keep it going."
It has been an exciting year as well as a valuable learning experience for the Chargers under Head Coach Morton. "The girls have just been learning and we've come so far. Most girls just started basketball as freshmen in high school. Only Jordan (Ahakuelo) has been playing since she was 5 or 6 in PAL. The girls have come a long way. Nobody expected us to be here, but we did, we believed in ourselves. We're proud and we're going to keep it going. We're not done yet," said Morton.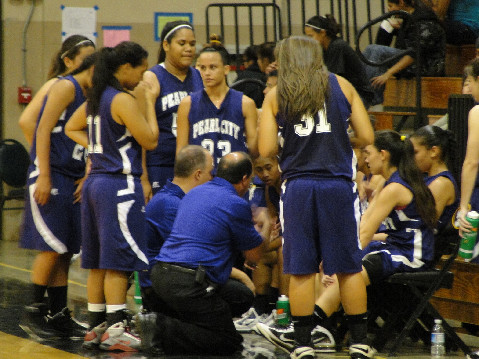 Chargers Head Coach, Mike Morton and Assistant Coach, Jay Sylva drawing up a final minute strategy during a timeout against Iolani.Photo By Barry Villamil / barry@mypearlcity.com
Pearl City will play a consolation game on Wednesday against Baldwin from the MIL who lost to Kapolei of the OIA on Tuesday, 37-35. Game time is set for 3:00pm at McKinley High School Gym.
Iolani moves on to the Quarterfinals to face OIA Red Conference Champion and #4 seed Farrington on Wednesday, 7:00pm at McKinley High School Gym.
!