Financial Advisor, Lester de Peralta blends his expertise in investments with his passion to serve as a volunteer in the Pearl City community.
---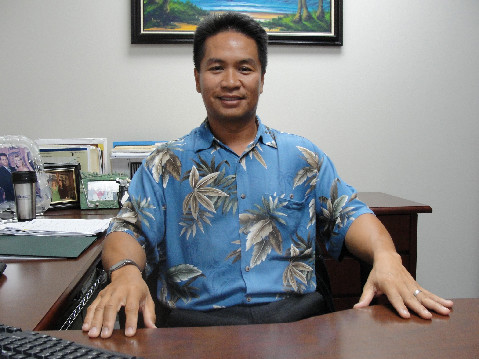 Lester de Peralta at his Edward Jones office in the Pearl City Shopping Center.

As a Financial Advisor for Edward Jones located in the Pearl City Shopping Center, de Peralta plays a key role in securing the financial well being of present and future generations in our Pearl City community.
As a community volunteer, he has recently been elected as a vice-president for the Pearl City Community Association Board of Directors and has dedicated his time to being a part of many community related projects and fundraisers that directly benefit our keiki through kupuna.
Edward Jones Ranked No.2 by Fortune Magazine in its 11th Year on 100 Best Companies to Work For List… Ranks in Top 10 for Eight Years

As reported by Fortune editors, "The investment adviser weathered the recession without closing one of its 12,615 offices or laying off a single employee. Salaries were frozen, but profit sharing continued."
The success of financial advisors such as de Peralta and companies like Edward Jones starts at the local community level. He has built a trust through the years that has helped secure the financial futures for everyday, hard working residents in our Pearl City community.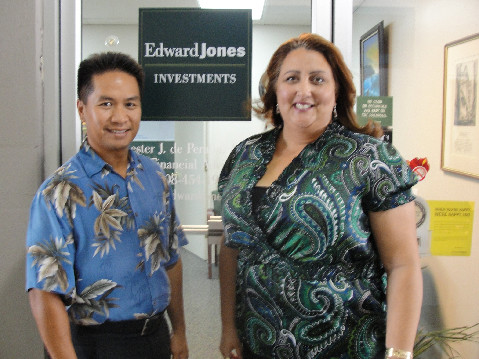 Lester de Peralta with branch office administrator, Kelly Zablan. Photo By Barry Villamil / barry@mypearlcity.com
Tucked away in his Edward Jones office in the Pearl City Shopping Center, Lester de Peralta along with branch office administrator, Kelly Zablan can both be defined as community difference makers.
As witnessed while conducting this interview, it's a place where people are known to drop off bags of mangoes and other homegrown gifts to show their appreciation for the services and friendships made through the years. Just like in the old days!
Q: How does it feel to be recognized by Forbes Magazine as the No. 2 Best Company to Work for in 2010?
A: "It's definitely an honor. It validates us as a firm that we've been in Forbes Magazine's "Best Places to Work."
Q: Your thoughts on the companies' philosophy to incorporate management teams of no more than two per office location?

A: "The firm's philosophy has always stayed the course as far as building offices across the country with usually one advisor like myself and a branch office administrator. We pepper ourselves across many communities. We have about 12,000 offices."

Q: How many offices in Hawaii?
A: "We're probably approaching 55 offices in Hawaii on Kauai, Maui, Oahu and the Big Island."
Q: Are branch advisors and office administrators employees of Edward Jones?
A: "We are technically employees of the firm but each office; each advisor in the office runs the business the way that they want to run their business. We have the support of the home office. The firm really asks us the three main things; to run a legal, ethical and a profitable business and they provide all the support, all the back office support, the products and the services and the training to insure that we're successful."
Q: What about the role that your branch office administrator plays in your daily operation?
A: "Kelly Zablan, my branch office administrator, she's my partner in the business because I handle a lot of the investments, the licensed related business because I'm a licensed advisor. I have a securities and insurance licenses. Kelly handles the service side of the business, the admin side. As a team we service our clients."
Q: How long have you been at your current Pearl City Shopping Center location?
A: "In Pearl City I'm approaching 4 ½, going on 5 years. This community is a great community. Our philosophy really fits in with the community. When you first start out you're out there introducing yourself to the local business owners and even the homeowners around the area. We talk about our philosophy. Our philosophy has always been to look at good quality type of investments, insurance and to think of longer term."
Q: What is the demographic of the clientele that you serve?
A: "We have quite of bit of retirees. A lot of former government employees where they were teachers or worked at the shipyard. We have some military. As long as somebody wants advice or is seeking some type of help and their willing to listen to advice, I won't turn them away. There's some firms where if you don't have half a million dollars, forget it."
Q: How has the economy affected your client's investment decisions with Edward Jones?
A: "Its not a cookie cutter approach. It depends on the individual or the couple or the family situation. Everybody's situation is different. Our job is to educate the clients.
In some cases you are dealing with generations of families from grandma, grandpa to the children and grandchildren."
Q: Tell us about your involvement as a volunteer in the Pearl City community?
A: "I want to support the community as best as I can with time constraints that I have so I've been involved with the Pearl City Community Association, serve as a volunteer and currently as vice president. I'm also involved with the Aiea, Pearl City Business Association. I'm there to help with whatever they need where it be for a fundraiser or getting PR for an event or organizing things, just helping where I can. It's been very satisfying because you see a lot of your clients out there in the community and their involved in these organizations and they see that you're involved in it as well."
"It kind of works hand in hand that they know you care about the community. I think it's good not only for the corporate image but if you can help a community out the community will prosper."
Q: Your goals for the future? Where do you see yourself and the company 10 years down the road?
A: "I envision myself still here in the community. Just continuing to do what we've done. Obviously, we're always constantly building our business. We always want to be out there with top of mind awareness that if I'm retiring and I need some advice they'll think about Edward Jones here in Pearl City. Or, if they need to transfer their assets to the next generation. It's really building top of mind awareness in the community that we're here to support the community and we definitely help generations of families. I envision us to continue to do that."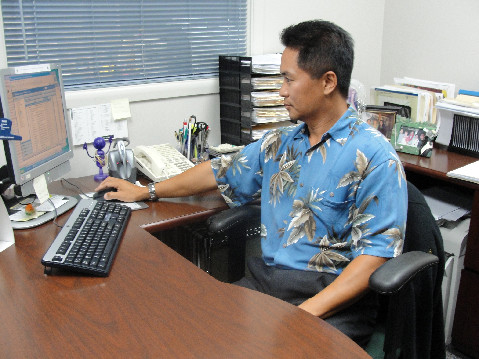 Photo By Barry Villamil / barry@mypearlcity.com
Edward Jones is located at:
Pearl City Shopping Center
850 Kamehameha Hwy. Ste. 167-B
Tel: (808) 454-1932
www.edwardjones.com