Momilani 2nd Graders Turn in a Flawless Performance!
Momilani Elementary School 2nd graders performed Aesop's Fables Deluxe on Wednesday in front of a packed house in the school's cafeteria. Director Bill Ogilvie returned once again to Momilani Elementary School to lend his expertise and to guide the students through a collection of Aesop's most popular fables.
Aesop was Greek slave who was born around 600 B.C. The performance program describes him in this manner, "Aesop was a quick witted entertainer whose clever fables brought him fame, fortune, and eventually his freedom."
The Momilani student body, faculty, staff along with parents, family and friends were treated to two performances on Wednesday, March 10. The first performance started at 8:00am and the second at 6:00pm for the evening crowd. All that attended were treated to a very creative and well produced rendition of Aesop's Fables Deluxe.
Momilani 2nd graders performing Aesop's Fables Deluxe. Photo By Barry Villamil

It was obvious from the opening scene to the final curtain, that it must of taken a lot of planning and coordination to make Wednesday's performance a success. The students looked great in their costumes and played their characters with ease. The stage set designs were very impressive as well.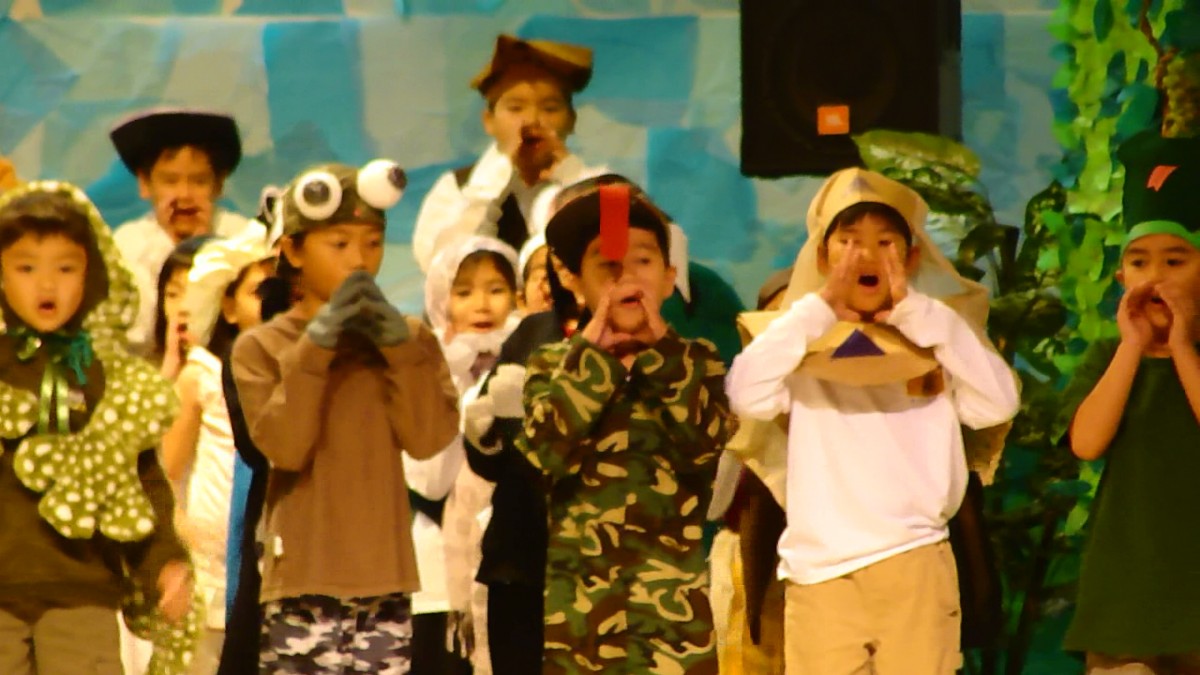 Momilani 2nd graders singing 1 of 13 songs during their performance. Photo By: Barry Villamil

The Song List that the 2nd graders performed included:

1. "We can't Top Aesop's Fables"
2. "Sour Grapes"
3. "Oh No, Mr. Toad!
4. "I Once Was a Dog"
5. "Hippity Hoppity"
6. "The Boy Who Cried Walf"'
7. "Thorns in My Paws"
8. "Thorns in My Paws: Reprise"
9. "1,2,3,4"
10. "A E I O U"
11. "Some Day I Will Help You"
12. "Some Day I Will Help You: Reprise"
13. "We Can't Top Aesop's Fables"
Special Thanks goes out to the following:

Momilani PTSA, Mrs.Dorren Higa, Principal, Mr. Bill Ogilvie, Director, Grade 2 Parents, Lance Nishihara, Kelly Ryno, Masaru Uchino, June Keao, Lenora Okubo, Rona Kesner, Eddie Antonio, Rona Dela Cuesta, Office Staff.
Set Designers

Wilson Atud, Molly Foley, Karyl and Koa Fujii, Gayleen Fujimura, Mason and Natalie Kitamura, Kevin, Julie, Wanda, Jackie and Jenny Kojima, William, Jennifer and Ava Makanui, Kalani Miller, Cynthia and Ethan Nagamine, Rachel Nishimura, Carlson and Carl Ogata, Ted, Jocelyn,Tamara and David Ohta, Howard, Judy and Jacob Shigeta, Tracy Joan and Nolan Tanji, Shari, Tanner and Devin Teruya, Eileen and Kerilyn Yoshimura.
Great Job!