Ahakuelo, Player of the Year, Morton, Coach of the Year
Florita and Manning on Second Team.
Oahu Interscholatic Association Red West Champion, Pearl City received top honors as senior guard, Jordan Ahakuelo was voted OIA Red West Player of the Year by league coaches. Ahakuelo's Lady Chargers senior teammates, Keshia Manning and Glacen Florita earned second-team honors. Chargers Head Coach, Mike Morton was voted OIA Red West Coach of the Year.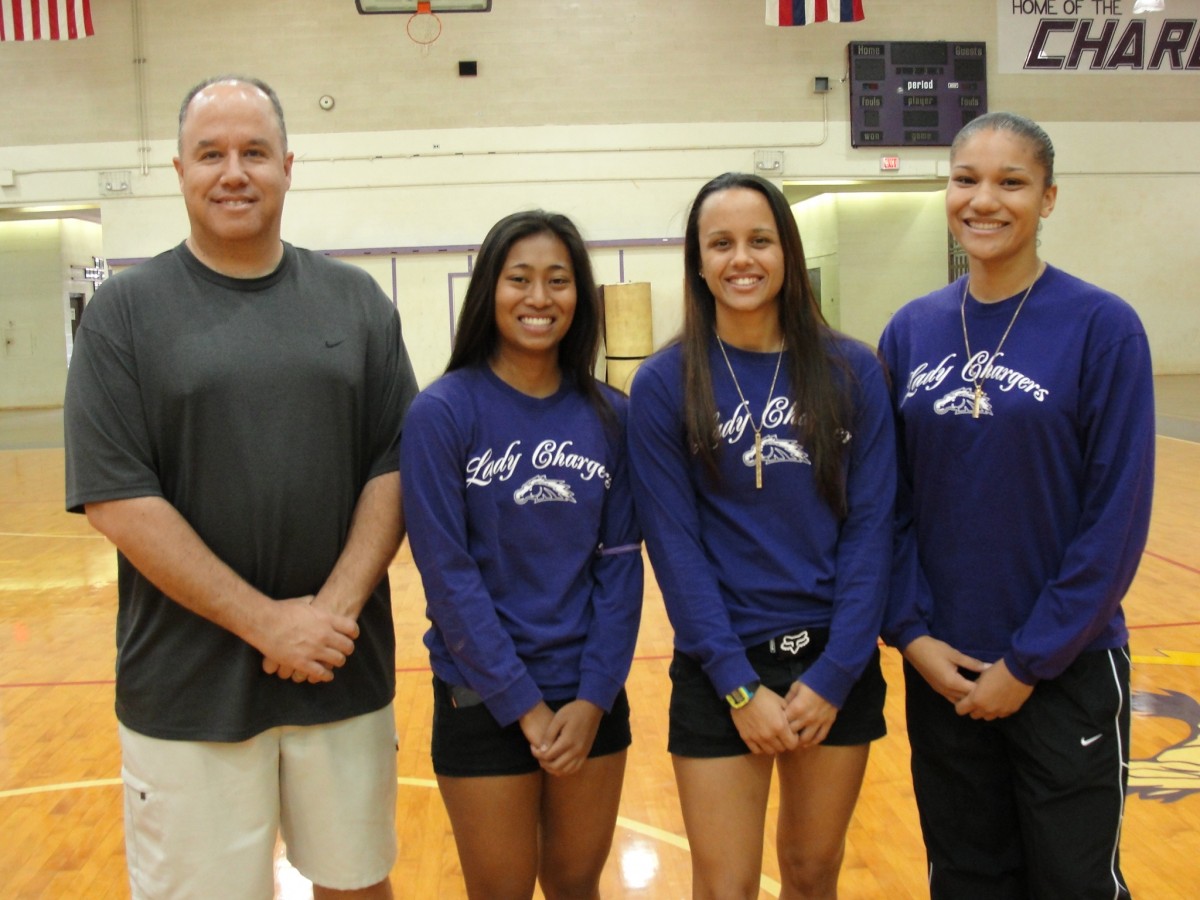 (left to right) Pearl City Head Coach, Mike Morton, Glacen Florita, Jordan Ahakuelo, Keshia Manning. Photo By: Barry Villamil / barry@mypearlcity.com

"It was a really good season, the girls worked really hard in the off season to prepare for the season and the hard work paid off," said Coach Morton. "The team overall was a really close team. They played really well together and was one of the top teams in Pearl City history."
Pearl City had a great season, winning the OIA West Division Title by defeating Mililani 48-33. The Chargers were defeated by Roosevelt 51-43 in the OIA Red Division Tournament but came back to beat Mililani 40-25 before losing to Moanalua 41-40 ending their OIA Championship hopes. The Chargers had already qualified for the HHSAA State DI Girls Varsity Basketball Championship Tournament. They lost a close ballgame to Iolani in the first round, 51-46 of the single elimination tournament, but came back to win the consolation final by defeating both Baldwin 50-39 and Mililani 38-31.The Lady Chargers finished the season with a 15-4 record.
Ahakuelo, Manning and Florita were big time contributors and played huge leadership roles as seniors all season. "Keshia was really tough for us. She was our strength underneath, pounding the boards, playing good defense. Jordan was our scorer, top scorer in the West and an All Star. The MVP of the Red West Division and was our go to for scoring. Glacen was our floor leader, our general handling the ball like the quarterback on the football team. She made sure we did everything we were supposed to do," said Coach Morton.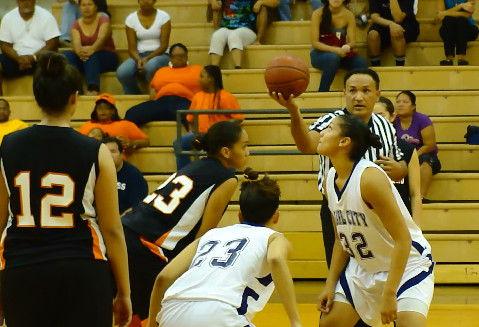 Keshia Manning ready to go against Campbell. Photo By Barry Villamil / barry@mypearlcity.com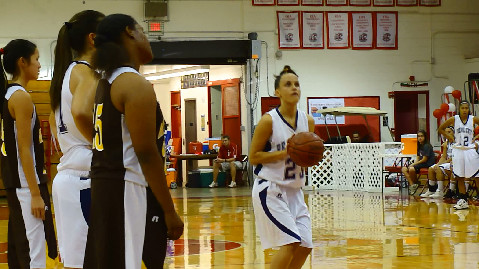 Jordan Ahakuelo at the line against Mililani in the OIA Red West Division Title game won by the Chargers 48-33. Photo By: Barry Villamil / barry@mypearlcity.com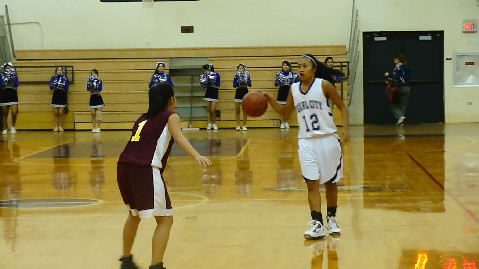 Glacen Florita bringing the ball up against Castle in the quarterfinals of OIA Red Division Tournament won by the Chargers 52-21. Photo By: Barry Villamil / barry@mypearlcity.com

The Lady Chargers senior trio remain humble after all the success they received as a team and as individuals this season. They give credit to the team, coaches, school and supporters first;
Keshia, "I feel honored and I really appreciate everyone supporting me and thinking I can do it. My family, friends, coaches, our school, everyone supported us."
Jordan, "It feels good to be an All Star and I like that people are supporting us and it's just a team win. I think that everyone helped. You just can't be an All Star by yourself. I think everyone's an All Star because it's a team sport and I don't think individually."
Glacen, "I feel honored by this and I appreciate the support from family and friends and the community. It feels good to be an All Star."
When asked about future plans upon graduation from Pearl City High School?

Glacen, "I'm just focusing on going to college and getting an education."
Jordan, "I'm going to be going to college here in Hawaii and would like to become a nurse."
Keshia, "Same thing. I'm staying here for college, hoping to be a nurse."
If you had the opportunity to watch and cheer for the girls this past season, you were witness to what the spirit of competition and good sportsmanship is all about. If you have ever worn and competed in a Chargers uniform you know the feeling of "Charger Pride" as an athlete. The 2009/2010 Lady Chargers delivered that feeling to all of us who were touched by their spirit and the drive to the basket as winners.
Congratulations to Head Coach Mike Morton, Assistant Coach Jay Sylva, support staff and especially the Lady Chargers, OIA Red West Division Champions!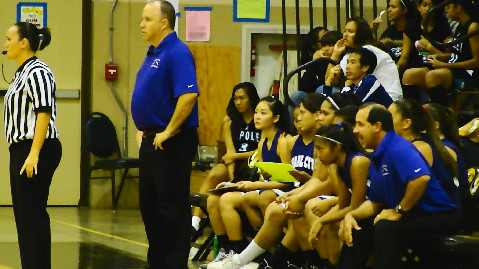 OIA Red West Coach of the Year, Mike Morton guiding his team against Iolani in the first round of the State Tourney. Assistant Coach, Jay Sylva looks on (far right). Photo By: Barry Villamil / barry@mypearlcity.com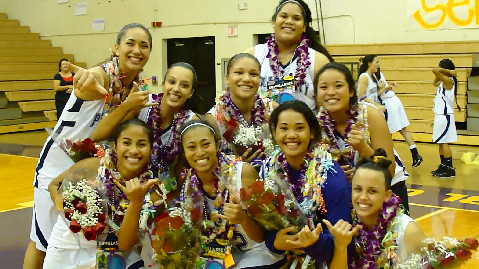 Lady Chargers on Senior Night. Photo By: Barry Villamil / barry@mypearlcity.com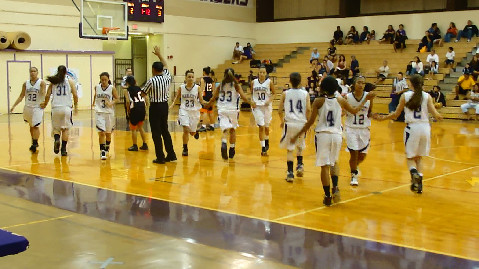 Coach Morton utilized the platoon system to perfection all season. Photo By: Barry Villamil / barry@mypearlcity.com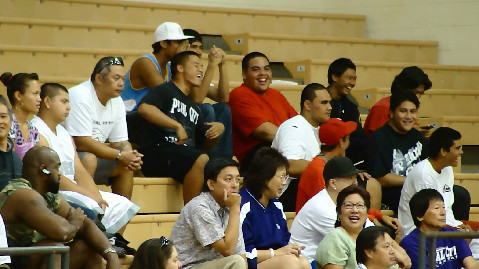 Pearl City Chargers supporters and fans "in the stands" to cheer on the girls! Photo By: Barry Villamil / barry@mypearlcity.com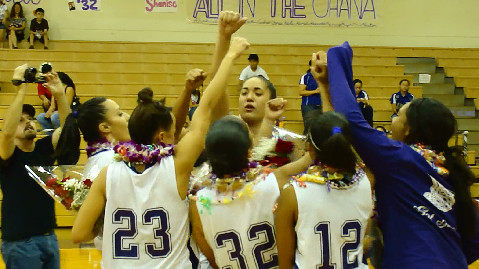 #23 Jordan Ahakuelo, #32 Keshia Manning and #12 Glacen Florita, Congratulations! Photo By: Barry Villamil / barry@mypearlcity.com