Elected officials representing Pearl City and Aiea held a town meeting on Wednesday, March 18, 2010 to discuss traffic and transportation issues. Representative Mark Takai led a group of town meeting sponsoring legislators which included; Senator David Ige, Senator Donna Mercado Kim, Senator Norman Sakamoto, Representative Blake Oshiro, Representative Roy Takumi and Councilmember Gary Okino.
Transportation officials from the State and the City & County of Honolulu presented updates on a list of projects that will affect and improve the Aiea and Pearl City Communities. Hawaii State Department of Transportation projects for Pearl City and Aiea include; The Kamehameha Highway Improvement Project, H1-PM Contraflow lane Project and the Pearl City & Waimalui Viaduct Improvement Project .
Honolulu City Department of Transportation Services projects discussed included; Aiea/Pearl City Repaving Projects, Kaahele Street Improvements Project and the Honolulu High Transit Corridor Project.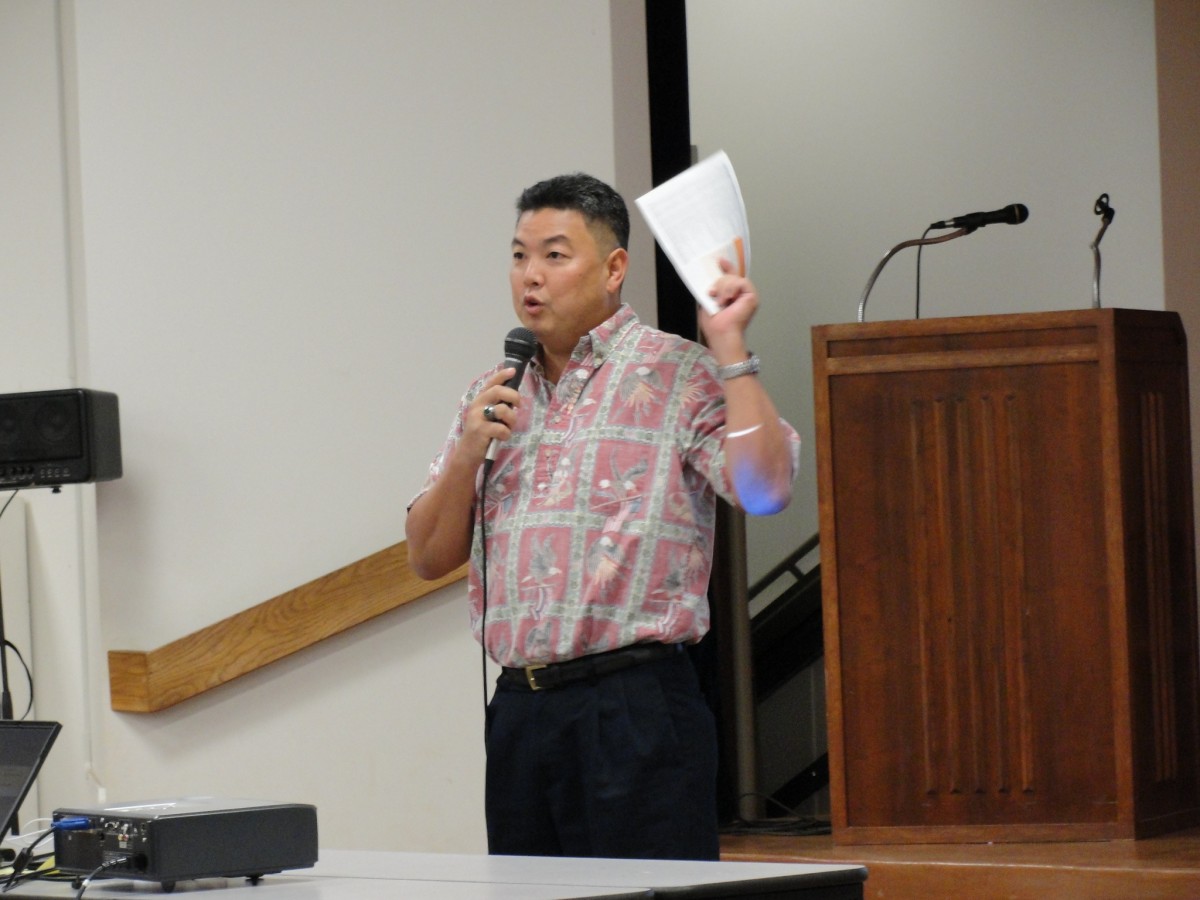 s;
State Representative Mark Takai opening the Pearl City/Aiea Town Meeting at the Pearl Ridge Elementary School cafeteria. Photo By: Barry Villamil / [email protected]
Hawaii State Department of Transportation (DOT) Director, Brennan Morioka conveyed to the town meeting attendees that his department is here to serve and improve Pearl City and Aiea community transportation needs.
"Rep Takai really brought everyone together including the community to develop what's called the Kamehameha Highway Improvement Project. It's really one of those that was an effort by the Department to change the way we do things," said Morioka.
"Historically, we've always come in, done our projects and kind of accepted public comments, thank you but we're going to do this the way we want to do it. We've really tried to change the way we approach our projects with the understanding that we are just a member of the community. Our road goes through a neighborhood, goes through a community that you have to live in. What's most important is our projects need to be what you are comfortable with."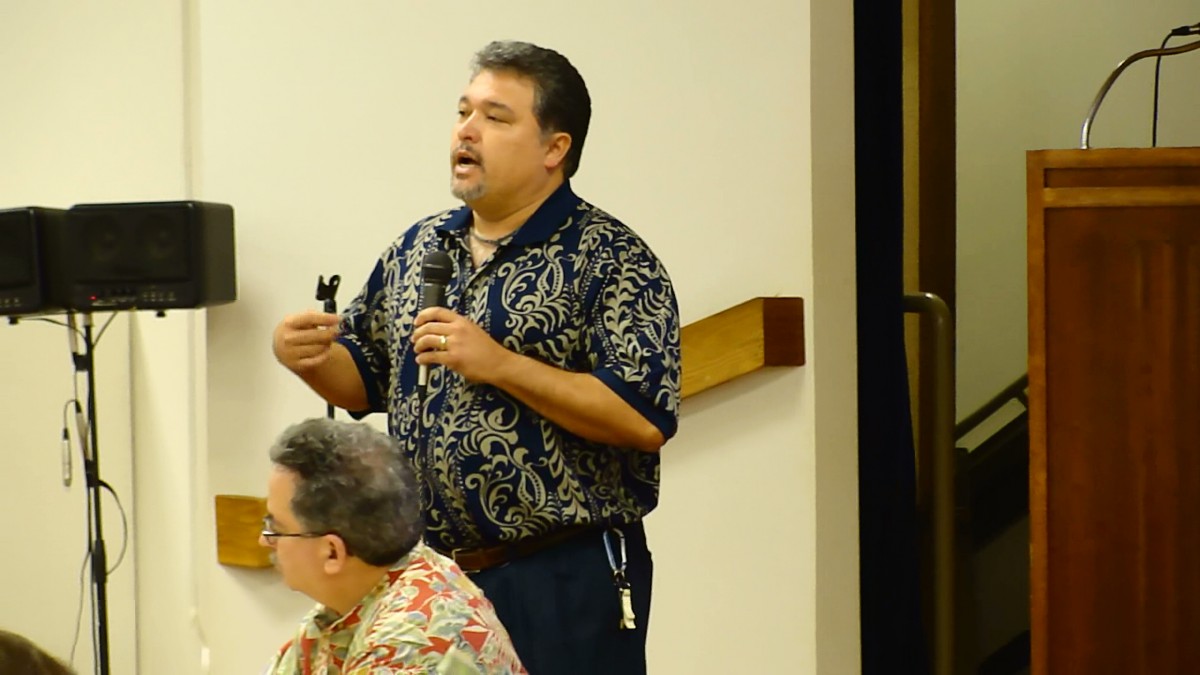 Department of Transportation (DOT) Director, Brennon T. Morioka addressing road project issues to town meeting attendees. Photo By: Barry Villamil / [email protected]

Honolulu City & County Director of Transportation Services, Wayne Yoshioka discussed the recent developments with regards to the Rail Transit project that will run through Pearl City and Aiea on Kamehameha Highway. Elevated Rail Transit Station renderings from both the Pearl Highlands station in Pearl City and the Pearl Ridge station in Aiea were presented to the public.
The debate over an the elevated or fixed roadway rail system was addressed by Director Yoshioka, "One of the advantages of having an elevated system is that it's separated from traffic. You have reliable travel times no matter what is going on on the roadway system."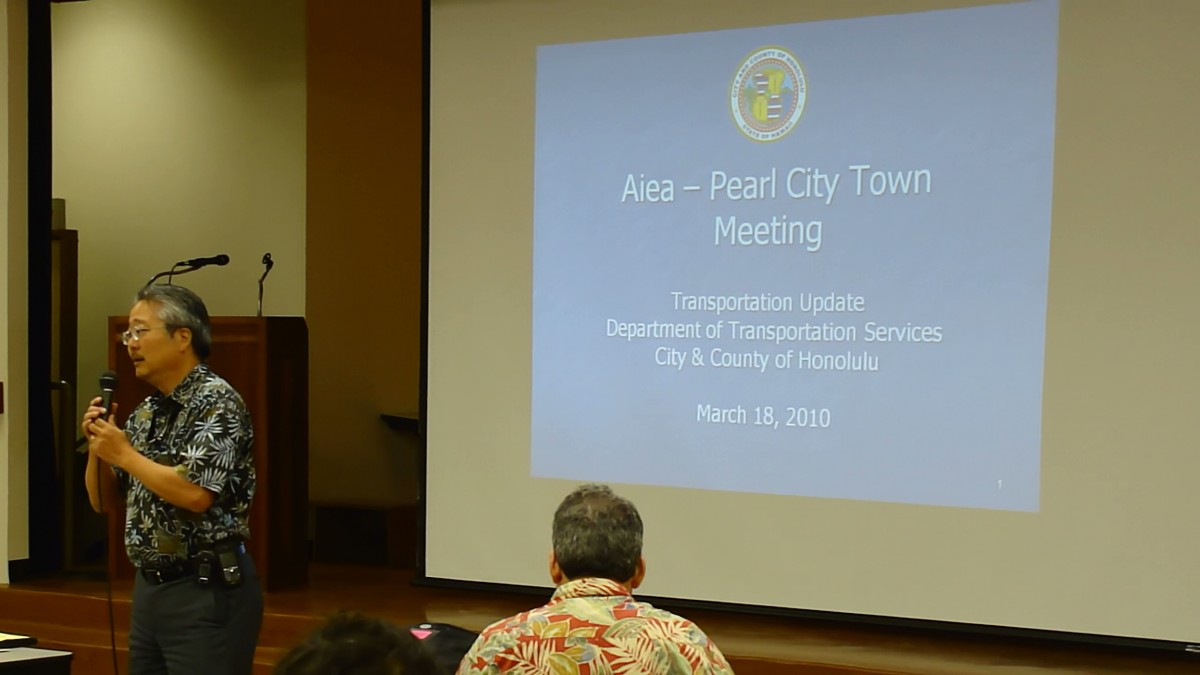 Honolulu City & County Director of Transportation Services, Wayne Yoshioka presenting a Rail Transit update. Photo By: Barry Villamil / [email protected]

The rail system will definitely have an impact on our community from the construction phase through being fully operational. The make up of our neighborhoods on the rail route and as well surrounding areas will change.
"We want to the rail project to fit in with our community as much as possible. Utilizing all the efforts that we put together on the Kamehameha Highway Task Force and incorporate the historical perspectives and customs and traditions that we have," said Takai. "You see some of the motifs coming through on the median fencing project that we hope to make sure that those types of efforts that we started years ago, are then transferred to the rail project."
The median fencing project has residents wondering why it was constructed knowing that the rail system eventually will go right through it. Also, at what costs to the taxpayers? "I know some of you think that it's really ugly and do I agree that it's not aesthetically pleasing, but there's a purpose to that project, that is going to require the City, once they come down with the rail project to protect our pedestrians and to make sure that our corridor is safe."
.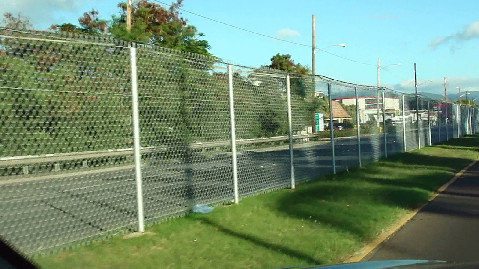 Newly installed fencing on Kamehameha Highway in Pearl City (future route of the rail transit). Photo By: Barry Villamil / [email protected]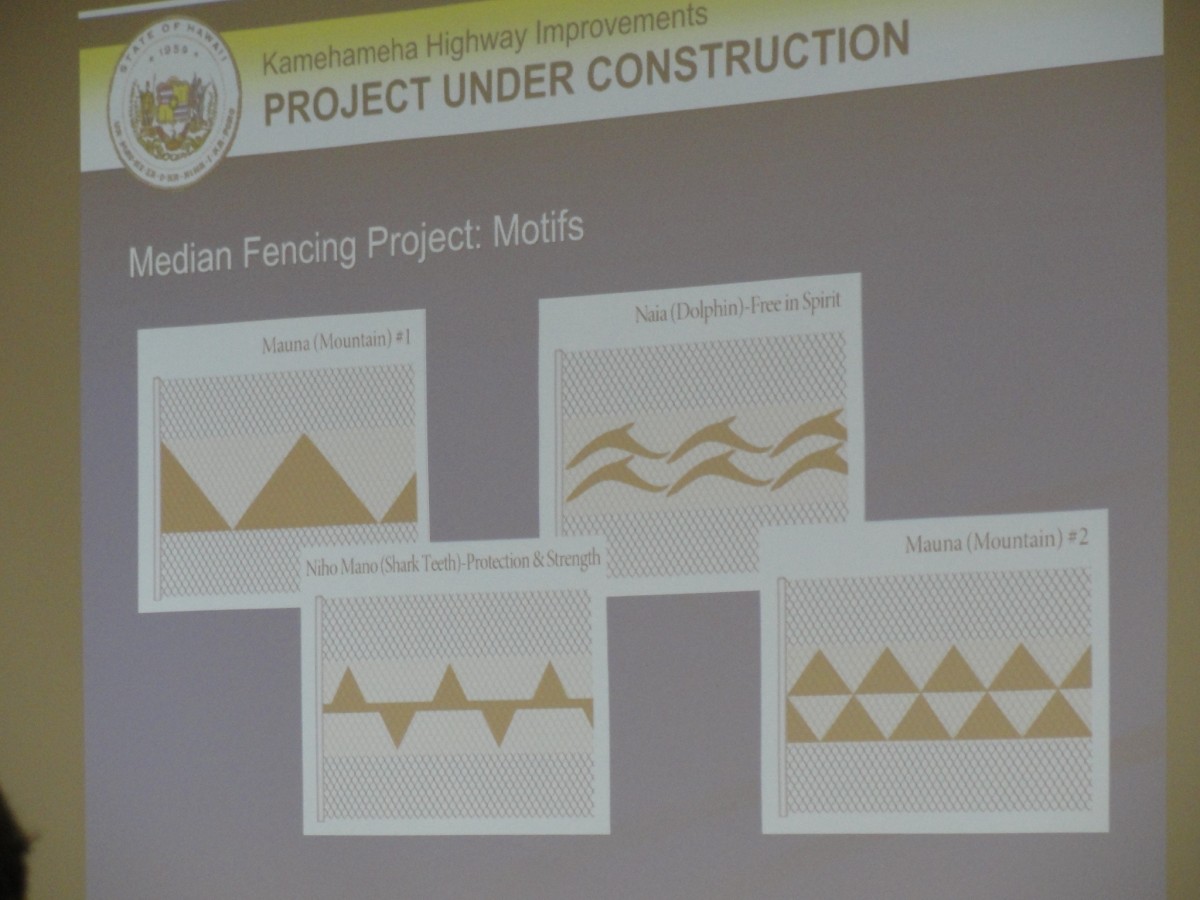 Samples of fencing motifs for Kamehameha Highway median fenceline. Photo By: Barry Villamil / [email protected]

The City Department of Transportation has on its agenda, the Kaahele Street Improvement Project which will focus on street restriping. Residents turned out on Thursday night to voice their concerns on safety issues. Speeding on Kaahele Street and Komo Mai Drive has made it unsafe for commuters and pedestrians alike. A recent traffic related fatality on Kaahele Street has elevated the residents efforts to make the roadway safe.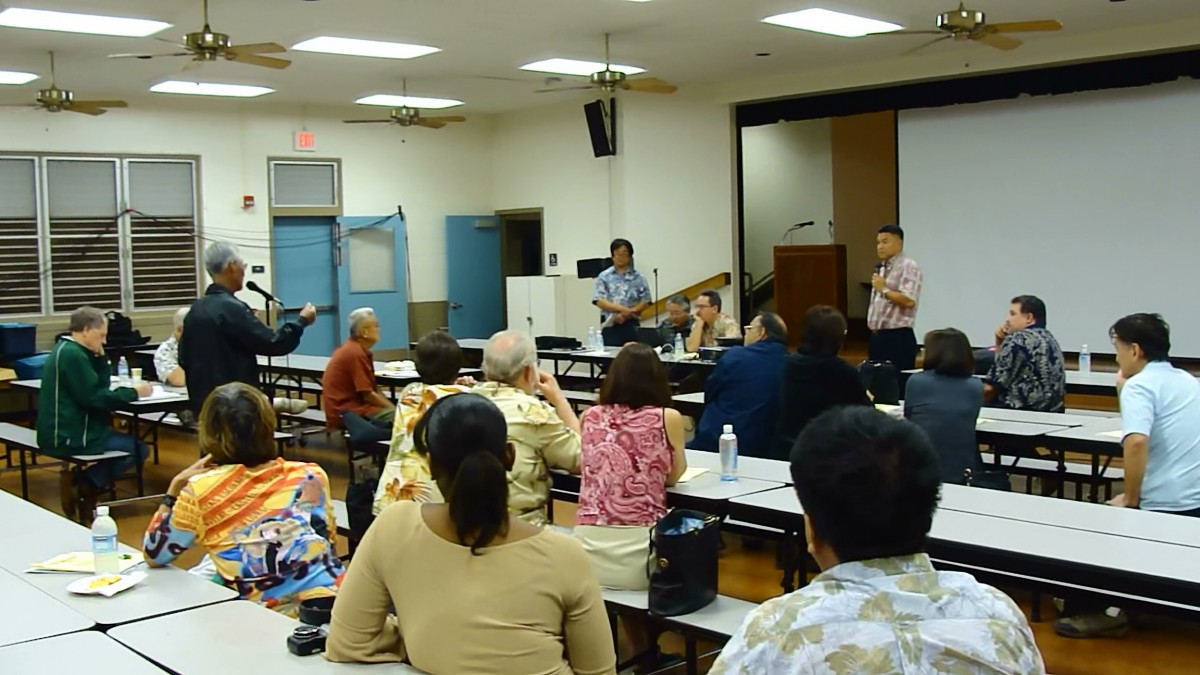 Aiea resident voicing his concerns during Q&A over safety and the upcoming City & County, Kaahele Street Improvement Project. Photo By: Barry Villamil / [email protected]

From March 21, 2010 to April 18, 2010, the Kamehameha Highway Improvements Project Task Force will have project display boards available for public view in front of Satellite City Hall at Pearlridge Center Uptown.
The next scheduled Town Meeting to discuss transportation issues will be held on March 30, 2010 from 6:30pm-9:00pm at Highlands Intermediate School in Pearl City.