Life just got a little tougher for the growing Pearl City homeless community as Mayor Hannemann signed new laws yesterday that bans enclosed tents and shopping carts in city parks. Tents with walls will be allowed in 14 city parks that issue camping permits. Canopies used for shade with open sides will also be allowed in city parks.
Homeless campers that occupy Blaisdell Park in Pearl City will be targets of the new laws as the city plans to begin issuing citations on April 19. Citations will be issued to violators who face up to $500 in fines. The city announced that violators who refuse to comply may be subject to arrest. City parks staff and Police will be making efforts to educate the public with regards to the new laws before the first day of enforcement on April 19, 2010.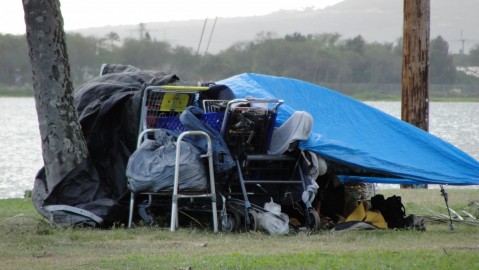 Homeless camp site in Blaisdell Park. Photo By: Barry Villamil / [email protected]

Homelessness in Pearl City is a growing reality as some residents have no other alternative, due to the economic times, to find refuge in our parks. Safety is also an issue for families and individuals that have fallen into homelessness as well as for those who use the park for leisure and recreation purposes.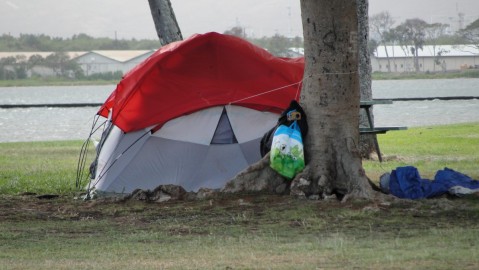 The new laws will ban this type of tent in city parks that do not issue camping permits. Photo Barry Villamil / [email protected]
Chronic homelessness has had a profound affect at Blaisdell Park. In a prepared release, Mayor Hanneman commented, "Public parks must be clean, safe and welcoming to everyone." A recent trip to the restroom facilities at Blaisdell Park made that statement a work in progress.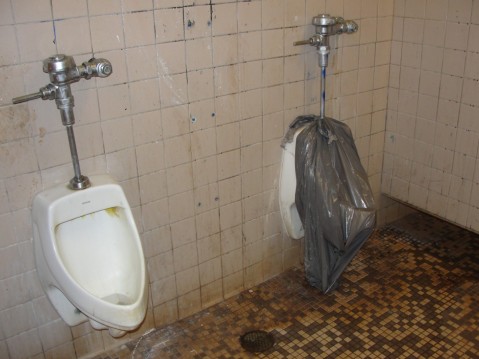 Men's restroom at Blaisdell Park in Pearl City. Photo By: Barry Villamil / [email protected].

MyPearlCity.com wants to hear from you. What's your opinion on the new laws that bans tents and shopping carts from city parks? Are you for or against the ban? Log in and join our E-mail list and have your comments heard.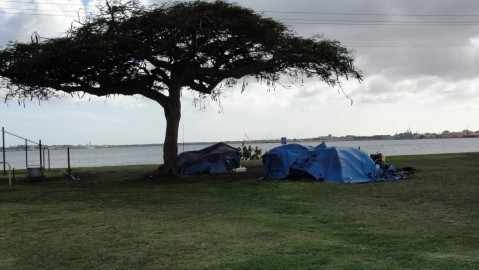 Blue tarps a familiar site in Blaisdell Park along the Pearl Harbor bike path. Photo By: Barry Villamil / [email protected]