The Pearl City Chargers Girls Varsity Softball Team is beginning to flex. The visiting Leilehua Mules got a taste on Saturday, of a full strength and healthy Chargers squad that was more than ready to play. Pearl City's pitching, hitting and overall defense was on the money as the Chargers swept the Mules 10-4, 15-5 in a OIA Red West Division Doubleheader played at the Pearl City High School Softball Field.
The Chargers welcomed back four key players to the squad that have made a significant difference in scoring runs and keeping their opponents off the base paths.
"A large part of it was the addition of Keani Passi, just back from being academically ineligible. Her alone solidifies our defense where a lot of balls hit to center would have not been caught had she not been there," said Chargers Head Coach, Keoke Behic. "Looking back to Waipahu, if she were playing we win hands down the second game."
#7 Keani Passi contributing with the bat for the Chargers going 4-7 in the doubleheader against Leilehua. Photo By: Barry Villamil / [email protected]

On the mound, Pearl City starting pitcher, Sella Rodriguez was unbeatable, earning wins in game one and game two. "Sella Rodriguez was outstanding today pounding the strike zone allowing the defense to make plays for her," said Coach Behic.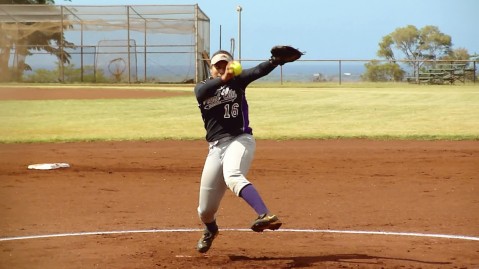 Pearl City pitcher, Sella Rodriguez zeroing in on the strike zone against Leilehua in game one. Photo By: Barry Villamil / [email protected]

Pearl City hitters were very productive in the batters box on Saturday, out hitting the Mules 24-12 in the doubleheader. "If you look at the leading hitters, those were all the missing players in the few series. Sierra Tadiarca back from California for her brother's graduation. Maya Nagata back from France with the French Club. Keani Passi and Alana Cuarisma back from academic ineligibility," said Coach Behic. "Those four players alone amassed 13 hits in two games. Pretty significant."
#21 Alana Cuarisma blasting a Homerun in game one. Photo By: Barry Villamil / [email protected]

"My job down the stretch will be to make sure the team doesn't peak too early or get burnt out. We have a bye this week and don't play until Kapolei on the 17th, then Mililani thereafter to close the season", said Coach Behic on keeping his team focused with a tough schedule ahead.
"We prepare for Kapolei two Monday's from now. That will be a HUGE series for us. We need to beat them to stay in the middle of the standings.The team feels confident at this point scoring 46 runs over the last four games. We will hopefully keep the momentum going to end the season in a special way."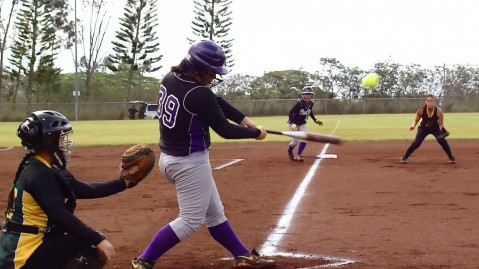 #39 Maya Nagata showing her power at the plate against Leilehua. Photo By: Barry Villamil / [email protected]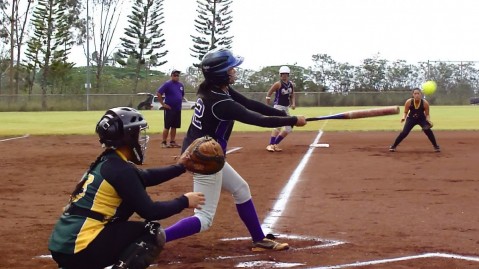 Pearl City's, #2 Sierra Tadiarca driving in #18, Tiari Walker from 3rd base in game one. Photo By: Barry Villamil / [email protected]

Game One
Pearl City 10 Leilehua 4

Lei 101 002 0 4 Runs, 5 Hits, 1 Error
PC 802 000 x 10 Runs, 12 Hits, 2 Errors
Tiffany Abear, Meagan Tupinio and Kelina Nakai; Sella Rodgiruez and Maya Nagata. W- Rodriguez. L- Abear
Leading Hitters: Lei: Krystin Kubo 2 for 3, 2 Runs 2B HR; PC: Kalei Adams HR 2 Runs, 3 RBI; Alana Cuarisma HR; Keani Passi 2 for 4; Tiari Walker 2 for 3, 2 Runs 2B; Maya Nagata 2 for 3; Sierra Tadiarca 2 for 3, 2 Runs, 3B
Game Two
Pearl City 15 Leilehua 5

PC 053 204 1 15 Runs, 12 Hits, 0 Error
Lei 010 040 0 5 Runs, 7 Hits, 0 Error
Sella Rodriguez, Tiari Walker (5), Rodriguez (6) and Maya Nagata; Kaylen Ynigues, Malia Nakai (6) and Jasmine Villegas. W- Rodriguez; L- Ynigues
Leading Hitters: PC: Kalei Adams 2 for 3, 2 doubles; Keani Passi 2 for 3, 2 Runs, 2B; Sierra Tadiarca 2 for 4, 2B. Lei: Jazmyn Dangaran 2 for 3, 2 Runs; Brittney Lani 2 for 4; Ynigues 2B