A group of Pearl City High School students are competing in the National Hurley Competition called WALK THE WALK sponsored by Hurley. The PCHS students were tasked to create videos in three different "Challenges". PCHS currently sits in first place after winning Challenge #1 and Challenge #2. The PCHS team is competing in the Nothwest, Canada and Hawaii bracket.
In Challenge #1, Show Your DNA, the students were asked to create a video that incorporated the following: *What are you into? *What makes your school unique? *Why do you deserve to Walk the Walk?
In Challenge #2, Phantom & Lowrider Competition, the students were once again challenged to incorporate the following elements in a video: *Chance to be a Hurley creative director * Sell the key products, Phantom and Lowrider.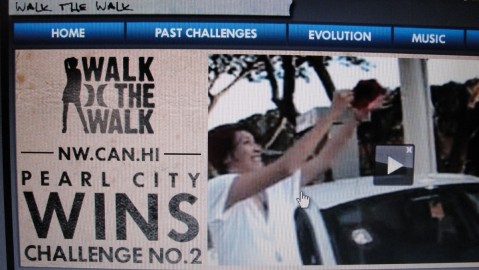 Image posted on Hurley website.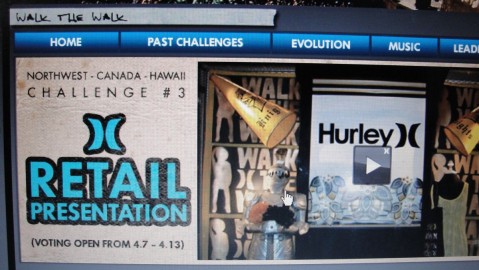 Image posted on Hurley website.
The PCHS WALK THE WALK TEAM needs your support to win Challenge #3, Retail Presentation. The students have worked hard throughout the competition and the pride that they take in their work shines. "We just want to show that we love Pearl City," said Walk the Walk teammate, Danielle Barnett.
"We're one of two teams representing Hawaii. Since we're currently on the top of our bracket, if we win our bracket we go to Nationals to represent Hawaii," said Matt Taira.
If Pearl City High School wins Challenge #3, they will move on to the Nationals at Huntington Beach, California in July, 2010.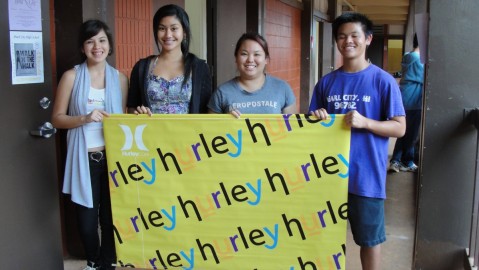 Pearl City High School "WALK THE WALK" students (left to right) Danielle Barnett, Dawn Hilliary Pascual, Chelsey Hatori, Matt Taira. Photo By: Barry Villamil / barry@mypearlcity.com

Written by PCHS WALK THE WALK teammate, Matt Taira;

In 2007, we participated in the catwalk event and won with our unique style that captured the eyes of the judges. Because we had done so well back then, PCHS wanted to do it again this year. The change is that there are 3 video challenges. PCHS is one of two schools representing Hawaii (Mililani is the other). PCHS has won the past 2 video challenges and wants to win this last video challenge and at this very moment PCHS is still the highest point holder in the Nation and in Canada. We know that in this last challenge all the schools will pick their pace up and get lots of people and we would like to do the same.
The public can help by voting online at hurley.com/wtw. At the site they have to create a hurley account by clicking sign up towards the bottom of the page. The required information is First Name, Last Name, Display Name, email, age (has to be over 13), gender, password, confirmation password, password hint, and there will be a security code on the bottom.
Each account can only vote once.
There is also a tab that says past challenges. On that page, the public can see the past two video challenges (PCHS is in the Northwest/ Canada/ Hawaii Bracket).
Voting will start on April 7, 2010 12:00am PST ( April 6 9:00pm HST for Hawaii) and will end April 13, 2010 11:59 PST (8:59pm HST for Hawaii)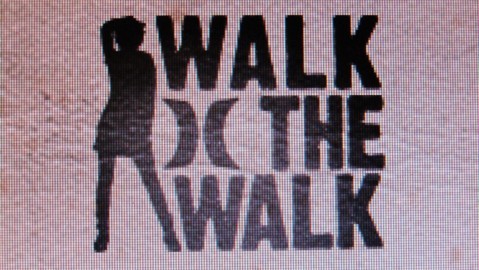 PCHS "WALK THE WALK" Team Members;
Chelsey Hatori, Michelle Brown, Tayler Inafuku, Shannon Kaminaga, Dawn Hillary Pascual, Danielle Barnett, Brittney Mendoza, Katy Akagi, Evan Schlaich, Brent Nagareda, Wainani Paikai, Deslynn Sasaki, Andrew Reyes, Jordan Darley, Sera Brand, Walker Williams, Dominique Johnson, Kristen Krael, Matthew Taira and Advisor, Ms. Nikki Takai.

Please Vote! hurley.com/wtw