The Pearl City Chargers defeated the Campbell Sabers for the second time in a week, 13-2 at Central Oahu Regional Park in Waipio. The Chargers clinch the OIA Red Western Division Baseball Title with two regular season games remaining against Mililani on Wednesday (4/15) and Friday (4/17).
Pearl City pitchers dominated Campbell batters as Chace and Chevas Numata combined on a three hitter for the Chargers.
"Pitching did good, Chace did good, Chevas did good. Chace just hung one up and Chad (Kaalekahi) took it out. Other than that the kids put the ball in play again. We had timely hits today," said Chargers head coach, Gary Nakamoto. "We clinch the West with this win today."
The Chargers out hit the Sabers 11-3. Reid Ramos came up big for the Chargers going 2-3 with 4 RBI's. Austin Bali went 2-4 with a 3-run in the park homerun. Jordan Oshiro returned to line up after an injury with a 3-run double. Kahana Neal, 3-4 with a double and Chace Numata contributed a triple, 2 RBI's.
Campbell's Chadwick Kaalekahi got the Sabers on the scoreboard with a 2-run homerun over the left field fence in the bottom of the 4th inning.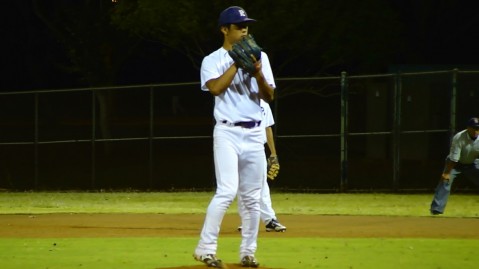 Chace Numata picks up the win for Pearl City against Campbell on Saturday night. Photo By: Barry Villamil / barry@mypearlcity.com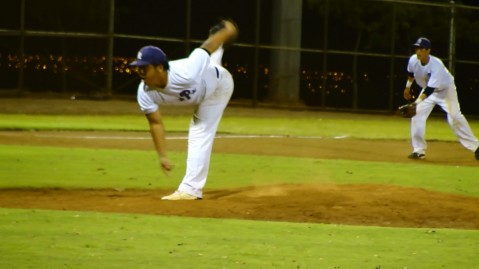 Chevas Numata comes in to close it out for older brother Chace. Photo By: Barry Villamil / barry@mypearlcity.com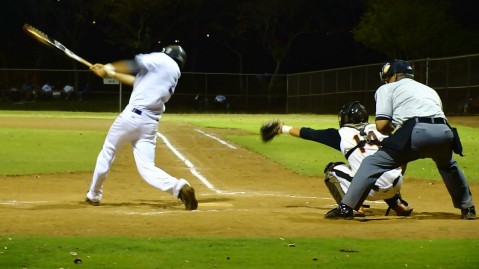 Reid Ramos had a productive night at the plate hitting 2-3 with 4 RBI's. Pictured here driving in 2 runs with a single in top of the 4th inning. Photo By: Barry Villamil / barry@mypearlcity.com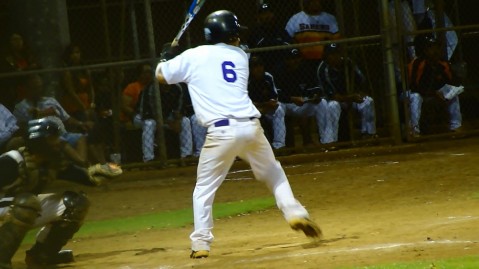 Austin Bali thrilled the crowd with a 3-run "in the park" homerun in the top of the 7th inning. Photo By: Barry Villamil / barry@mypearlcity.com
PEARL CITY (10-0) 204 102 4 – 13 11 2

CAMPBELL (6-4) 000 200 0 – 2 3 5

Chace Numata, Chevas Numata (6) and Royce Murai. Robert Kahana, Eddie Gascon (5), Matt Joao (7) and Chadwick Kaalekahi. W-Chace Numata L-Robert Kahana.

Leading hitters – Pearl City: Jordan Oshiro double, 3 runs; Chace Numata triple, 2 RBI's; Chevas Numata 2 runs: Austin Bali 2-4, HR 3 runs; Kahana Neal 3-4, double; Reid Ramos 2-3, 4 RBI's. Campbell: Chadwick Kaalekahi HR, 2 RBI's; Mike Memea double.