The Pearl City Chargers Track & Field Team held a fundraiser car wash on Sunday at the Lock-Up Self Storage parking lot in Pearl City. Cars lined up from 9:00am to get their cars washed and to help support the team in their efforts to raise funds for new equipment and transportation costs.
The recent Department of Education (DOE) budget cuts have limited funds for the athletic department at Pearl City High School as well as all public high schools across the state. The Pearl City Chargers Track & Field Team felt the need to get out and try and make up the difference. Led by coach Landon Castro, the team charged $6.00 per car and did a great job (I don't know the last time I cleaned my car tire rims? They shine now!).
Team members and coaches worked hard from 9:00am to 3:00pm on Sunday and would like to thank the community for supporting their team with the purchase of a fundraiser car wash ticket. Also, Mahalo to The Lock-Up Self Storage on Kuala Street in Pearl City.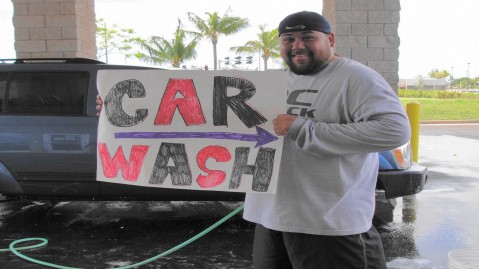 Coach Castro leading the way for the team on Sunday. Photo By: Barry Villamil / barry@mypearlcity.com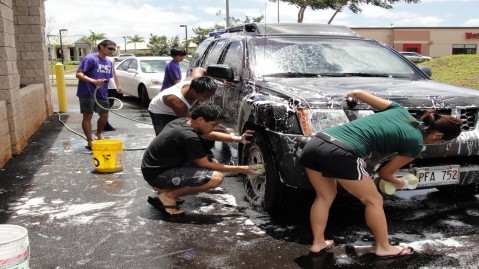 Chargers Track & Field Team working together to get the cars in and out. Photo By: Barry Villamil / barry@mypearlcity.com
Chargers Track & Field Team members taking a break for a photo. Photo By: Barry Villamil / barry@mypearlcity.com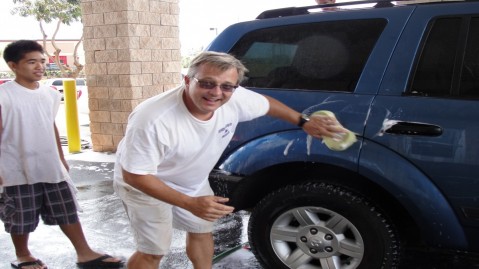 Coach Stinefelt trying not to get wet. Photo By: Barry Villamil / barry@mypearlcity.com