The Semi-Sweet Band from Pearl City High School has recently made it as a top ten national finalists for the "Ford Driving with Skills for Life, Belt It Out" song contest that promotes safe driving for teens. Ford Motor Company is offering thousands of dollars in saving bonds to teens who come up with original music that represents the "driving safe" message.
The Semi-Sweet Band is a very talented group of girls who are passionate about promoting safe driving skills and staying alive on the roadways. They have received a great amount of support that has helped place them in the top 10. The Band's biggest supporters are their parents. There from day one, guiding and encouraging them to get their message out.
Semi -Sweet Band Members include: Rachel Look, Kara Ogawa, Taylor Hayamoto, Lauren Pascua, and Alexia Ongie.
The Semi-Sweet Band recently performed live on the Perry & Price Show in Waikiki. Some of the Semi-Sweet band members will be performing with the band Digital Overdrive at the Pearl City McDonald's on Wednesday, April 14th during the PCHS Project Graduation McNite fundraiser. From 5pm – 9pm, proceeds from food sales are donated to project grad.
Please read the following information provided below and help support the girls by logging on to: www.drivingskillsforlife.com.
Voting runs from April 1-April 30.

Teens are "belting it out" with ford FUND'S campaign to sing for safety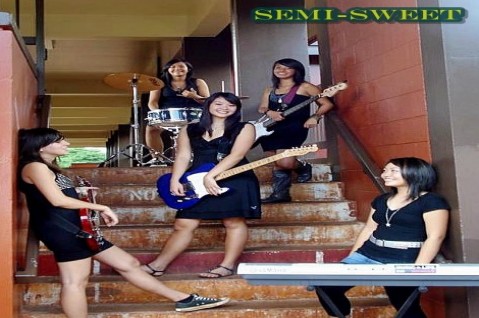 Semi-Sweet Band members pictured at Pearl City High School. Photo By: Ross Ongie

Teenagers across the country are using original music to address the number one killer of their generation: vehicle crashes.
Ford Driving Skills for Life – an award winning driver's education program – is offering thousands of dollars in savings bonds to teens whose original music effectively communicates about this issue.
Members of the public can help pick the winners by voting for their favorite songs among the ten finalists posted on www.drivingskillsforlife.comApril 1- April 30.
Dearborn, Mich., March 29th, 2010 – Teens across the country are using their creative talents to write and record music with an important message: what can we do about the leading cause of death in our generation?
More than 6,000 young lives are lost on American roads each year. Ford Driving Skills for Life, an award winning teen driving program developed by Ford Motor Company Fund and the Governors Highway Safety
Association, created the "Belt it Out: Sing for Safety" safe driving campaign to encourage teens to compose songs with safe driving messages. Winners will receive up to $5,000 in US savings bonds.
In a Harris Interactive Study commissioned by Ford, 44% of teens admitted to driving too fast and 15% of teens said they text while driving. Ford Driving Skills for Life emphasizes four key skill areas: speed management, space management, vehicle handling and hazard recognition. Experts have identified the lack of these skills to be the cause of approximately 60 percent of vehicle crashes for newly licensed drivers ages 16-19. Ford Driving Skills for Life has reached hundreds of thousands of teens online through interactive training and thousands more in hands-on driving events around the country.
Entries from the ten finalists are posted on www.drivingskillsforlife.com. Members of the public can help select the winners by voting online for their favorite songs.
The ten finalists are:
The top five finishers will progress to the final round of the competition on May 1st. Ford Driving Skills for Life spokesperson, Kate Voegele (popular singer, songwriter and actress) will select the top three entries which will be announced June 1st
"As a father of young adults, I know first-hand a parent's worry when new drivers take to the road," said Jim Vella, President, Ford Motor Company Fund and Community Services. "It is gratifying to see teenagers excited about learning and sharing safe driving messages and hear the heartfelt thanks of their parents."
About Ford Motor Company Ford Driving Skills for Life
Ford Driving Skills for Lifewas created in 2003 in partnership with the Governors Highway Safety Association. It is one of the nation's most comprehensive teen driver safety programs. In addition to hands-on events, it consists of learning tools such as an interactive Web site (www.drivingskillsforlife.com) that includes a learning module, quizzes, car care videos, driving tip videos, interactive games and an enhanced eco-driving curriculum. Free educator packets are available for students and parents, as well as teachers and community programs. Additionally, individual programs can be created to meet the specific needs of communities and schools.
About Ford Motor Company Fund and Community Services
Ford Motor Company Fund and Community Services is focused on strengthening families and communities through safe driving and other educational programs. Made possible by funding from Ford Motor Company, Ford Motor Company Fund celebrated its 60th anniversary in 2009. National programs include Ford Partnership for Advanced Studies, which provides high school students with academically rigorous 21st century learning experiences, and Ford Driving Skills for Life, a teen-focused auto safety initiative. The Ford Volunteer Corps provides more than 100,000 hours of volunteer support each year from 20,000 Ford employees for community projects in 44 countries. For more information, visit www.community.ford.com.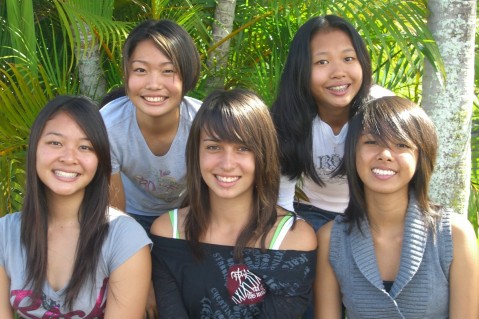 Semi-Sweet Band Members: (left to right) front row – Rachel Look, Alexia Ongie, Lauren Pascua. Back row – Kara Ogawa, Taylor Hayamoto. Photo Provided By: Adelyne Hayamoto
Semi-Sweet Band Bio and information provided By: Adelyne Hayamoto
The band has been together since 2007 when they were 12 years old. They are now sophomores. The members are: Rachel Look – band leader, lead guitar, lead vocals Kara Ogawa – keyboard, lead and background vocals Taylor Hayamoto – drums Lauren Pascua – bass guitar, lead and background vocals Alexia Ongie – rhythm guitar, back up bass guitar, background vocals All of the girls attend PCHS, except for Lauren who attends Aiea HS. They entered their first song contest in 2009 as freshmen for the Brown Bags to Stardom talent contest for PCHS, which they won first place. They also entered the subsequent year, 2010, as sophomores and won again at the school level. In collaboration with students from Kapolei HS, they entered the 2010 Brown Bags to Stardom Music Video Challenge, with the winners to be announced May 15, 2010.
Here are two links to the 2010 Brown Bags to Stardom Music Video Challenge (BBTS website and YouTube performance). http://www.brownbags2stardom.com/BrownBags/VOTING_Page_Music_Videos.html http://www.youtube.com/watch?v=Jr8Opc2ushI
For more information on the Ford contest, see the following news article link to the Honolulu Advertiser: http://www.honoluluadvertiser.com/apps/pbcs.dll/article?AID=20104070330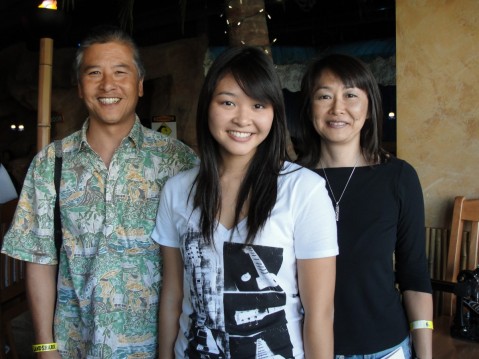 Semi-Sweet Band Leader, Rachel Look (center) with parents who are also teachers at Pearl City High School. Damian Look (left) and Chiaki Look (right). Photo By: Barry Villamil / barry@mypearlcity.com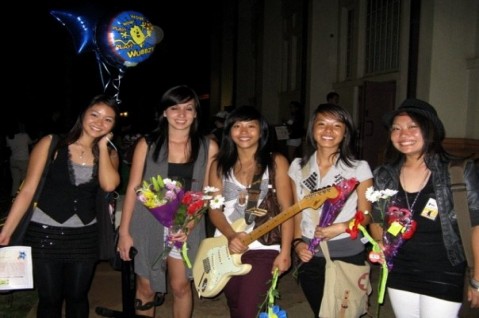 Semi-Sweet Band after a recent perfomance. Photo Provided By: Russell Ogawa

Semi-Sweet "Ford Driving Skills for Life" Song Entry:

Don't Die for Distraction
Music & Lyrics by Rachel Look

Arranged by Rachel look
Verse 1:
F#

1,000 teenage lives, what have you got to show

Cause every single time you drive you lookin' at the phone

Putting all the blame on you, it's making me so sick

that 13% of you admit to doing it

Past the point of no return, but you can still send

B

Tell me what it feels like to kill a friend

Pre-Chorus:
D B

I still have time to text OMG

B Am C#

right before I see oncoming truck and I scream

Chorus:

F# A D C#

I cry for the sacrifice, and I watch them die right before my eyes

F# A D C#

I cry tears from my eyes, and watch them die for a social life

Verse 2:
F#

Guilt is written on your face, that's why you didn't go

to her funeral that day, don't say you didn't know

Not used to heavy SUV's or adjusting speeds

Braking for emergencies ain't done with ease

Don't try and hide it now, cause you know it's too late

B

Everything you've ever done is gonna pay

Pre-Chorus

Chorus

Bridge:

F#

Every second of your life, well you'll be seeing their faces

A

How many lives does it take for you to see what's at stake and

B

Don't try to hide, try to hide what you have forsaken

C#

God gave us life, gave us life and now it has been taken

Chorus

Thank you for logging on to MyPearlCity.com!