Momilani Elementary School Kindergarteners presented two performances of Goldilocks and the 3 Bears to a packed school cafeteria on Thursday, April 15. Director Bill Ogilvie once again volunteered his talents, delivering a delightful version of the classic children's tale. Momilani Elementary School volunteers designed and constructed a truly magical set that transformed the cafeteria stage into a forest setting complete with tall trees and white pillowy clouds. Amazing!
Goldilocks, Papa Bear, Mama Bear, Baby Bear and cast , were joined by Little Red Riding Hood, The Big Bad Wolf and Cinderella. The students performed at 1:00pm for the faculty, staff, student body, parents(family) and friends. A second performance was scheduled for 6:00pm.
They performed their hearts out and were well prepared as it showed in every aspect of their performance roles. Congratulations to Principal Higa and her staff for truly making a difference in each students educational experience (including fun factor) while attending Momilani Elementary School.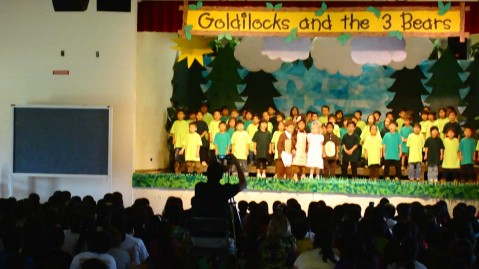 Momilani Elementary School Kindergartners performing "Goldilocks and the 3 Bears." Photo By: Barry Villamil / barry@mypearlcity.com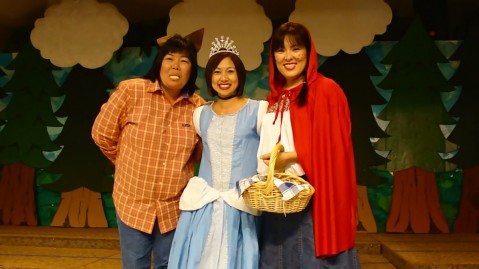 Momilani staff who played supporting roles (left to right.), Karen Hirata, Janel Yoshimura and Lori Sasaki. Photo By: Barry Villamil / barry@mypearlcity.com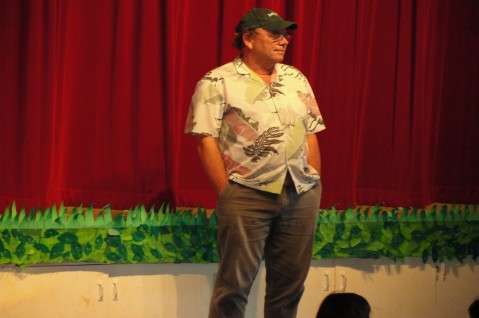 Director Bill Ogilvie speaking to the audience before the curtain went up. Photo By: Barry Villamil / barry@mypearlcity.com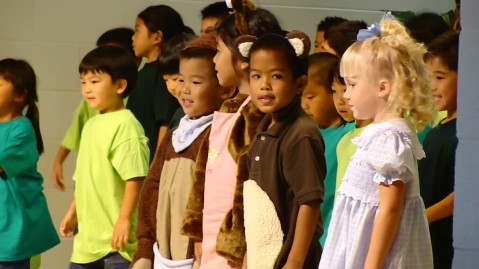 Goldilocks and the 3 Bears did a great job! Photo By: Barry Villamil / barry@mypearlcity.com
A special thanks to the following supporters who came together to make the Goldilocks and the 3 Bears presentation a wonderful success:

* Momilani PTSA * Rona Kesner

* Mrs. Doreen Higa, Principal * Eddie Antonio

* Mr. Bill Ogilvie, Director * Rona Dela Cuesta

* Lance Nishihara * Grade 2 (Aesop's Fables) Designers

* Kelly Ryno (photographer) * Last but certainly not least, A GREAT BIG THANK YOU to our

* Masaru Uchino (videographer) hard-working and supportive parents. We couldn't have done it without you!!

* Jill Keanini & Molly Foley (music)

* Hard-working and loving faculty and staff