Defending OIA Red Division Champions and the #1 ranked Pearl City Chargers defeated Moanalua on Thursday 4-1 in the OIA Red Division quarterfinals at Hans L 'Orange Park in Waipahu. Pearl City hurler, Kahana Neal produced another strong outing pitching a complete game, allowing 8 hits and striking out nine.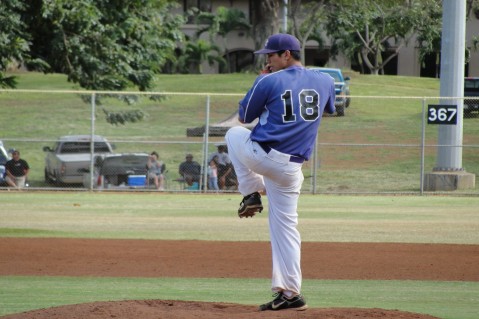 Photo by Barry Villamil | [email protected]
Pearl City's, Kahana Neal earned another victory for the Chargers on the mound on Thursday against Moanalua 4-1.

"Kahana bore down today. We were going to bring Chace (Numata) in if he got into trouble but Kahana said he felt good so I left him in," said Chargers head coach, Gary Nakamoto. "The Moanalua pitcher also did good, kept our batters off balance."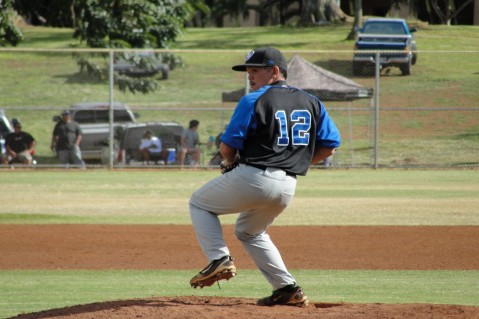 Photo by Barry Villamil | [email protected]
Moanalua starting pitcher, Jacob Fukuyama took the loss but pitched well holding the explosive Pearl City bats to seven hits.

Moanalua got on the scoreboard in the top of the second inning on Jordan DePonte's RBI double that scored Austin Inabata from second.
Pearl City took a 2-1 lead in the bottom of third inning off a two-run triple from Royce Murai scoring both Reid Ramos and Jonathan Kealoha. The Chargers scored two more runs in the bottom of the sixth inning to make it 4-1.
"The key hit was when Royce hit the triple that brought in two runs," said Nakamoto. "When we got ahead 2-1 the momentum kind of shifted towards us."
Photo by Barry Villamil | [email protected]
Pearl City's, Royce Murai pulling into third base after a two-run triple in the bottom of the third inning against Moanalua.

Pearl City, the 2010 OIA Red Western Division Champions (13-0) will meet Mililani (9-4) the Red West No. 4 seed in one of two semi-final match ups today at Central Oahu Regional Park (CORP) in Waipio.
In the first semi-final, OIA Red Eastern Division Champion, Kailua (11-2) will meet OIA West runner-up Campbell (9-4) at 4:00pm. Pearl City vs. Mililani will follow at around 7:00pm.
Both games will be televised live on Oceanic Cable OC16.