The Pearl City Chargers completed a perfect OIA season going 15-0 and capturing the OIA Red Division Championship with a 4-3 come from behind win over the Campbell Sabers on Saturday night at Central Oahu Regional Park.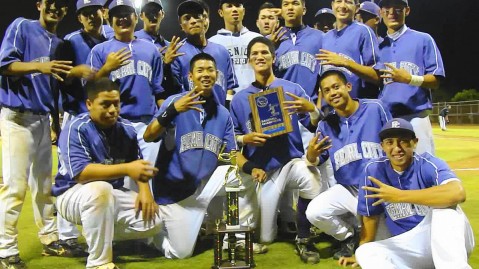 Photo by Barry Villamil | [email protected]
The 2010 OIA Champions from Pearl City showing off their Championship hardware after bringing home their 4th OIA Title in as many years.

The Chargers found themselves for the second night in a row, in a tight ball game. On Friday, the Chargers battled Mililani in the OIA semifinals coming away with a 3-2 victory. The 4-3, one-run margin of victory over Campbell for the championship tested their skills and ability to come from behind in a ball game.
One individual who made the difference for Pearl City was starting shortstop and closer, Chace Numata. The night before he came in against Mililani in the sixth inning with one out and retired five batters in a row through the seventh to earn the save.
On Saturday night, Numata was the third pitcher for the Chargers, relieving Kawika Pruett in the top of the seventh inning who had come in earlier for starting pitcher Royce Murai.
Numata had the bases loaded with two outs, and a 3-2 count on Campbell's, Avery Marquez. Numata challenged Marquez and got him swinging to end the game. It's the role as a closer that Numata gets pumped up for coming in from his starting shortstop position to close out a game.
"It's great, I love being in that situation, especially tonight with the bases loaded, said Numata. " I didn't expect that to happen but those are the situations I live for and I thank my Dad for helping me out."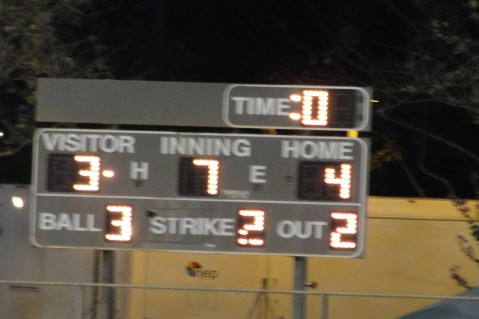 Photo by Barry Villamil | [email protected]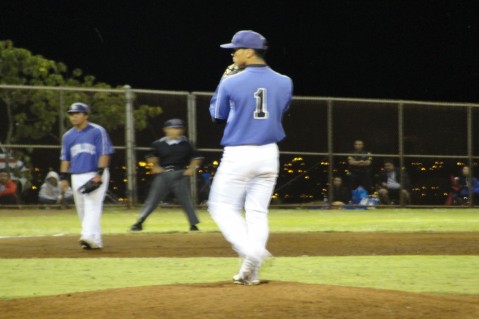 Photo by Barry Villamil | [email protected]
Pearl City closer, Chace Numata needed one more pitch for the save and came through.
Campbell found themselves up 3-1 in the top of the fourth inning after Benny Carino lined a two-run double into left field with two outs. Pearl City came back in the bottom of sixth inning scoring three runs to take a 4-3 lead. Campbell starting pitcher, Po'o Ka'alekahi was relieved in the inning by his brother, Kala Ka'alekahi.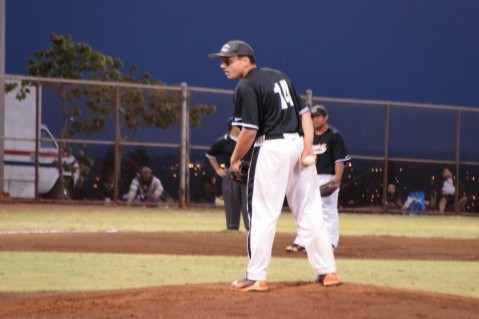 Photo by Barry Villamil | [email protected]
Sabers starting pitcher, Po'o Ka'alekahi pitching in the sixth inning against the Chargers.

Pearl City has earned a first round bye and top seed in the HHSAA Wally Yonamine Foundation State Baseball Championships to be played from Wednesday, May 5 through Saturday, May 8 on Maui at Iron Maehara Stadium in Wailuku.
Congratulations to the Pearl City Chargers for winning the OIA Red Division Title for the fourth year in a row and good luck in the State Tournament!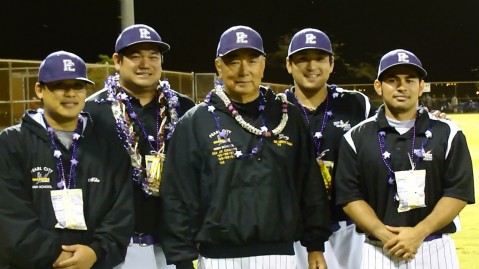 Photo by Barry Villamil | [email protected]
Chargers Head Coach, Gary Nakamoto (center) and his coaching staff. Great job!