University of Hawaii Press Release: Richard Karamatsu

UH Mānoa's College of Tropical Agriculture and Human Resources (CTAHR) and a team of staff and volunteers at CTAHR's Urban Garden Center in Pearl City will host the grand opening of the Alika Rabbit Garden, the newest addition to the Children's Garden.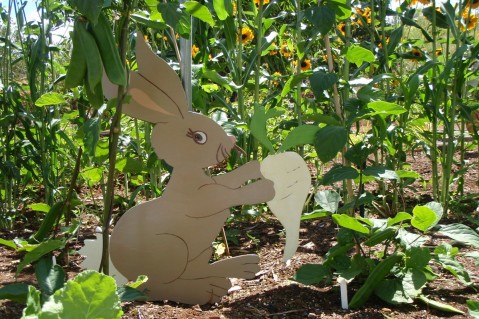 Photo provided by: Jayme Grzebik

Alika Rabbit Garden at the Urban Garden Center in Pearl City.
The opening of the new garden will be the focal point of the Center's Second Saturday at the Garden event on Saturday, May 8, from 9:00 a.m. to noon.
The Alika Rabbit Garden is a multi-station educational adventure that is based on the Beatrix Potter children's story, "The Tale of Peter Rabbit." The story has been adapted to Hawai'i with Alika Rabbit and his adventure in Uncle Kimo's garden. Both children and adults will enjoy an interactive journey as they join Alika Rabbit in his adventure through Uncle Kimo's garden, full of its many tempting common and unusual vegetables.
Visitors will be invited to join fun-filled activities that include garden tours, hands-on crafts, learning activities, entertainment, a live rabbit display, seed packet giveaways for children, a mini sale of plants and more. Admission is free, and parking is available on site. Other Second Saturday at the Garden activities will include:
A display with live rabbits adjacent to the Alika Rabbit Garden.
The Honolulu Rose Society will display and sell a variety of roses, just in time for Mother's Day on Sunday, May 9. Society members will be on hand to talk about the joys and challenges of raising roses.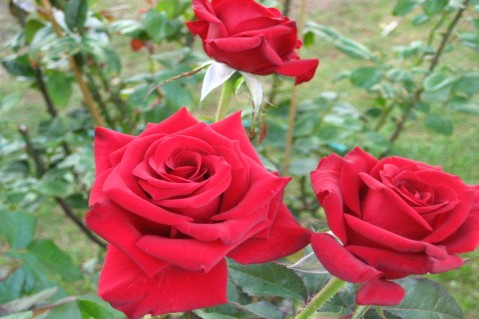 Photo provided by: Jean Young, Honolulu Rose Society

Photo provided by: Jean Young, Honolulu Rose Society
A hula show will begin at 9:30 a.m. presenting the Ladies of the Aiea Community School and Manana Rec Center, with instructor Debbie Kikuchi-Chang.
At the keiki crafts tent, children will be able to make fun garden crafts by folding butterflies, decorating vases, and making caterpillar rings.
A kiddie tent will feature games such as watering the plant, ringing the rabbit ears, tossing seeds at a target, and a scavenger hunt.
A mini plant sale, with various seedlings and refreshments, will be held, with all proceeds going to Center programs.
Guided tours of the plumeria collection and the eight theme gardens will be conducted thoughout the morning. The turf and ground cover displays, and the hedge maze will be open to the public.
The Urban Garden Center is located in Pearl City, makai of Home Depot. Banners will be posted at the entry to the center's entrance at 955 Kamehameha Highway. The entry gate is located on the Waikiki end of the Home Depot/Public Storage parking lot. For more information, call (808) 453-6050.
Contact:
Miles Hakoda, (808) 956-3093
Richard Karamatsu, (808) 455-4596