Wailuku, Maui:
The much anticipated showdown between Pearl City, the OIA Red Division Champion, #1 ranked team in the state as well as #1 seed in the state tourney matching up against six time defending state champion, Punahou turned out to be a one-sided affair.
Punahou used the 4th, 5th and 6th innings to pile up eight runs against one run by Pearl City for a 8-1 victory in the Quarterfinals of the Wally Yonamine/HHSAA State Baseball Championships at Iron Maehara Stadium in Wailuku.
Photo by Barry Villamil | barry@mypearlcity.com
Chargers Head Coach, Gary Nakamoto (second from left) and Punahou Head Coach, Eric Kadooka ( third from left) meet at home plate to go over the ground rules.

Punahou starting pitcher, Zachery Muenster held Pearl City batters to 1 run and 3 hits through 6 innings using his breaking ball to perfection.
"Zach was able to throw his breaking ball," said Punahou head coach, Eric Kadooka. " It forced them to sit and cover two pitches, getting ahead and then he used his fastball to hit some spots. We used the fastball as more of an out pitch and his curve ball to slow them down."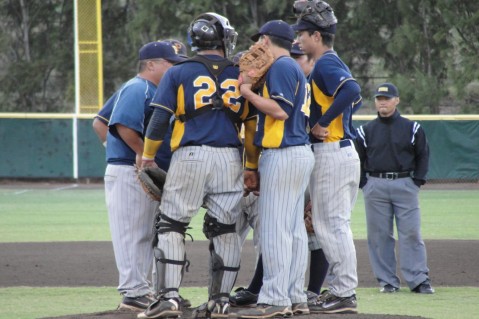 Photo by Barry Villamil | barry@mypearlcity.com
Punahou Head Coach, Eric Kadooka rallying his team around sophomore starting pitcher, Zachery Muenster.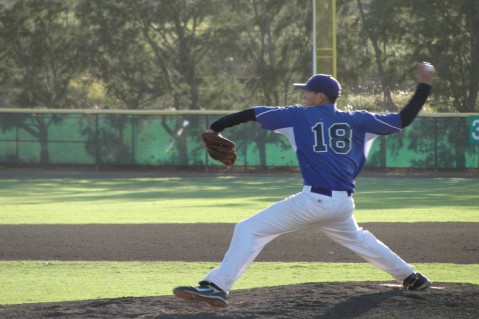 Photo by Barry Villamil | barry@mypearlcity.com
Pearl City starting pitcher, Kahana Neal on the mound for the Chargers allowed 4 runs and 8 hits through 5 innings of work against Punahou.

Punahou got on the board first in top of the fourth inning scoring two runs to take a 2-0 lead. Rick Nomura doubled to left center with one out. A ground out moved Nomura to third base. Neal walked the next batter to put runners on first and third. A called balk scored Nomura from third. Ryan Yamane followed with a single scoring Reece Toma.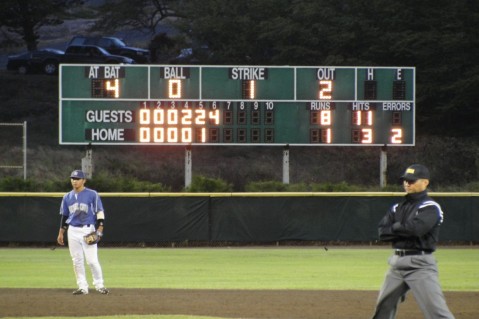 Photo by Barry Villamil | barry@mypearlcity.com
Punahou opens it up in the sixth inning against the Chargers.

Punahou put two more runs across in the top of the fifth and four more runs in the top of the sixth inning.
The Chargers scored their only run of the ball game in the bottom of the fifth inning. Kahana Neal ripped a lead off single and was replaced by pinch runner, Brian Iida. The next batter, Reid Ramos struck out for out number one. Tyler Tokunaga followed with a single. Muenster struck out Royce Murai for the second out. Jordan Oshiro drove in Iida with a two out single. Jonathan Kealoha lined out for the final out of the inning.
Punahou had a solid performances at the plate. Leading hitters: Michael Suiter 2-4, Kaiana Eldredge 2-3, 2 runs, 2 RBI: Alaka'i Aglipay, 2-4: Rick Nomura 2-4, 2 RBI.
Punahou moves on to the Semifinals on Friday and will face ILH runner up Mid Pacific who defeated #4 seed Hilo 8-5 in the Quarterfinals. Game time is set for 7:00pm.
Pearl City will play Hilo in the 5th place Semifinals at 11:00am.