The Pacific Palisades Community Association and BLEIZN FX presented the 1st Annual Family Day on Saturday, June 20, 2010 at the Pacific Palisades Community Center.
The day featured a BLEIZN FX Car Cruz with Hot Rods and Classic Cars displayed throughout the grounds. Craft and Swap Meet booths offered original hand crafted items as well as classic finds (just in time for Father's Day).
Good grinds, great door prizes and a sunny Saturday to splash in the pool, brought family and friends together for a good cause.
"All the money that we raise here today is going to go to the Palisades Community Kids," said Lei Naumu, owner of BLEIZN FX and co-sponsor of the event. "We're going to have a back to school dance because we don't use this community center enough."
On Saturday, the community center was packed in support of the Palisades Community Kids fundraiser.
The following companies and individuals generously donated to make the day a success for the Pacific Palisades community:
Randy's Napa, Napa Kapolei, Rebel Souljahz, DJ Motorsport, Rads Motorsport, Baskin Robbins, McDonalds, Yogurtland, Starbucks (Waimalu), Starbucks (Pearl City), Natalie Ai Kama'u, B&J Signs, Ben Franklin Crafts (Pearl City), BLEIZN FX,
Kalei Fernandes, BBQ Inn (Pearl City), Kings Tinting, Purify Hawaii Vapor Systems and Bumbi's.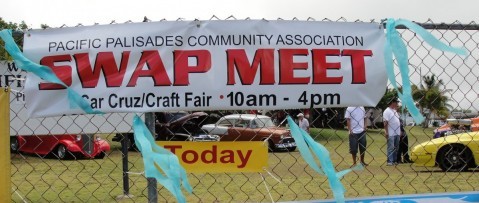 Photo by Barry Villamil | [email protected]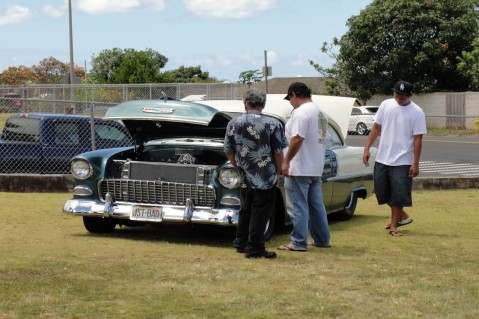 Photo by Barry Villamil | [email protected]
Community residents pictured here checking out the BLEIZN FX Car Cruz that featured Hot Rods and Classic Cars.