Pearl City captured the 2010 Hawaii Little League Juniors District 7 Championship on Sunday, July 4th with a 13-0 win over Waipahu at Hans L 'Orange Field in Waipahu. Pearl City also defeated Waipahu on Saturday 12-1 in the best of three District 7 Championship Tournament.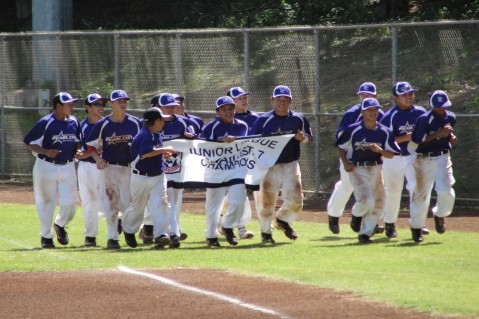 Photo by Barry Villamil | barry@mypearlcity.com
After a scoreless first inning, Pearl City got things rolling pushing across 5 runs in the bottom of the second inning. Pearl City's, Jake Bactista's one out single drove in pinch runner Brent Clymer from third base for the first run of the game. Shaye Higaadded two more runs with a two out single scoring Bactista from third and Lane Asuncion from second base. Pearl City added two more runs to take a 5-0 lead.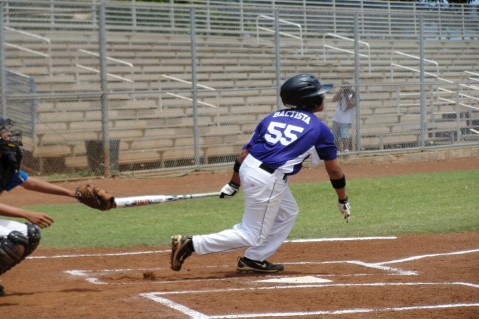 Photo by Barry Villamil | barry@mypearlcity.com
Jake Bactista driving in first run of the game in the bottom of the second inning.

Pearl City continued the fireworks in the bottom of the third inning exploding for 7 runs to go ahead 12-0. Brandon Henderson led off with a triple. Pono Anderson followed with a single scoring Brandon from third. Pono stole second and moved to third on a pass ball. Rally Oshiro drove in Pono with a two out single. An RBI single by Shaye Higa put Pearl City up 8-0 and moved Christian LaChance to third base. LaChance would score on a pass ball at the plate. On the play, Shaye Higa moved up to third base. Waipahu made a pitching change bringing in Racquel Misioka from second base relieving starter Justin Pagba. Higa scored on a Misioka bulk pitch to put Pearl City up 10-0. Pearl City would score two more runs in the inning to take a commanding 12-0 lead. In fourth inning Pearl City scored one more run to make it 13-0.
The game was called in the middle of the fifth inning due to the 10 run rule. Pearl City's Kamalu Neal pitched four and 1/2 innings for the win.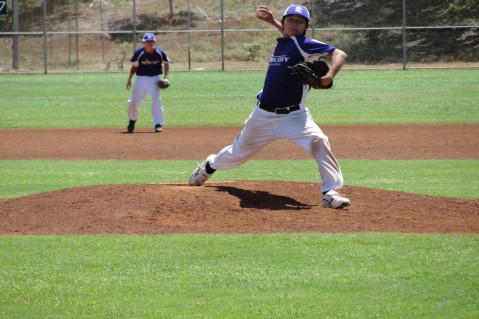 Photo by Barry Villamil | barry@mypearlcity.com
Kamalu Neal throwing hard against Waipahu on Sunday.

Pearl City moves on to the 2010 Hawaii State Little League Juniors Championship Tournament to be held in Kona on the Big Island from July 16-20.
Congratulations to the Champions!
Pono Anderson – Lane Asuncion – Jake Bactista – Brent Clymer – Brandon Henderson – Shaye Higa – Christian LaChance – Jason Nakandakare – Kamalu Neal – Dayne Okamura – Myles Okamura – Rally Oshiro – BJ Padilla – Chevy Sumile
Manager:
Casey Higa
Assistant Coaches:
Shane Henderson
Bronson Padilla
Mahalo to Merv Yoshimoto and his staff of volunteers for a great tournament!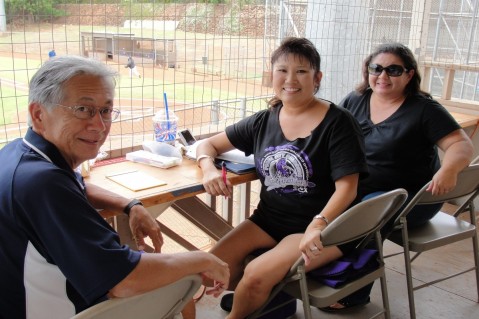 Photo by Barry Villamil | barry@mypearlcity.com
Also, congratulations to Waipahu for their never give up attitude and great sportsmanship throughout the tournament.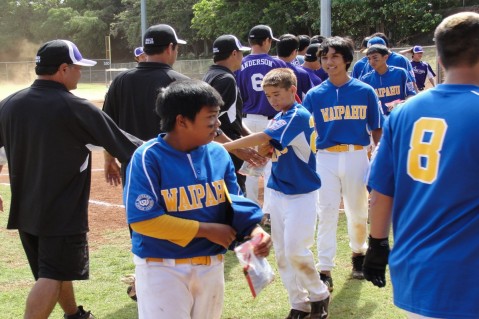 Photo by Barry Villamil | barry@mypearlcity.com