Kevin Asano is one of the most successful Pearl City High School graduates to date. Asano is an alumnus from the class of 1981. His story is one of inspiration that blends the success of reaching the level of Olympic Silver Medalist in Judo at the 1988 Summer Games in Seoul, Korea to being a loving husband to wife Mari and a great dad to his children, Rena, Anna, Maya and Jordan.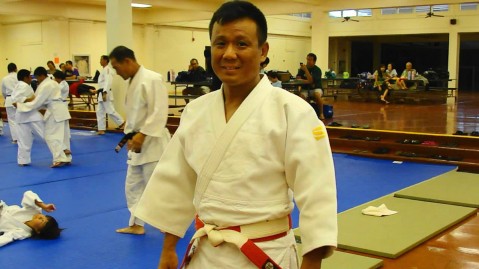 Photo by Barry Villamil | barry@mypearlcity.com
Sensei Asano teaching class at his Judo Dojo located in the Pearl City High School cafeteria.

In Asano's book, Step Onto the Mat – Journey to Success, Senior Pastor, Norman Nakanishi from Grace Bible Church in Pearl City wrote the following quote in the books Forward message:
Put your trust in God
and never let anyone tell you that you can't do something until you step onto your "mat,"
engage your opportunity, wrestle your opposition,
and give it you're best shot.
The Lord plays an important daily role in Kevin Asano's life. Giving it his best shot exemplifies everything he has accomplished as well as the desire to achieve more. Beginning with his love for Judo and the discipline, strength and belief in himself rewarded him early on as a high school and national champion. In later years, he would be tested through an intense training regiment required to reach his Olympic dream.
After defeating the reigning world champion and 1984 gold medalist, Shinji Hosokawa in the extra-lightweight division, Asano would lose to Kim Jae-Yup of South Korea for the gold medal. His experience and level of success at the Olympics would help shape his future and strengthen his belief in the powers from above, changing his life forever.
Today, Asano has his hand in guiding and training the next generation of judo students at his dojo located in the Pearl City High School Cafeteria. He is also a Managing Partner and Certified Wealth Strategist at Pacific Wealth Strategies, LLC in Honolulu. http://www.pacificwealthstrategiesllc.com.
With all of his endeavors, Kevin Asano shares his experience, talent and gift to help others better their lives. He is quick to give credit to his faith for all his blessings.
I hope you enjoy the following MyPearlCity.com featuring Kevin Asano.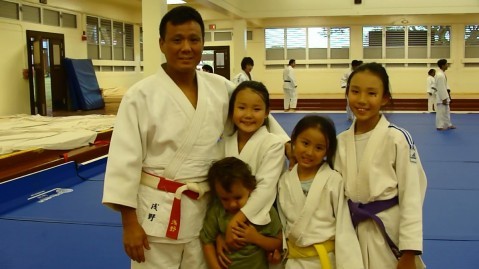 Photo by Barry Villamil | barry@mypearlcity.com
Kevin Asano pictured with his children (left to right) Jordan, Anna, Maya and Rena.

Q: In what way did your daily routine change as a freshman at Pearl City High School?
A: "I lived in Mililani. I had a district exception because of Judo. Mililani High School didn't have a Judo team at that time. Pearl City was like my private school. I'd get up early to catch the bus my freshmen year. Later on I drove."
Q: Who was your sensei in high school?
A: "It was Lee Nakamoto. In fact, he was the one who invited me to come up. That made the difference because I wouldn't have done Judo or I wouldn't have had the training because Pearl City had the best Judo program in the state. As it turned out, it was one of the best programs in the nation."
Q: How many years of experience did you have before your freshmen year at PCHS?
A: "I started Judo at 7 years old.
Q: What was it like leaving behind your friends and classmates in Mililani to attend PCHS?
A: "I came in as an outsider not going to Highlands Intermediate. I felt a little on the outside but you know they had the Judo guys and of course in Band."
Q: What instrument did you play in the band?
A: "I played the alto sax."
Q: Judo and Band must have kept you pretty busy?
A: "It's interesting because the band is like full time under Mr. Nakasone and the Judo is full time so after my first year I had to make a choice. What am I going to do? Pursue Judo or Band because I love both of them."
Q: How did you decide between the two?
A: "I think it was my freshmen year, Pearl City had a select band and I made first chair. I had a solo and everything and I said sorry, I'm going to do Judo. I had to make that clear choice. I realized I couldn't do both well. At that point I went the Judo route. Basically I had to give up Marching Band but the Concert Band is during school time so I could continue that."
Q: Any PCHS teachers make an impact on you as a student?
A: "Of course Mr. Nakasone. He was a stickler for perfection. You just keep playing and playing until you get it right. I had a math teacher, Mrs. Kajiwara, who tested my limits. Back then Judo was everything, so were my coaches too."
Q: How about your success competing in Judo for Pearl City High School?
A: "They only had OIA back then, no state championships. I won all the years in high school and nationals as well. Actually I won three out of the four. In 1979 I lost by I think a referee's error, but you know that's a good life principle. Because you can do everything right and sometimes someone makes a mistake and you end up losing and that's life. That's a life principle. You can't let these things get you down. You just gotta move on. Interesting that the same thing happened in the finals at the Olympics, I lost by a penalty that was very controversial."
Q: You could have won Gold?
A: "I could have if it weren't for that penalty. Again that's life."
Q: Were you ever on the receiving side of winning by a penalty in a big match?
A: "I won going to the Olympic trials by a penalty. It fell my way. That's just how it goes."
Q: What was the feeling running through you as you walked into the stadium during the opening ceremonies of the 1988 Olympics in Seoul Korea?
A: "Well, you know as a kid you watch the Olympics opening ceremony, you see each country walk in and you think, wow it's like a dream, so being there was a dream. I can't believe I'm here, representing the United States, competing with the best in the world. It's a privilege to realize that I'm representing the U.S. but also I'm representing Hawaii. When I competed it wasn't just for myself, it was for my country and my state."
Q: What was it like hanging out in the Olympic Village?
A: "Everybody was in the Olympic Village so you could do whatever you want but most of the time we were just focused on our competition. I think if I could, I would have mingled a little more. I did get to meet the doctor of the Korean National team. In fact, he invited me to come back to Korea after the Olympics so I was able to make friends."
Q: Did you take up his invitation to go to Korea?
A: "Yah. I spent I think a week to ten days there."
Q: Describe the feeling being on the awards podium to receive your Olympic Silver Medal?
A: "You just get this feeling that you can't believe that you're here. I'm not supposed to be here, but than it's like the whole eighteen years of competition just flashes through your mind. You think this little seven year old, and all the things that I went through, the triumphs, the defeats, the heartbreaks, the disappointments, and all the difficulties. Realizing how I got there, it wasn't like I was the greatest guy and just smashed everybody. I won by a penalty. I guess it was kind of humbling, realizing that if anything, God got me there, not just by me. It was more of humbling feeling to be there."
Q: Do you see the potential in your current Judo students to have the same success as you have experienced?
A: "I look at it more of in a broad sense where we're not just training athlete champions in the sport of Judo. I look at it more as we're raising up people of character because my three daughters are here. I look at it as part of their growing experience and as an extension to all the other kids as their growing experience. I'm not focused so much on the Olympics or them winning some kind of national of international championship. I think you have a different perspective. When you're younger you just think about winning, when you get older you realize there's more to life than winning. Really, winning in life is building character and having a great marriage and having a great family, being moral and upright in all that you do. You have a positive influence in the community. That's what we're trying to cultivate here."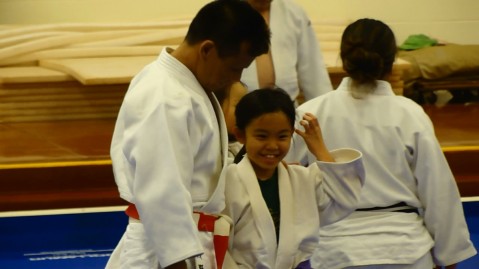 Photo by Barry Villamil | barry@mypearlcity.com
Sensei Asano encouraging one of his students.

Q: How often do you conduct Judo classes at Pearl City High School?
A: "We have classes Monday, Wednesday and Friday, 6:00pm to 7:30pm for the younger kids and then we have more of a specialized training for the older kids from 7:30pm to 8:15pm."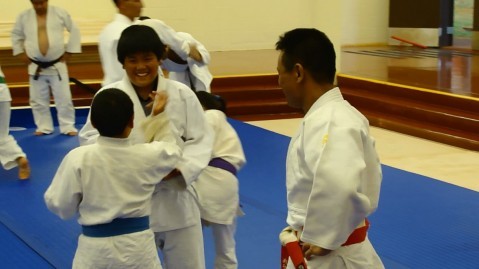 Photo by Barry Villamil | barry@mypearlcity.com
More judo students under Sensei Asano's watchful eye enjoying a light moment in class.

Q: Are there any PCHS Judo team members training in your program?
A: "Yes, we have a few that come. In fact, the Judo team uses our mats during the season and some of them continue on during the off season."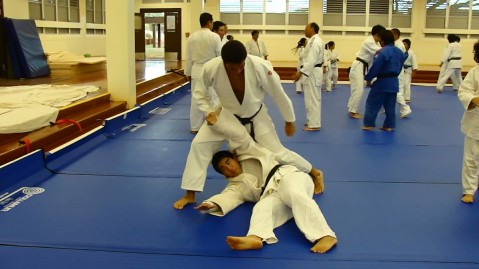 Photo by Barry Villamil | barry@mypearlcity.com
Older students working out during class at the Pearl City High School cafereria.

Q: How long has your Judo club been at PCHS?
A: "We must have been here for fifteen years or more. We have been very, very fortunate that the principals have opened the door for us. It's hard to find a facility. This is a beautiful facility. It feels good to come back to my alma mater during the week so I never feel like I'm disconnected from Pearl City High School."
Q: I understand you are also a financial advisor at Pacific Wealth Strategies, LLC?
A: "Yes, I'm a financial advisor and we provide comprehensive strategies for our clients. We do that in a collaborative way meaning that we like to work with the CPA's and Bankers and Estate Planning Attorneys."
Q: How long have you been in the business?
A: "I've been doing it for about nine years. "
Q: Did you major in finance in college?
A: "My major was accounting. I went to UH, Tokai University in Japan where I trained for two years and then I ended up at San Jose State where they had a great Judo program there."
Q: It must be rewarding working as a team to put together a financial game plan for a client?
A: "It's more than just the money. It's more dealing with people's lives. I was honored that one of my clients passed away on Friday. His wife called me up on Thursday and she said her husband is going die any moment and asked if I would come and just spend time and pray with the family. She asked if I would conduct the funeral. I'm not a pastor but she asked if I would do the funeral. It's not just dealing with people's retirement money, its dealing with their lives. That's what I see as my role. I look at my clients as the people that I need to take care of or reach out to or help in anyway I can. I look at my kids and the families here in the same way to have an influence on them in a different way not financially.
I don't see compartments in my life like, this is my business, this is my Judo and this is my personal life. It kind of meshes into everything because the overriding thing is how I can help people find what their supposed to do in life and to help them pursue that."
Q: Your thoughts on sharing your story as the author of Step Onto the Mat – Journey to True Success?
A: "It's all about life lessons. I felt that I needed to write a book about my journey to the Olympics. I have this platform that I need to do something with. At the very least I can pass it off to my kids."
Q: Any message of inspiration to those reading your story?
A: "My message is one of finding your dream or you're calling because everybody has something. We all have some kind of talent or calling or passion. Number two is stepping out to pursue it and number three is persevering through it. If I have any message to the people that I talk to and encourage are those three points."