Kai Kamaka has just entered into his second summer football camp as the head coach of the Pearl City Chargers Varsity Football Program. Kamaka is setting his sights on continuing to build his program into a force that represents a winning attitude on and off the field.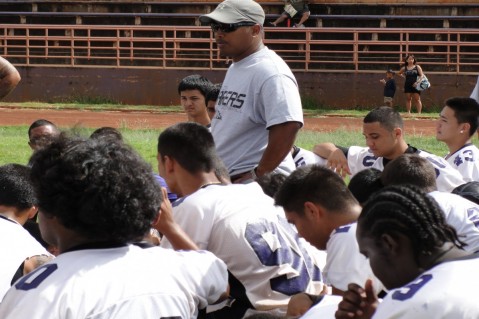 Photo by Barry Villamil | barry@mypearlcity.com
Pearl City Chargers varsity football head coach, Kai Kamaka talking to Sunday's football camp attendees.

Coach Kamaka is a born leader with an ambition that is fueled by his vision to give back to the community. This past Sunday, July 25, 2010, the Pearl City Chargers football team hosted a free camp for youth football players at the school's Edwin Bino Neves Stadium. About 132 youth football players from the Pearl City Highlands Colts Pop Warner program participated in the camp.
"The camp went really well. I didn't expect it to be that big and that much of a turn out," said Chargers head coach, Kai Kamaka. "We were only expecting 60 to 80 and the final count was 132."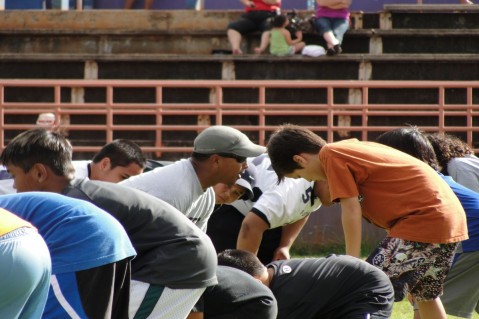 Photo by Barry Villamil | barry@mypearlcity.com
Coach Kamaka working with Highlands Colts Pop Warner football players at Sunday's camp.

The current 2010 Chargers football squad assisted their coaches in teaching the kids at the different camp work out stations.
"They interacted with the kids well. They worked the fundamentals with them," said coach Kamaka. "We were actually able to see what the kids learned from the previous year."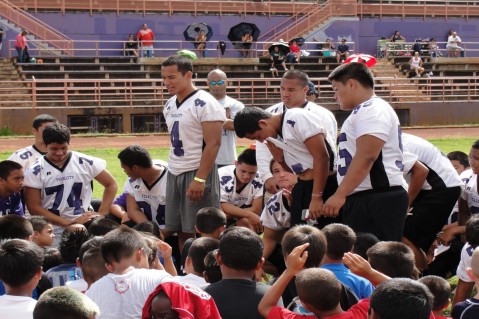 Photo by Barry Villamil | barry@mypearlcity.com
Captains from the Chargers 2010 varsity football squad pictured here sharing their experience with Highlands Colts football players.

The Chargers enter summer camp with an experienced coaching staff that knows what they have to do to improve on both sides of the ball in 2010. They share the same philosophy as their head coach which is to give back to the community and did a great job with the kids on Sunday.
"I have a pretty good, strong staff. They can rely on one another," said coach Kamaka. "They have the experience and know what I want out there. They've adapted pretty good and have good teamwork."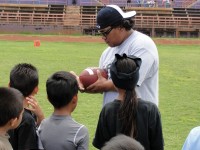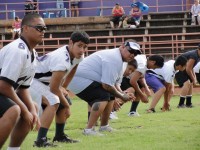 .
Photo by Barry Villamil | barry@mypearlcity.com
Chargers coaching staff and players pictured teaching fundamental football techniques to camp attendees.

Photo by Barry Villamil | barry@mypearlcity.com
Pearl City Chargers and Highlands Colts coaches teamed up for Sunday's football camp.

Kai Kamaka is also working hard on achieving his goal to improve the lives of our youth in Hawaii through his Kamaka Foundation.
"The main purpose of Kamaka Foundation is to provide a safe place for our youth, and keeping them off of the streets," said Kamaka Foundation President, Kai Kamaka. "We are targeting the underprivileged individuals living in underdeveloped communities such as Waipahu, where we would want the location of our center to be. It will serve as an:
1. After school program/ learning center: The kids can come and have access to computers and internet to do homework and school projects under supervision while their parents are still at work.
2. Youth fitness center: Access to a fully equipped gym for kids to learn wrestling, kick boxing, grappling, or just to stay physically fit."
The Kamaka Foundation is in much need of support to fulfill their dream of reaching out to the community and to those in need.
"I've known both Kai Kamaka and his wife, the Foundation's founders, for several years now. Both of them have helped underprivileged children in the Waipahu/Ewa area for many years. As you may know, last season, Kai and his coaching staff donated all of their pay towards funding much-needed equipment and supplies for Pearl City's football Program.

I have no doubt that, if provided the necessary funding, The Kamaka Foundation will do a great job in providing our at-risk youth with meaningful after school activities and will teach them lifelong skills and values such as hard work, discipline, teamwork, sportsmanship, and getting good grades," a quote from a letter to the Kamaka's from Keith Y. Amemiya, former Executive Director of the Hawaii High School Athletics Association in support of the Kamaka Foundation.

"Initially, we want to be able to service the youth whose parents cannot afford after school programs, cannot afford extracurricular activities (e.g. pop Warner Football), parents who are incarcerated, and single-parent homes," said Kamaka Foundation Secretary, Girlie Kamaka.
"Eventually, we would like to do more by holding free sports clinics, build a USA Wrestling and a PAL (Police Activities League) wrestling team and compete during the season, and sponsor kids to take part in Pop Warner football. "
"There will also be a "music and arts" program for the foundation. It will be lead by Sean Naauao and Danny Kaheaku (Manager for Nesian Nine, H-Trey, SI Ladies) whom are all upcoming group bands," added President, Kai Kamaka.
If you would like more information contact the Kamaka Foundation at:
94-143 Leokane Street #204
Waipahu, Hi 96797
Tel: 808-333-7007
Mahalo to Kai and Girlie Kamaka for their help and assistance in preparing the information above.

Photo by Barry Villamil | barry@mypearlcity.com
Go Chargers!

Note: Chargers start practice in full pads on Saturday, July 31, 2010.

Practice schedule for Saturday (7/31): First Practice – 7:30am

Second Practice – 7:00pm