The late Walter Isamu Komatsubara, February 16, 1929 – June 15, 2010, lived his life as a man of honor. He was highly respected by those around him and leaves behind a legacy built on integrity, hard work and a love and dedication in helping others.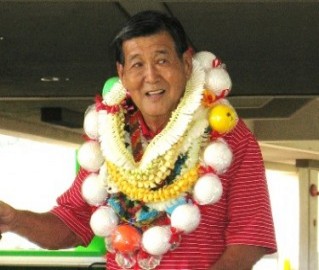 Photo provided by the Komatsubara Family
Funeral services for Mr. Komatsubara were held on Saturday, July 31, 2010 at the Mililani Mortuary, Mauka Chapel. Hundreds attended the mid morning service to pay respects to a man that had in some way affected their lives through his work as a Honolulu Fire Captain, professional baseball scout, coach, field maintenance expert, community volunteer, mentor and teacher to Hawaii's youth and especially as a trusted friend.
Most importantly, Walter Isamu Komatsubara was a dedicated family man. First to his wife of 59 years Lillian, his sons Keith Komatsubara (Carole), Kerry Komatsubara (Sharon) and Kell Komatsubara. Sisters; Tomiye Haertig and Janet Abe. Sister-in-Law, Jeanette Komatsubara and Grandchildren; Devyn Komatsubara, Kristin Komatsubara, Kimberly Komatsubara, Ashlee Komatsubara and Kurt Komatsubara.
I had the honor of knowing and working along side Mr. Komatsubara as a community volunteer, helping to restore and maintain baseball fields on Oahu through Hawaii Winter Baseball. For the past 10 years, I learned from him, as much as I could about field maintenance and the commitment it that it took to maintain the "field of dreams" that many of us take for granted.
My experience was a fraction of time compared to the many years that Mr. Komatsubara and others put in volunteering their time for the love of field maintenance.
"For 30 years we worked together with the common goal to give athletes of Hawaii from pre-school to to the professional level a beautiful and most important, a safe playing field," said George Toma, NFL Hall of Fame Field Maintenance Legend about his best friend, Walter Komatsubara.
George Toma and Walter Komatsubara were the best of friends. Together, they traveled throughout the islands improving playing services and sharing their knowledge with coaches and athletes.
"We started at Radford High School where the NFL Pro Bowl players practiced. We built our first mound after the Pro Bowl, and went on from there, year after year. There was usually no money available, but we did it," said Toma.
Besides the Pro Bowl, they also worked together in a World Series and Super Bowl. Walter Komatsubara was also a very talented professional baseball scout most recently earning two World Series championship rings with the Boston Red Sox.
"When we reflect on Wally's life, we remember him two ways- as a great contributor to the Boston Red Sox organization and as an extraordinary friend," said Boston Red Sox General Manager, Theo Epstein. "As a longtime member of our scouting department, Wally was extremely hardworking and dedicated. He was always willing to go the extra mile for team and that effort was reflected in his work."
As a Fire Captain for the Honolulu Fire Department, Mr. Komatsubara did the same for his men. He worked to improve their skills as professional firefighter's through educational programs that he developed to help them prepare for career advancement exams.
Two former students of Fire Captain Komatsubara, Assistant Fire Chiefs, Tommy Perkins and Manny Neves participated in the Honolulu Fire Departments, Pass-In-Review Procession during the service. They both expressed their appreciation and respect for Captain Komatsubara.
A couple months ago, Mr. Komatsubara invited me to breakfast. We met as we usually do at Anna Miller's in Aiea. I heard that he was getting weaker as the cancer he was battling was beginning to get really aggressive. We had breakfast and talked mostly about baseball and he gave me an update on his health. We finished our breakfast and walked to our cars. He stopped and said that he wanted to thank me for being his friend through the years. He wanted to tell me in person because he didn't think he had much time left. He gave me a hug and said goodbye. I watched him drive away. My heart fell to the ground. That was the last time that I saw him here on earth.
Walter Komatsubara will always be my very special friend. Now in spirit, he lives on in everything and everyone he has ever touched. He worked hard and never asked for anything in return. He inspired me to be a better person. That's how I will always remember him.
If the day comes that I shall find myself standing in front of the pearly gates, I'll know that Walter is there, because the path that leads to heaven will be green and serene.
May God Bless Walter as he makes his way to the light.