It's a brand new season for the 2010 Pearl City Lady Chargers varsity volleyball team and things seem to be looking up as they make a run at an OIA Red Western Conference Championship.
"For the first time we have a lot of height which is unusual for us," said Lady Chargers head coach, Stephanie Shigemasa. "With that height we're hoping to get a more powerful offense from our team."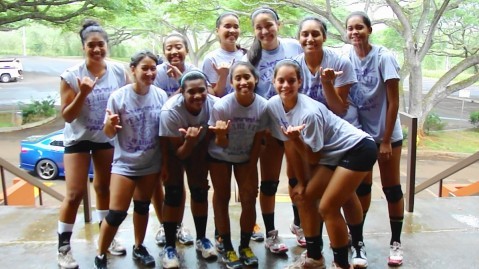 Photo by Barry Villamil | [email protected]
2010 Pearl City High School Lady Chargers Varsity Volleyball Team pictured in front of the PCHS gym on Tuesday, August 17, 2010.

The Lady Chargers have a good representation of experienced veteran players returning with seven seniors leading the team. Three juniors and three sophomores complete the squad of thirteen.
"Actually we're still trying to find our starting six but there's actually a mixture of everybody playing," said Shigemasa. "Out of the thirteen, a good eight to ten can play at anytime. We have two injured so we're already down to eleven."
The Lady Chargers finished second (10-2) in 2009 behind OIA Red Western Conference Champion, Aiea (12-0). They are hoping to improve from last season but will still face another tough conference schedule against top schools like Mililani, Aiea and the return of the Lady Hurricanes from Kapolei High School.
"Mililani is always tough. Aiea is tough. Kapolei is now coming back up to our Division so they'll be tough too. I think those three teams will be our biggest challenge," commented Shigemasa on OIA Red Wesern Division competition in 2010.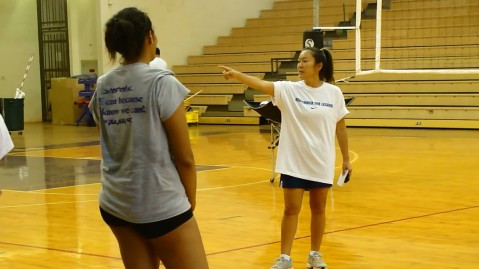 Photo by Barry Villamil | [email protected]
Lady Chargers head coach, Stephanie Shigemasa going through practice drills with her team on Tuesday, August 17, 2010 at the PCHS gym.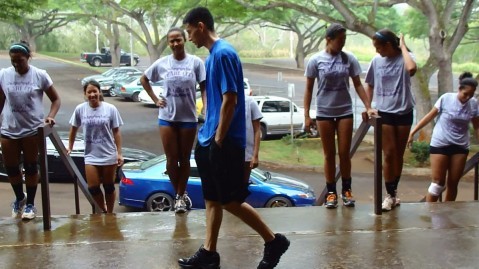 Photo by Barry Villamil | [email protected]
Lady Chargers varsity volleyball assistant coach, Baron Nakano overseeing conditioning drills outside the PCHS gym.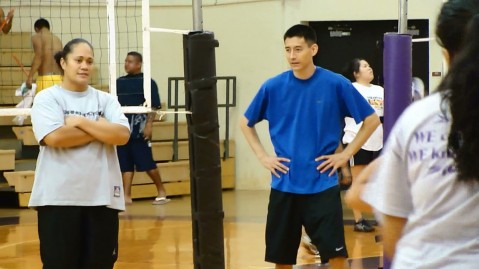 Photo by Barry Villamil | [email protected]
Lady Chargers assistant coaches, Fiona Fonoti (left) and Baron Nakano (middle) along with (not pictured) Darryl Oshiro and Nicole Boyer, collectively bring years of experience and knowledge to head coach Shigemasa's coaching staff.

The Lady Chargers open their 2010 Red Western Conference schedule this week with a bye and play their first game against Waianae at home on Thursday, August 26th. The Junior Varsity opens play at 5:00pm with the Blue Varsity to follow. The Red Varsity follows the Blue in the night cap at around 7:00pm.
2010 PCHS Lady Chargers Varsity Volleyball

Players Name Jersey # Grade Height Position

Kacie Chinen 2L 10 5'2" L
Sade Green 3L 11 5'2" L
Shayrena Alterado 4L 12 5'2" L
Taylor Inong 5L 10 5'7" S
Brandee Chun 6L 11 5'6" M
Kaya Chong 7L 10 5'8" OH
Keani Passi 8L 12 5'9" OH
Tiari Walker 9L 11 5'7" M
Jazmin Matapua 10L 12 5'6" OP
Tonisha Buford 11L 12 5'7" OH
Marie Fujii 12L 12 5'8" S/OH
Tabytha Inong 13L 12 5'9" M
Sina Mauga 14L 12 5'9" M
Head Coach: Stephanie Shigemasa
Assistant Coaches: Baron Nakano, Fiona Fonoti, Darryl Oshiro, Nicole Boyer
Statisticians: Kent Kudo
Managers: Sean Chang, Corey Quianzon, Jerry Gallardo
Athletic Director: Reid Shigemasa
Trainers: Colin Lee, Kim Imamoto
Go Chargers!