The X-Factor baseball team comprised of 11 and 12 year old players from Pearl City, Hawaii recently captured 2nd place in the Cal Ripken 12-60' Pacific Southwest Regional Tournament held in Nephi, Utah between July 27 -31.
The tournament fielded 9 teams from Utah, Arizona, Nevada, California, Guam, and Hawaii. The X-Factor baseball team made Hawaii and Pearl City proud displaying good sportsmanship and discipline in the double elimination tournament before losing in the Championship game to Visalia, California, 7-6.
The X-Factor team would like to thank their family, friends, Oahu Cal Ripken, and the Pearl City community for all their support and encouragement.
Cal Ripken Southwest Regional Tournament summary written by: Andrew Iwane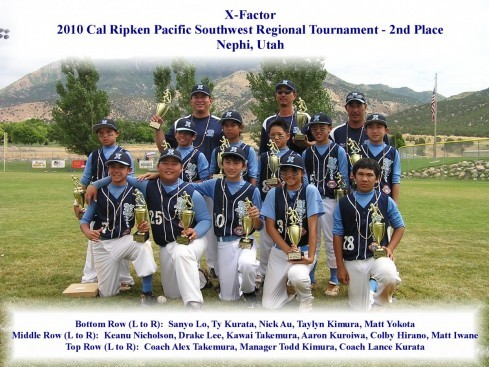 Team Photo provided by Andrew Iwane
Congratulations to the X-Factor 2nd Place Cal Ripken Pacific Southwest Regional Tournament Team from Pearl City!