Chadwick (Chad) Kamei leads one the most celebrated and internationally recognized high school band programs ever to come out of the State of Hawaii. Kamei has just entered his sixth year in the Pearl City High School (PCHS) Band Program and his fifth year as the Director of Bands for the Chargers.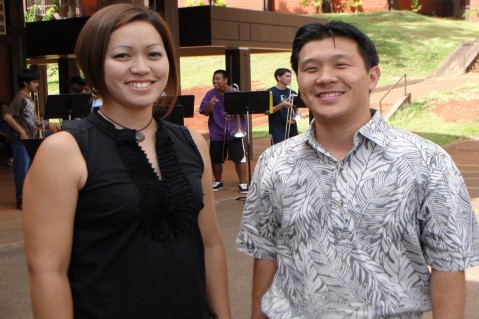 Photo by Barry Villamil | barry@mypearlcity.com
PCHS Director of Bands, Chad Kamei (right) pictured with Assistant Band Director, Cathy Momohara (left).

Kamei is graduate of Castle High School. He also graduated from the University of Hawaii in 2002 earning a Bachelor of Arts Degree in English and a Bachelor of Education in Music. In 2009 he earned a Masters in Music Education.
Chad Kamei was the perfect choice to carry on the tradition of excellence that legendary Pearl City High School Band Director, Michael Nakasone cultivated over a twenty year period. Kamei inherited a strong foundation that was built from hard work and coordinated partnerships between supporters of the PCHS Band program that included the school administration, parents and community.
The tradition of excellence continues today under the direction of Mr. Kamei. He is quick to channel credit for their success away from himself, directing it to where credit is due, first to his very talented Assistant Band Directors, Cathy Momohara and Christopher Lopez, followed by an awesome group of student musicians and performers, school administration, parent supporters and the generous support from the Pearl City community.
The PCHS Band Program reaches out each year to the Pearl City District Complex Elementary Schools to help foster and improve their music programs. Chad Kamei's dream is to create a music complex program that will involve all Pearl City District Complex Schools.
The Pearl City High School Band Program also has a great relationship with the Highlands Intermediate School (HIS) Band Program. The future success of the PCHS Band Program is in the future of the HIS Band students that will make their way to Pearl City High School upon graduation from Highlands Intermediate School.
In 2011, the Pearl City High School Marching Band will pack up and head off to Europe to participate in the London New Year's Day Parade. The trip is by invitation and is a testament to the quality of their performances and the worldwide reputation that the Band has worked hard to attain while representing Pearl City High School and the State of Hawaii as musical ambassadors of Aloha.
I would to thank Chad for the opportunity to meet with him and to learn more about the PCHS Band Program. Also thanks to Assistant Band Director, Cathy Momohara for arranging the interview.
Okay, the beat goes on as the PCHS Marching Band leads the Chargers each week into battle. Go Chargers!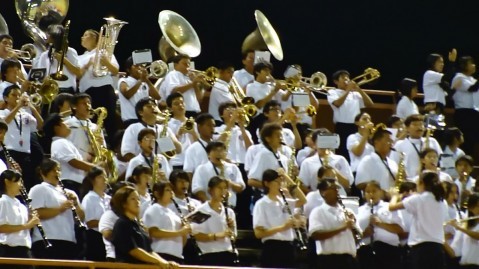 Photo by Barry Villamil | barry@mypearlcity.com
The Pearl City High School Band performing on Friday, August 20, 2010 during the Pearl City vs. Anuenue Varsity football game won by the Chargers 39-8.

To learn more about the PCHS Band Programs log on to: pearlcityhsband.com
I hope you enjoy the following MyPearlCity.com Q&A featuring PCHS Director of Bands, Chad Kamei.
Q: Your thoughts on taking over as the PCHS Director of Bands following the success of former Director, Michael Nakasone?

A: "Taking over after that, it was well, basically you're still stepping into Mike's shoes and it's such a big undertaking. Our Pearl City program has such a big reputation out there. It's a little scary. There was one band director between us, Ken Sato. He took over for a year and decided it wasn't his cup of tea so he decided to move on to Damien."
Q: How about the support for the PCHS Band Program's success?
A: "We have really good kids and we have really good parents support and the community is such a great resource for us. How can you not do a good job with conditions like that?"
Q: How do the parents and community help support the Band?
A: "We have our fundraisers. We have our Panda Express fundraiser every third Friday of the month and our IchiBen fundraiser at the restaurant every first Friday of the month.
They come out and support us that way. They also come out and support us at the Festival of Parades. Even this past Sunday, we had a community member just hear our Band at home and came out and handed me a $50.00 dollar check. It was a nice donation. He said I know you guys practice on Sunday's and I wanted to come out and donate to your Band. You do such a great job."
Q: Do you feel that a majority of neighbors who live near the PCHS campus and practice field support the Band even when practice is scheduled for early evening?
A: "The other part of support is that the residents don't call the Police when we're practicing at seven o'clock at night. It's just amazing. When I was at Castle, we would be practicing and we'd get calls. The community here just seems to accept it and their really supportive."
Q: Is it true that the PCHS Marching Band holds practice rain or shine?
A: "We're in the rain and if it snowed, we would be there in the snow."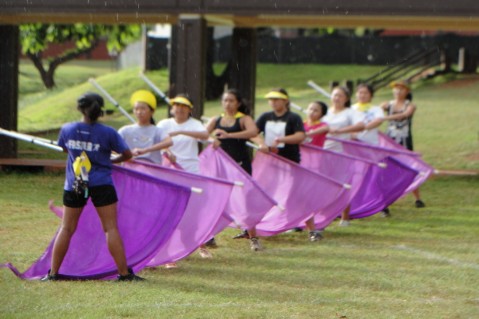 Photo by Barry Villamil | barry@mypearlcity.com
PCHS Flag Team at practice as light rain from the Koolau's falls upon the practice field.

Q: When does the band begin their practice schedule for the new school year?
A: "We start with our fundamental camps all the way in June. Pretty much right after the kids get out of school for the year before, they go into the next marching band season already in the summer time. We'll go all the way to November which is our tournaments."
Q: So the band stays busy a most of the year?
A: "It sounds like a busy schedule, and it is a busy schedule. The kids do really great work here and they put in a lot of time. They have so much love for the program and love for what they do. It's just amazing."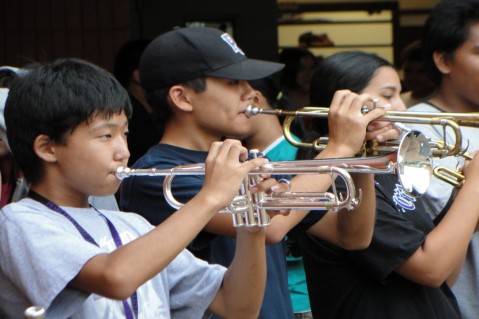 Photo by Barry Villamil | barry@mypearlcity.com
PCHS Marching Band Horn section practicing in front of the band room.

Q: Do you see the incoming freshmen being prepared to step into their roles as a PCHS Band members?
A: "There's no doubt about it. I think the program has such a strong name and reputation that the kids coming up know exactly what the expectations are so when they come in most of them are ready to just start going already. That's how we even push farther than the years past."
Q: How is it that the PCHS Marching Band maintains the talent level, year after year
A: "I started to look at the football web sites and figuring out how do they do it? Going over year after year like for Kahuku or even Leilehua, I mean, I guess St. Louis would win year after year but Pearl City, its funny, I didn't understand how that works. It would just be this continuous success for the program. Don't get me wrong, we do have fluctuations within the sections in years. There will be not so good years and really good years, but for the most part, no one can really tell if it's a bad year or a good year."
Q: How about your connection and relationship with the Highlands Intermediate School band program?
A: "It's a brand new program down at Highlands, they just got a new band director his name is Christopher Mathakul. He just got out of college about two years ago. He's full of energy and is highly recommended by the University professors. We're really lucky to have him. He's very excited about working with us and getting the programs to work together."
Q: Are there ever any opportunities for the Highlands Intermediate School Band to perform with the PCHS Marching Band?
A: "On September 3rd during one of our Chargers football games we're going to have the Highlands Band come up and perform with us in the stands. They will also come with us to the Oahu Marching Band Festival on November 1st at Aloha Stadium. They will be coming in as our special guests to watch. It will help to get them excited and jazzed to come here to Pearl City High School."
Q: Do you reach out to the elementary school level?
A: "Besides Highlands, the Pearl City District Complex is such a musically gifted Complex. There are so many elementary schools and a majority of the elementary schools have music programs. We start at the elementary schools and I talk to the elementary school teachers in trying to get the kids into chorus also getting the kids into drumming at Waiau Elementary. I actually don't just coordinate with Highlands; I go to the elementary level as well."
Q: Do you have any plans or goals to coordinate a music complex program for all the Pearl City schools to participate in?
A: "One of my dreams is to get the Pearl City Complex known as the Department of Education Music Complex. If they want to learn music they'll come to the Pearl City Complex and that would be great for our community. It's already such a musically gifted complex and all it needs is just a few more schools to get on board and just somebody to coordinate it."
Q: How excited are the band members to perform now that the fall sports schedules, such as football are in action?
A: "They love the football games. They love supporting the athletes and the school, being out there and being a Charger. It's a good feeling to be there at the football games or any of the events. They also get excited about away football games and just getting to meet other band members. They find their kinship. They find their comrades in arms going there. I think that's another reason they like all that kind of stuff. At our school we're lucky that we have a supportive Principal that's helping us go to other games to help support the school. I know that unfortunately, some other schools don't have that ability to go.
Q: I understand you have an excellent core of assistant band directors at PCHS that are also alumni?
A: "Cathy Momohara is great. She's from Pearl City and a 1998 grad. Cathy does a lot of work here. She runs the second band, the Wind II Band and does a lot of work with the marching band. She does a lot of the charting and a lot of the clerical work to help the band function. If it wasn't for her we would be up the creek".
"Christopher Lopez is the percussionist instructor and also a Pearl City High School Graduate. He runs the percussion for the marching band and he also gives a guitar class here and really helps out with the band program. We have a lot of alumni here."
Q: The PCHS Marching Band is known internationally and has traveled extensively around the globe in years past. Can you share any updated information with regard to the upcoming trip to participate in the London New Year's Day Parade?
A: "In 2011 we will be performing at the London New Year's Day Parade. This is going to be the Silver Jubilee, the 25th Anniversary of this parade. I believe it starts off at Berkeley Square and it ends up right in front of the House of Parliament, in front of Big Ben. Westminster Abbey, that whole area. It's going be exciting and it's going to be cold. When we get in we'll tour Paris first, the Eiffel Tower, Notre Dame and then head over to London and do the parade and see all the things there like Buckingham Palace and take in a show on the west end. Actually we'll be seeing "Wicked". It's going to be a fun trip but the educational experience for the kids is going to be great."
Q: What is the cost for each band member to make the trip?
A: "Each student had to come up with about $3600 dollars for their portion of the trip. The economy is really bad this year so as much as we want everybody to come we understand that not everybody can. We have about half the band or about three fourths of the band going on this trip. It's a once in a lifetime opportunity."
Q: How did it feel to receive an invitation to participate in the London New Year's Day Parade?
A: "It was very exciting. It was exciting to be recognized as a Band, not just nationally, but internationally. The Pearl City name is world renown. It's amazing. For me too, being here in my fifth year, it sinks in even more knowing that we do really have a world renowned program. I give my credit to Mike Nakasone and what he has done over the last twenty years that he was here. I'm just hoping that we can do half of what he did in the time that we are here. He's a great man."
Q: What type of support have you received from the PCHS administration?
A: "Our Principal, Carlyn Fujimoto is very supportive. She's been doing a great job with supporting our program. She has been with us on all our trips and will be going with us to London and Paris. It's great to have her there with us."
Q: Anybody you would like to thank for your success as well as the success of the Band program?
A: "For me personally, there's too many to thank. As for the program and all its accomplishments, first of all it's the students. The students are the building blocks of this program. If we didn't have them, we wouldn't have anything to build. We may have plans to build something but we wouldn't be able to build it. It's their hard work and all the time that they put in. Nowadays, they could be on Facebook at home, three hours a day and not even think about being in the hot sun for three hours."
"The other people to thank again are our parents. They are the glue that holds everything together. We can corral the kids but if we don't have the chaperones to go anywhere, we're not going anywhere. They help out with the uniforms and the fundraising and the paperwork. Also, again our faculty and staff, even down to the janitors who help keep the room clean."
"I would really like to thank our two directors. If it wasn't for them this program would not be where it is right now. This program is bigger than just one person. Those are the people really to thank. Also, everybody that came before, Michael Nakasone and Boniface Leong at Highlands. If it wasn't for their hard work and the time and effort, we wouldn't have what we have today."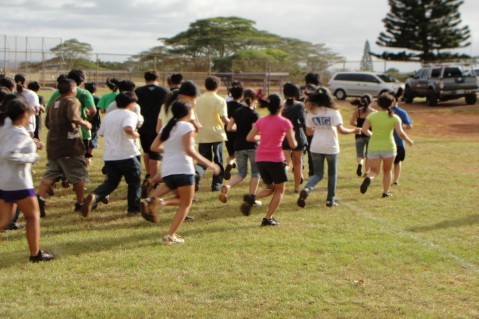 Photo by Barry Villamil | barry@mypearlcity.com
PCHS Marching Band pictured on a fitness training run at a recent practice session on the PCHS campus.