Reported by: Jacob McMillan
The undefeated Chargers (4-0) dazzled the Homecoming crowd using a one-two punch of swarming defense and high-speed rushing yards in a 39-7 win against the Kalani Falcons Friday night.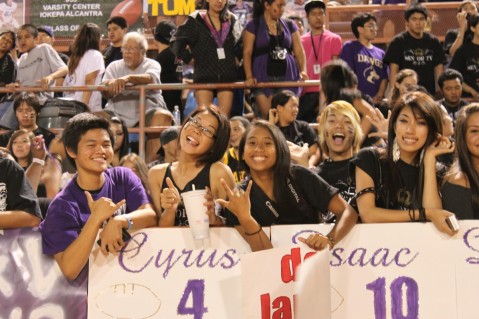 Photo by Barry Villamil | barry@mypearlcity.com
Pearl City High School's Class of 2011 supporting the Senior players during Homecoming festivities on Friday night at Edwin Bino Neves Stadium.

After jumping out to an early 12-0 lead going into the second quarter, Pearl City gave up a touchdown on a drive sparked by a 32-yard gain from Kalani's Jun Cho. The Chargers ended the half with an 18-7 lead after recovering a fumble and getting a 48-yard touchdown from Junior Shawnson Batungbacal.
According to Chargers Head Coach Kai Kamaka, that's when the time came to put the game away for good.
"We came out a little sluggish and flat and I think maybe it's because of all the excitement (of Homecoming)," said the coach. "I think in the second half we woke up and realized that we got to go back to playing football, just kind of settle down and do what we do best," said the coach.
What they did best in this case was the running game. Cyrus Coen and Ray Cooper sprinted their way to a combined 77 rushing yards on six carries in the third quarter to put the Chargers up 32-7. Coen scored three rushing touchdowns in the game raising his league season total to eight. Cooper picked up 136 yards on 7 carries. Chargers QB Dustin Bataya added 101 yards on 6 carries and one touchdown. The Chargers rushing attack combined for 332 yards on the ground.
Through the air, the Chargers were led by QB Isaac Shim who threw for 132 yards completing 6 of 13 with 1 touchdown and 1 INT. Dustin Bataya connected on 6 of 13 for 121 yards and 1 touchdown. Angel Aponte put up 55 yards through the air to complete the Chargers passing game that totaled 308 yards.
The OIA White Division passing leader, Kalani QB, Kaau Kuia completed 26 of 51 for 239 yards and 3 INT's. Kuia connected with Keano Kuia for 70 yards on 5 catches. Falcon teammate, Tatsuya Ono caught 4 passes for 62 yards.
Kamaka credited the Falcons' defensive effort while praising his own team's versatility. "They weren't going to give us the big play on the pass, so basically we just went to the power game," he said. "We have the personnel to do a lot of formations."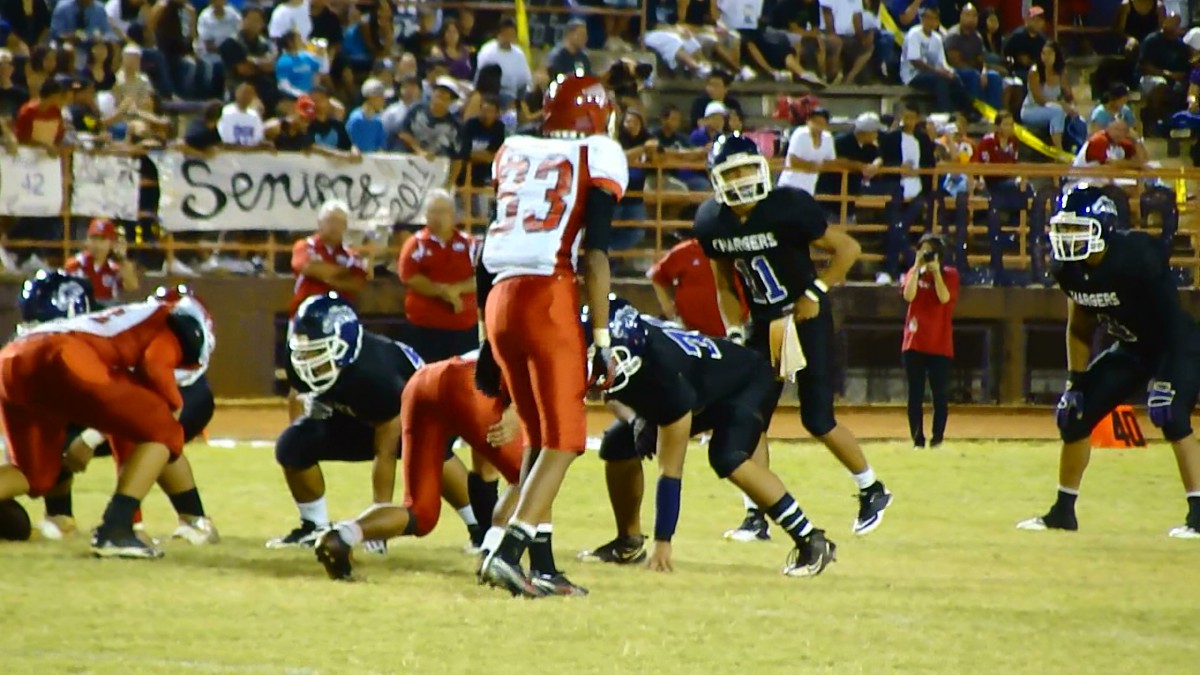 Photo by Barry Villamil | barry@mypearlcity.com
Pearl City's starting QB Dustin Bataya returned to the line up on Friday passing for 121 yards through the air and rushing for 101 yards on the ground.

On the defensive end, Pearl City came away with a pair of interceptions and kept the pressure high to protect the lead.
"I think the defense alone this year is averaging about five takeaways a game," said Coach Kamaka, whose team totaled four this night, three of which would translate directly to quick points.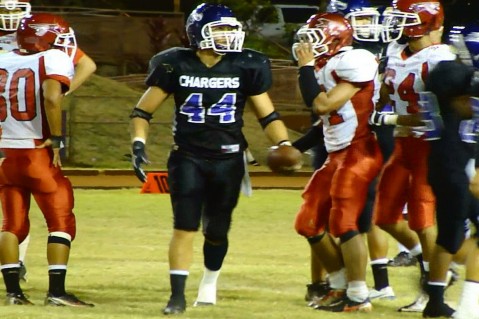 Photo by Barry Villamil | barry@mypearlcity.com
Charger Junior Linebacker, #44 Chase Tagalog recovered a Falcon fumble during a punt return in the second half.

The Varsity team also unveiled their new uniforms Friday night, displaying a more fearsome look with purple letters against solid black. The jerseys were created by the coach's print shop, Ink Custom Printing, and were shown to the team for the first time the day of the game. "We wanted to give them something different to surprise them for Homecoming," said the coach.
The Chargers travel to Waialua next to take on the Bulldogs Saturday, September 25. The Junior Varsity game kicks off at 4:00 PM.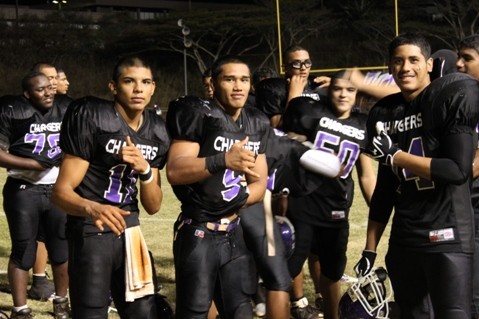 Photo by Barry Villamil | barry@mypearlcity.com
Pearl City Chargers players pictured in their new black & purple game uniforms on Friday during the post game celebration to honor Senior teammates.

Pearl City High School said "Aloha" on Friday night to 16 Senior Chargers:
#1 Ronson Barrett
#4 Cyrus Coen
#5 Ray Cooper
#6 Josiah Demello
#10 Isaac Shim
#11 Dustin Bataya
#12 Nick Villarmia
#21 Keanu Kapoi
#22 Christian Aragosa
#32 MikeJoy
#42 Paul Canne
#50 Elijah Espinosa
#55 Iokepa Alcantra
#56 Colby Buncayao
#74 Kupono Alipio
#85 Adam Burgo
Junior Varsity Score:

Pearl City 49 Kalani 6