The Pearl City Lady Chargers traveled to Aiea on Tuesday and came away with a sweep of the Lady Na Alii, 25-10, 25-17 to improve to 7-1 in the OIA Girls Varsity Volleyball Red Western Division. Aiea fell to 3-6 on the season.
The Lady Chargers actually reversed their 2009 record against Aiea by defeating the Lady Na Alii in both contests this season without losing a set. On August 28th, Pearl City swept Aiea 25-20, 25-20.
"For us, Aiea was our nemesis, year after year, so for us to come away with two wins against a good team is a positive for us going into a big game, again, against Campbell," said Lady Chargers Head Coach, Stephanie Shigemasa.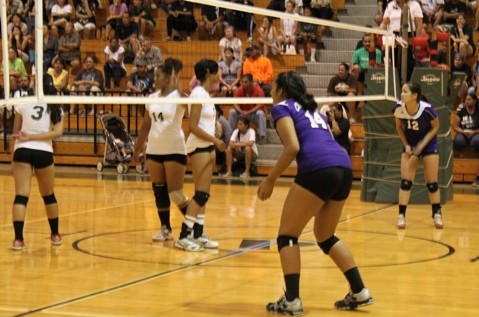 Photo by Barry Villamil | barry@mypearlcity.com
Senior Lady Chargers, #14 Sina Mauga (second from right) and #12 Marie Fujii (far right) prepare for a Lady Na Alii serve. Both Mauga and Fujii play integral roles in the teams success this season.


Pearl City put it all together Tuesday night taking the first game in a quick pace, 20-10. In the second game Aiea kept it close early moving ahead 6-5. Pearl City would tie the game on the next point and maintained a 3 to 4 point lead before pulling away at 21-17. Pearl City won the next 3 points and took a 24-17 lead. #6 Brandee Chun served up Aloha Ball for the game and match. Second game goes to Pearl City, 25-17.
The Lady Chargers got excellent play once again from their outside hitters, Kaya Chong, Tonisha Buford, Marie Fujii. Pearl City has exhibited a strong passing and hitting game so far this season.
"Our passing has been a strength so far," said Shigemasa. "We have big hitters and we're just trying to work on our defense and our serving which a lot of times has been killing us, especially our serving. That's something that we're going to have to go back and work on again."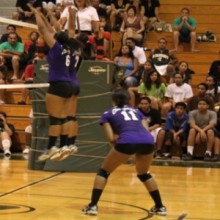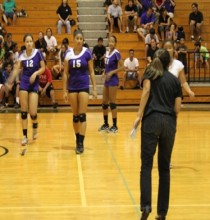 Photos by Barry Villamil | barry@mypearlcity.com
(Left Photo) #6 Brandee Chun and #7 Kaya Chong fly above the net for a block as teammate #11 Tonisha Buford looks on. (Right photo) Lady Chargers Head Coach, Stephanie Shigemasa giving instruction to PC Libero, #2 Kacie Chinen.

The Lady Chargers looked really relaxed and had their game under control Tuesday night against Aiea.
" I think our girls came out expecting to have a lot of fun," said Shigemasa. "We knew Aiea was going to be a big game for us so I think our girls going out and enjoying themselves was exciting for me to see."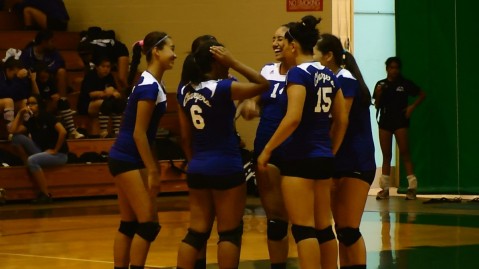 Photo by Barry Villamil | barry@mypearlcity.com
Lady Chargers huddle during a timeout on Tuesday against Aiea.

Next match up for the Pearl City Lady Chargers is a home game against Campbell on Thursday, September 23. Pearl City defeated the Lady Sabers earlier in the season, 25-21, 25-17.
Junior Varsity plays at 5:00pm with Varsity to follow.

Go Lady Chargers!