The Pearl City Lady Chargers sent their Seniors off with style Thursday night with a sweep of visiting Mililani before a full house 25-14, 25-23 to capture the OIA Red West Conference title.
It was the second victory over the Lady Trojans this season for Pearl City. Thursday night's contest decided the Conference Championship between the teams.
"Tonight's win was huge for us. It came down to this game with Mililani," said Lady Chargers head coach, Stephanie Shigemasa. "I told the girls they have nothing to lose but if they want to come in first for seeding this is a big thing. It's just a great feeling tonight to win against a really good team.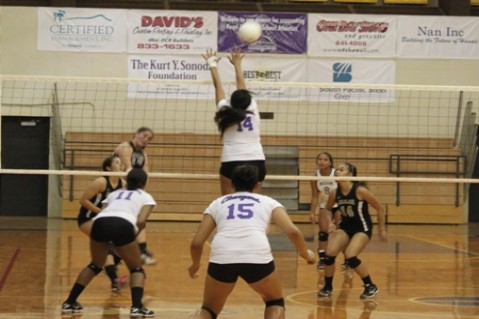 Photo by Barry Villamil | [email protected]
Pearl City's #14 Sina Mauga goes up high for a block against Mililani on Thursday.

Pearl City (11-2) will enter next week's OIA Red Division Championship Tournament as the top seed from the West with Mililani (10-2) seeded #2. Pearl City and Mililani both earned a first-round bye. The OIA Red Division Championship is a double-elimination format.
"From here on out, it's top six so it's going to be tough no matter what. Having this first-round bye is going to be big," said Shigemasa. "For us we're excited, we haven't been in this position in a long time so it's nice to be here," added Shigemasa on the advantage of earning a first-round bye.
The Chargers were led by Senior outside hitter Keani Passi who slammed down 15 kills in the two set match with Mililani. The Lady Chargers actually put it all together working as team with aggressive play all night.
"Keani came through at the very end with her hitting but it actually came down to a whole team thing," said Shigemasa. "They all had to support each other so I would said it's a team effort, bench included."
"Our team works really hard all the time and we deserved it. It was all teamwork," commented Senior outside hitter Keani Passi on the teams performance.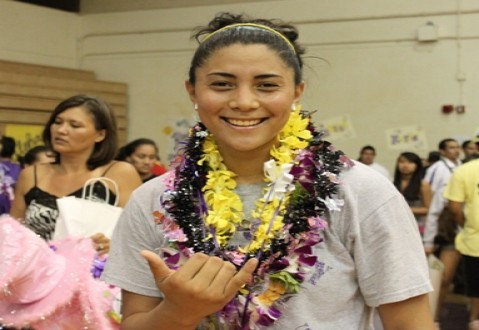 Photo by Barry Villamil | [email protected]
Keani Passi enjoying the moment during Senior Night ceremonies on Thursday.

After taking the first set 25-14, The Chargers and Trojans battled in game two. Tied at 12-12, the Lady Chargers would move ahead 15-12 before pulling even from points 20-22. Pearl City took a 24-22 lead with Mililani coming back for point 23. Passi scored on a block for match point and the Championship.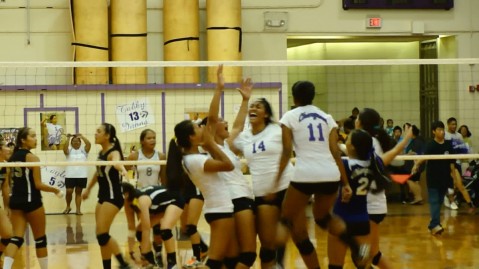 Photo by Barry Villamil | [email protected]
Keani Passi (hands in the air) celebrating with her teammates after scoring match point on a block to take the OIA Red West Conference Championship.

Congratulations to the Lady Chargers and good luck in the OIA Red Division Tournament.

Aloha to the Lady Chargers Seniors!

Shayrena Alterado

Keani Passi

Jazmin Matapua

Tonisha Buford

Marie Fujii

Tabytha Inong

Sina Mauga