Reported by: Jacob McMillan
The Pearl City Chargers' undefeated streak ended on the home field of Waipahu High's Marauders, who held on against a late rally to win their Homecoming game 26-12.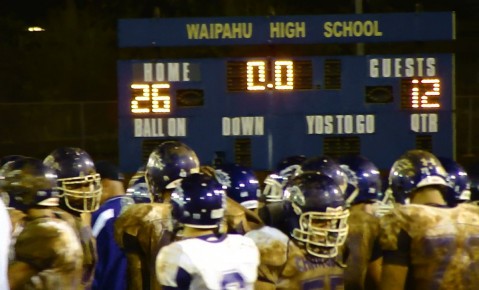 Photo by Barry Villamil | barry@mypearlcity.com
"We just didn't execute well, and that was the bottom line," said Pearl City head coach Kai Kamaka. "We'll go back, we'll draw it up, and see where we went wrong, and make it right."
Photo by Barry Villamil | barry@mypearlcity.com
The Chargers had a tough a time in the muddy conditions to get their high powered offense moving up and down the field.

Both teams fought to overcome muddy field conditions, turnovers and penalties, as well as defenses that all but nullified their passing games. The Chargers came within a touchdown of closing the 18-6 deficit after a pick-six from Senior Defensive Back Ronson Barrett in the 3rd quarter. But Waipahu Sophomore Tydro Ate-Taito responded with a pick-six of his own in the first minute of the fourth quarter to extend the Marauders' lead to 24-12. Following the two-point conversion by Senior Victor Moananu, Waipahu held that 14-point advantage until the end of regulation.
"It gave us some breathing room," said Waipahu head coach Sean Saturnio.
Early on, Pearl City struggled to put together a drive, as countless passes were broken up by Waipahu's defensive line. Then on a fourth-down play, a punt attempt was blocked by Marauder Unaloto Tautuiaki and recovered by Tafatolu Naea. Waipahu capitalized on the possession by completing an end zone pass to Brysen Kaseli for the first touchdown of the game.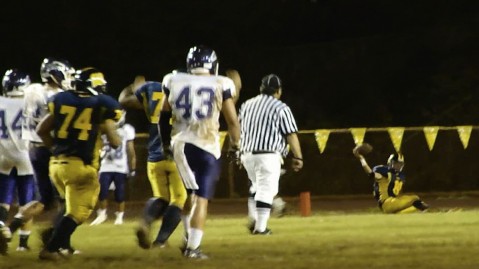 Photo by Barry Villamil | barry@mypearlcity.com
Waipahu Wide Receiver, Brysen Kaseli scores on a pass from QB Mark Bumanglag in the 1st quarter to put the Marauders up 6-0 over the Chargers.

Even as the offense struggled, the Chargers' defense managed to stop the Marauders from building on their lead by a blocking the field goal attempt and denying the two-point conversion on their first two touchdowns. Then a 73-yard passing gain from Sophomore Diacorri Briscoe gave Pearl City their first points with 7:19 remaining in the half.
Photo by Barry Villamil | barry@mypearlcity.com
Pearl City Wide Receiver, Diacorri Briscoe heads back to the Chargers sideline after scoring on a 73 yard touchdown reception in the 2nd Quarter.

"Pearl City has a fantastic team," said Coach Saturnio. "What they did in two short years of turning the program around, where they were last year to the success of this year, that's hat's off to the kids and the coaching staff for preparing those kids like that."
Next week Pearl City plays Kalaheo (3-2) in Kailua, followed by the Kaimuki Bulldogs at Roosevelt (6-1). The Chargers Junior Varsity team beat the Marauder's JV team 22-14. Despite the loss suffered by the Varsity team tonight, Coach Saturnio believes their program deserves respect.
"Pearl City community can be proud of the team that they got out there, as far as what they're producing on the field," he said.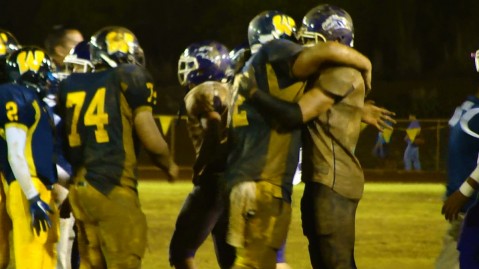 Photo by Barry Villamil | barry@mypearlcity.com
Chargers and Marauders showing sportsmanship and friendship at the end of the game.