Kahuku showed exactly what they were made of last night in the OIA Red Division Girls Volleyball Play-Offs as they defeated Pearl City in four sets 20-25, 25-23, 25-18, 25-18 at the McKinley High School Gym.
The Lady Chargers came out strong taking the first game 25-20 behind the hitting of senior outside hitter Keani Passi who nailed down six kills. Passi led all scorers with 18 kills.
In the second set, the Lady Chargers built a quick 12-7 lead. Kahuku stormed back winning the next eight points behind outstanding performances from Seniors, Elizabeth Blake and Ho'onani Apo and the inspiring off the bench play of Sophomore Lepeka Kalulu-Sagai. Pearl City came back in the second game to take a 22-20 lead. Kahuku fought back once again winning the second game on a kill by Kalulu-Sagai. Blake led Kahuku with 13 kills followed by Kalulu-Sagai (12 kills) and Apo (11 kills).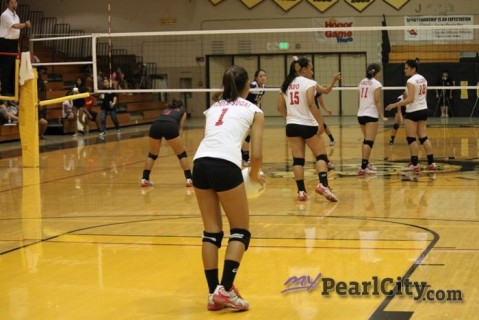 Photo by Barry Villamil | [email protected]
Kahuku's #1 Lepeka Kalulu-Sagai prepares to serve against Pearl City on Wednesday.

After dropping the third game 18-25, the Chargers built a quick 4-0 lead in game four. Kahuku would tie it up at 7-7 and later at 11-11. Kahuku took control from that point moving out to a 23-18 advantage and winning the final two points for the game and match.
Pearl City (12-2) returns to the McKinley High School Gym tonight for a 5:00pm elimination match up with Mililani (11-3) followed by Kaiser (10-4) against Castle (8-7).
Kahuku (12-2) moves on in the tournament to face Moanalua (13-1) on Tuesday, October 19th at the McKinley Gym.
Moanalua Na Menehune defeated Kaiser last night in three, 25-22, 25-19, 25-20 to advance.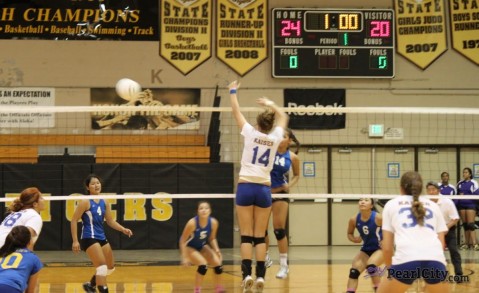 Photo by Barry Villamil | [email protected]
Moanalua Na Menehune pictured here defeating Kaiser 25-22, 25-19, 25-20 last night behind the heavy hitting of #14 Tasha Meyer.