The Pearl City Lady Chargers will travel to Mililani High School on Saturday, October 16, 2010 to play for the 2010 OIA Junior Varsity Softball Championship against the Mililani Lady Trojans. The Lady Trojans are the regular season 2010 OIA Red Western Division Champions.
The Lady Chargers defeated 2010 OIA Eastern Division Champion and #1 seed, Moanalua 5-3 on Friday in a semifinal match up to advance to the OIA Championship Game. Mililani beat Kailua in the other semifinal.
"Moanalua is a tough team, they are the number 1 seed coming out of the East," said Pearl City head coach, Eldon Bolahao. "You can't take anybody lightly. I told the girls to come out and work hard. If you want it, go out and get it."
Pearl City starting pitcher, Cydny Rivera pitched a gem allowing three hits and striking out five in a complete game performance.
"Cyd did a good job. She was hitting her spots," commented Bolahao on the pitching performance of starting pitcher Cydny Rivera.
The Lady Chargers are playing inspiring softball and with the win over Moanalua improve their record to 10-3. The team is poised for an OIA Championship. Their hard work and positive attitude has built a winning team and growing fan base.
"Nobody expected us to be here," said Bolahao. "I just told the girls if you guys work hard enough, we can be there in the post season. It doesn't matter in the regular season, in the post season is where it counts. All the girls believed that and we went out there and look where we are now."
Congratulations to the Lady Chargers and let's get out and support the team as they play for the OIA Championship against the Mililani Lady Trojans on Saturday. Game time is set for 3:00pm at the Mililani High School Softball Field Complex.
Go Lady Chargers!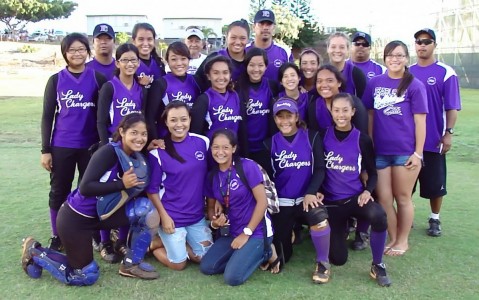 Photo by Barry Villamil | barry@mypearlcity.com
The 2010 Pearl City Lady Chargers OIA Junior Varsity Softball Team.

1 2 3 4 5 6 7 R

Pearl City 1 0 2 0 2 0 0 5
Moanalua 0 1 0 0 0 2 0 3
WP C. Rivera LP A. Ajimura